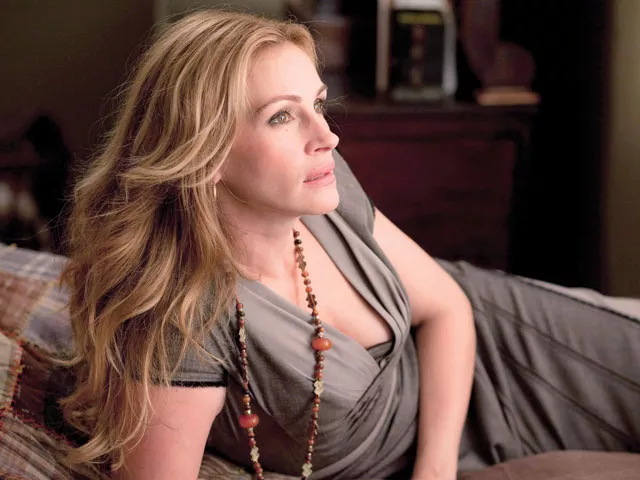 Eat Pray Love
Every once in a while, you come across a story that you really, really want to like. You try and try, but it's no use: You hate it. For me, recently, that story was Eat Pray Love, the New York Times bestselling, Oprah-endorsed autobiographical novel by Elizabeth Gilbert.
Everyone told me, "It's great! You'll love it!" But, still stuck on page 40, I jump at the chance to put it down. A book on Web content strategy? Let me just stick my bookmark in Eat Pray Love!
But now Eat Pray Love has been made into a movie — which at least will have the advantage of saving me from having to finish the book. And besides, the EPL trailer looks surprisingly good.
Why do I want to watch Eat Pray Love when I can't finish reading it? Eat Pray Love is one of those women-finding-themselves-after-30 stories that some people find inspiring and others find self-indulgent. Obviously, I'm one of the latter. With the book, I'd have to struggle through 331 pages thinking, "Uh, good for you? I figured that out a while ago, and I'm 10 years younger than you.…"
But with the movie, I get the lovely Julia Roberts doing that independent-women thing she does so well. I get more backstory — men who appear in flashbacks as well-meaning oppressors in the book appear to be fleshed-out in performances by the lovely Billy Crudup and James Franco. Plus, I get lots of fantastic scenery: sexy shots of Italy; breathtaking scenes of India; lush, panoramic views of Bali.
In short, instead of getting hung up on Gilbert's self-indulgence, I'll indulge myself with a big screen full of pretty people and pretty places. — CAREY JACKSON
Nanny McPhee Returns
Like Miss Poppins with a
snaggle-tooth grin,
Our Nanny expects us to
work, not play:
"Go to bed, dear, pull those
sheets to your chin.
Do some good deeds and my
warts go away."
— Michael Bowen
Dir.: Susanna White • Starring Emma Thompson, Maggie Gyllenhaal, Maggie Smith, Rhys Ifans • Aug. 20 • Rated PG
Piranha 3D
More Snakes on a Plane
than Mongolian Death Worm?
Either way, could rock.
— Luke Baumgarten       
Dir: Alexandre Aja • Starring Elisabeth Shue, Ving Rhames • Aug. 27 • Not Yet Rated

The American
He's a very private gentleman who
Builds guns and waits. One last job before
getting
Out. No more sighting his targets through
scopes.
Italian women can wait: One last job.
— Michael Bowen
Dir.: Anton Corbijn • Starring Clooney the Assassin, Bruce Altman, Thekla Reuten • Sept. 1 • Not Yet Rated
Machete
Into a Grindhouse world
Filled with lurid colors and scratchy film
stock
Comes a Mexican vigilante
Who'll carve you to the bone.
He'll bed the women and f--- up the bad guys.
So if Machete is after you ...
Don't be a bad guy.
— Michael Bowen
Dir.: Ethan Maniquis and Robert Rodriguez • Starring Danny Trejo, Cheech Marin, and the Lohan • Sept. 3 • Rated R

---
Also Through Labor Day
CAIRO TIME stars Patricia Clarkson and Alexander Siddig (Dr. Bashir!) in an unexpected romance set in Egypt's capital (romance • 8/6)
Luke Wilson stars in MIDDLE MEN, about the surprisingly seedy world of Internet commerce (drama • 8/6)
THE OTHER GUYS looks to be a classic klutzy gumshoe comedy with a wealth of good talent and a story that we've seen over and over (comedy • 8/6)
Well, it's the latest Step Up film — and it's in 3D, hence the apt title: STEP UP 3D (dance • 8/6)
Sylvester Stallone and other action stars of yesteryear vamp up their advancing age for laughs in THE EXPENDABLES (action comedy • 8/13)
What do you wanna bet SCOTT PILGRIM VS. THE WORLD will bear a striking resemblance to every other Michael Cera vehicle since Arrested Development? (indie • 8/13)
Bow Wow wins the lottery and his neighbors get grabby in LOTTERY TICKET (comedy • 8/20)
THE SWITCH stars Jennifer Anniston and Jason Bateman in another turkey-baster joke-fest (romantic comedy • 8/20)
TAKERS is a heist movie (action • 8/20)
THE TILLMAN STORY recounts the life and early death of NFL player/U.S. soldier Pat Tillman (documentary • 8/20)
THE LAST EXORCISM, shot in fake documentary style (a la Blair Witch Project), depicts a priest's last-ditch attempt at kicking out demons (horror • 8/27) — LUKE BAUMGARTEN