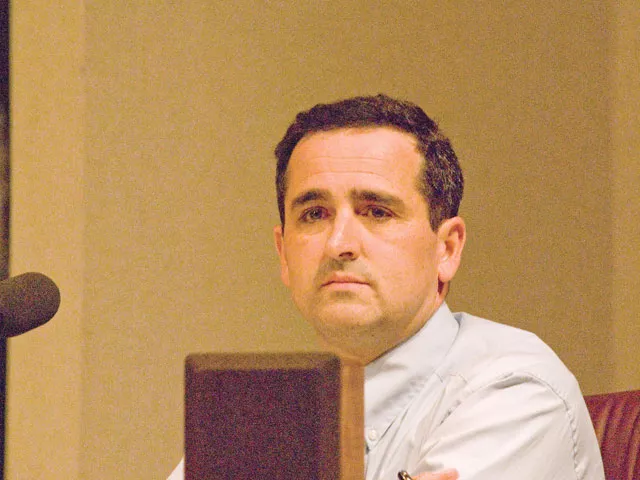 bullet.
Two anti-sustainability initiatives drafted by local conservative activists could face difficulties in reaching the ballot, writes Mike Piccolo, assistant city attorney for Spokane, in a memo to the Spokane City Council.
"The first initiative is subject to legal challenge because it attempts to amend both the City Charter and the Spokane Municipal Code in one initiative," Piccolo concluded in his memo last week. "The second initiative suffers from the same infirmity."
The initiatives, which take aim at the city's involvement in the International Council for Local Environmental Initiatives (ICLEI), as well as the mayor's Sustainability Action Plan, were considered two weeks ago by the City Council. Before any vote was taken, the initiative's sponsor, Mike Fagan, asked for Piccolo's review.
"My memo had no bearing on the initiatives," Piccolo says. "They don't have to pay attention. They don't even have to read it."
Piccolo's review punches various holes in the initiatives, from their proposal to limit the city's participation in various associations, to the idea that the United Nations wants "to undermine the sovereignty of the United States and restrict the natural rights of the people of the United States." ("Without expressing an opinion as to the substance of this statement," Piccolo writes, "the initiative requires a factual determination presumably by a third party, [most] likely a judge.") However, the major problem with the initiatives, he writes, is that they violate the state's "single subject rule," a rule intended to make an initiative sponsor's intent clearer and easier to understand.
However, Fagan, who lost his bid for City Council last year, has made his intent very clear during recent demonstrations: The city's push toward sustainability programs is a waste of time and money.
Fagan sponsored the initiatives on behalf of the Spokane Patriots, a group he leads that splintered from the local Tea Party of Spokane. (The Patriots think the Tea Partiers aren't action-oriented enough.) Fagan did not return requests for comment.
According to Piccolo, Fagan has requested time to remedy his initiatives' faults and could still bring them before the City Council for approval of the initiatives' ballot titles and language.
Roger Woodworth, who chaired the task force that developed the sustainability plan and is Avista's vice president for sustainable energy solutions, says he's not sure what people opposed to the plan are so upset about.
"Anyone who's read the report knows that it's full of ideas for the city to become more efficient. … What do you oppose about being more efficient at all things?" he says. "Maybe they're motivated less at the report, but more at the report as a symbol. … Motivated by fear or a lack of understanding."
Woodworth says the task force's job was to "open the door for ideas" and that hundreds of people contributed ideas over the course of many months. The result: "Not a definitive analysis, but a compass."
Responding to the sustainability plan's detractors that city residents were not allowed to vote and voice their approval or displeasure, Woodworth says, "The process was certainly wide open and well-communicated for participation."
Besides, he adds, there is nothing to vote for, or against. "I'm not sure what you'd be voting on," he says. "Like I said, it's more like a compass."