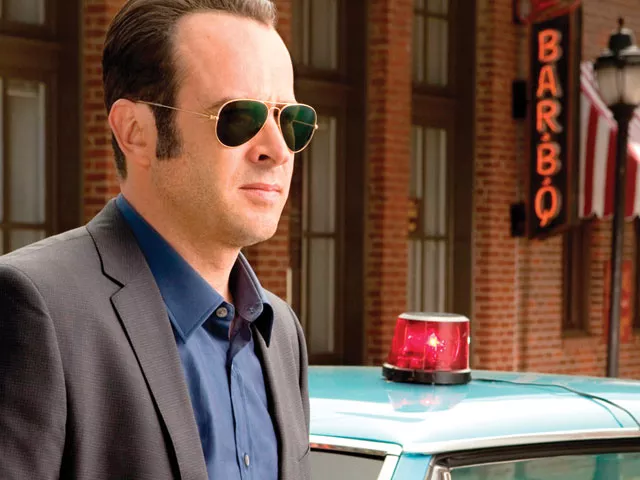 Woe to My Name Is Earl fans. That lengthy list of "People Earl Has To Make Right With" could only yield so many episodes until the storyline got redundant (or the "artistic integrity" of the series was undermined, as Fox producers put it).
Sigh. What's Jason Lee going to do with his flannel-clad self now?
Put on a leather jacket and slick his hair back with gel. That's what. TNT's new series Memphis Beat adopted Lee, gave him a makeover and will re-introduce him to the public this coming Tuesday, not as Earl — but as Dwight Hendricks: deep-rooted Southern gentleman, quirky police detective and blues music enthusiast.
Hmm. Will Memphis be able to dry the tears of viewers still sniffling over the retirement of the original Law & Order series and conveniently fill the lingering vacancy for a good detective drama?
Or will Lee's character be the victim of rogue-hero corniness, just like Dwayne Johnson and his cheesy one-liners as the impromptu sheriff in Walking Tall? The show's insignia is, after all, a cop badge shaped like an acoustic guitar. Tacky? You decide.
For starters, Lee's role is more recognizable than a giraffe masquerading as a penguin.
His character, Dwight Hendricks, is a smooth operator. With unusual methods. Albeit impeccable instincts. Who pisses off his boss. But usually proves himself in the end.
Hi, have we met? OK. So the lead character is one giant ball of cop clichés. So is his by-the-book, no-nonsense commander, Lt. Tanya Rice (Alfre Woodard).
But the incorporation of musical culture as an integral part of Memphis' identity — or the fact the protagonist is a blues-singing junkie — isn't something we've necessarily seen a ton of. Especially in a detective series.
The show's theme places a conscious spotlight on Memphis as one of America's great cities — a place co-creator Joshua Harto believes has been largely forgotten in film and TV. So expect the backdrop to be steeped in Johnny Cash, Elvis and Aretha Franklin.
Liz W. Garcia (Cold Case) is also a creator, with John Fortenberry (It's Always Sunny in Philadelphia) stepping in as one of the executive producers.
The final product could be a well-balanced mix of cunning suspense, salami-dry humor and foreboding plot sequences, enhanced by a streaming pour of Southern blues. Or a steaming pile. We'll find out soon.
TIVO-WORTHY
Top Shot
Sixteen marksmen with varied skills compete for a cash prize in challenges ranging from musket loading to slingshot slinging to knife flinging. Contestants range from the first female Top Gun graduate of the Chicago Police Department, to a Wild West entertainer, to a historical firearms collector, to a 22-year-old rifle prodigy. It makes for interesting TV. (Sundays, 10 pm, History Channel)
Half Pint Brawlers
This bizarrely entertaining series documents the energetic antics of a fraternity of little men who travel around putting on wrestling shows for audiences. They may be pint-sized, but their larger-than-life charades are grabbing attention. It's kind of like Jackass, only more professional. (Wednesdays, 11 pm, Spike TV)
The Bachelorette
Season Six is in full swing with the return of Ali Fedotowsky. If you really want to get in on it, go online and read the suitors' bios. Contender Justin from Toronto says the three things he'd bring to a deserted island are 1) a spear gun; 2) a woman; and 3) hair gel. What a keeper. (Mondays, 8 pm, ABC)