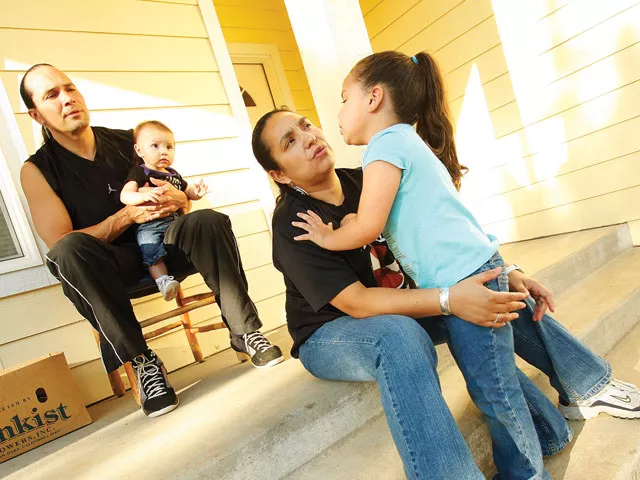 It's not so unusual for a family, even an Indian family living on a reservation, to enjoy a sunny evening on a front porch or a wooden deck. "It's really quiet — you can hear birds out here in the morning and birds at night," Duane Garvais says, leading visitors last week out onto a back deck during a tour of his house near Worley, Idaho, on the Coeur d'Alene Indian Reservation.
Nope, lots of people have pleasant back decks. The twist here is that this isn't just any house, it's his house. Garvais and his wife, LoVina Louie, are among a growing number of Indians who are stepping into home ownership, thanks to changes in federal law and tribal assistance programs.
Indian reservations can still be pockets of poverty.
There's little in the way of jobs or industry at reservations, which are often located out in the boonies. Casino revenue is certainly changing that for some tribes, but life on many reservations continues to be hardscrabble and thus unattractive to lenders.
Banks also often refused to make mortgage loans to Indians on reservations because the land is held in trust by the federal government and cannot be seized in a foreclosure.
In 1996, Housing and Urban Development changed the law to encourage banks to make loans, but it took the recent emergence of an Indian middle class to make homeownership a reality in Indian County.
According to Barbara Stout,
director of the Coeur d'Alene Tribe's Housing Authority, "In 1996, a [federal] law passed — the Native American Housing Assistance and Self-Determination Act — that changed the whole climate on reservations."
Through Section 184 of the new act, HUD fully guaranteed mortgage loans on tribal trust lands to induce banks to offer them.
Tribes have taken various approaches to hook into the Section 184 program. Some, like the Coeur d'Alene, have completely taken over homebuyer assistance programs.
They've also set aside money to build subdivisions using Indian labor whenever possible.
"Prior to NAHASDA, the only thing you saw being built — unless someone had a lot of money — was somebody putting in a trailer or building a shack, because the banks wouldn't make loans," Stout says.
The change has significantly improved the quality of the housing stock on the rez, says Jim Kackman, director of public works for the Coeur d'Alene Tribe and the point man for new home construction.
"I built 10 houses last year, and these are not your typical HUD houses. These are the kind of houses you will see in mid- to upscale developments in Spokane," Kackman says. "I was given very clear direction by the tribal administration to create larger homes with larger rooms for larger families. A lot of tribal members tell me these are the best homes ever constructed on the reservation."
Louie is clearly excited and proud to show visitors around her new home.
The classes run by Stout at the Housing Authority are "awesome," Louie says, citing them with helping her understand the ins and outs of preparing to buy a house.
It's information that she really needed, she says, after living with parents. "I was 31 before I left home because there was no housing," she says.
It's a conundrum of sorts that as jobs become steadier on reservations like the Coeur d'Alene, employed tribal members are not eligible for low-income HUD programs — but they are also not yet wealthy enough to finance their own home buys.
The Section 184 loan program, Louie says, really helps. She diligently saved, she says, "because we knew eventually we wanted to buy a house. I had never owned my own home."
In fact, after several years in western Washington, where her husband had pursued jobs, the family came home to what is a fairly typical arrangement on the rez.
"There was me and my two kids, and my sister and her three kids, and Mom and Dad, and elder Lawrence Aripa, and we lost a sister, so we had her three kids — we had 16 people living in a HUD house!" Louie exclaims. "That's what Indian people do."
The new houses outside Worley are built to Indian scale to accommodate extended families, Louie and Garvais note.
The federal government is deeply involved in trying to move Indians from renting — the infamous long-term-lease HUD houses — to ownership.
Iris Friday, HUD's Northwest director for the Office of Native American Programs (ONAP), recently hosted a conference at Northern Quest Casino and Resort that focused on individual asset-building.
"We try to take a proactive approach to some issues that may come up and impact people's credit," Friday says. "We are really trying to identify how you can be fiscally responsible and still move forward and become a homeowner."
Even though the law was changed in 1996, it was slow to take off.
Banks needed convincing that they could make loans on tribal trust lands, but lately, the balance seems to be tipping. HUD loan guarantees are rising on reservations in both Washington and Idaho, Friday says, matching the national trend.
"In Washington, we guaranteed 74 loans for $13.9 million in 2008.
In 2009, we guaranteed 85 loans for $18.6 million," she says.
Idaho tribal home loans doubled from 12 to 25 between 2008 and 2009, Friday says.
Strikingly, she notes, "We are seeing a lot of first-generation homeowners."
Not every tribe has been able to leverage large income streams into programs that help members buy houses.
While she cheers successes of the neighboring tribes, Lorrie Ellsworth, executive director of the Spokane Indian Housing Authority, notes there are tougher economic times on her reservation northwest of Spokane.
"We have two smaller casinos and, with the impact of [the Kalispel's] Northern Quest, we are not taking in what we had been taking in, and our forestry is in a slump," Ellsworth says.
The upshot is that tribal profit-sharing and employment is much reduced. In turn, Spokane tribal government has minimal ability to set up mortgage-aid accounts, or match a tribal member's savings.
And, Ellsworth says, banks have yet to show much interest in mortgage lending to the Spokane.
But the tribe will host its second housing fair next spring, when lenders, builders, insurance agents and others will gather to share information.
In addition, Ellsworth says, the Housing Authority is putting on classes to help tribal members learn about repairing bad credit, about the importance of setting up savings accounts, and about other steps needed to qualify for Section 184 home-ownership loans.
And also about patience. "Sometimes it takes a year or more," Ellsworth says, to complete the application process.
There are long delays on the CdA reservation, too, Kackman says. "There is a lot of pressure and high expectations — but for the most part, we're able to say what we're going to do and do what we said.
"It's fulfilling. It's a big day around here every time we close a home sale. Home ownership on the rez is pretty few and far between, really... [so] to see folks succeed and meet their goal and hand 'em the keys… It's a big day."