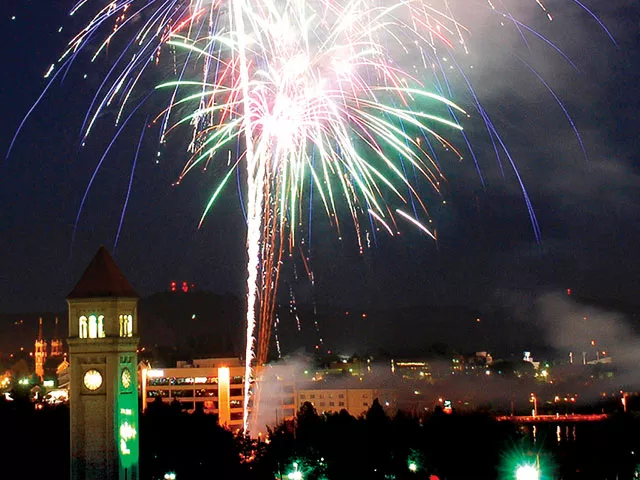 1,236
That's the number of fireworks-related fires and injuries reported last year in the state of Washington on and around the Fourth of July — a 57 percent increase from 2008. According to the Washington State Police 2009 Fireworks Report, 27 of those fires were in Spokane County, as were six of the injuries.
6,000
Minimum number of spectators at Riverfront Park for Spokane's Fourth of July fireworks extravaganza, according to Marketing Assistant Duane Hille. He was hesitant to estimate the total number of people watching, but said it could be in the tens of thousands.
10 minutes
The approximate length of Sandpoint's fireworks show, cut down from the usual 30-minute spectacle. Blame budget shortfalls.
$30,000
The cost of Coeur d'Alene's fireworks show; at press time, the city's Chamber of Commerce had reached the halfway mark with $15,000 in contributions from businesses and individuals. To ill the gap, they're relying on the "Bucket Brigade" (which collects money from spectators at the city's Fourth of July parade), new parking fees in five downtown lots, and anonymous donors (who have committed up to $10,000), says Todd Christensen, president of the CdA Chamber. Coeur d'Alene draws an average of 35,000 people for the fireworks, but the city expects even more this year because of cutbacks and cancellations of shows in surrounding areas like Post Falls.
10 inches
That's the common size of shells for many local fireworks celebrations. As with the funding for the shows, it turns out that the sizes of explosives for local fireworks shows have been steadily decreasing in recent years, says Rich Vaughan of Entertainment Fireworks Inc. His company will produce 45 shows in Eastern Washington, North Idaho and western Montana this weekend.
"Shipping companies don't want to handle them, and there is only one port that allows them, which is in Louisiana," Vaughan says, explaining the recent re-classification of fireworks, which marks them as higher-grade explosives. "So it's hard to ind a company, it's expensive, and I still have to get them to Spokane. So we have had to downgrade our sizes from [those with 12-, 14- and 16-inch shells] to shooting a lot of 10s."
According to Washington state regulations, the bigger the fireworks, the more area Vaughan and his team need for the show.
"Spokane is limited on the size of shells because of where we are," Vaughan says. "I can shoot 10s and 12s in the middle of Lake Coeur d'Alene, but the biggest we can use in downtown Spokane is a four-inch shell."
53
Years that the Spokane Indians have been shooting off fireworks at an Independence Day game, according to Rich Vaughan, a regional director for Entertainment Fireworks.
1/2
Portion of all potatoes in the United States that came from Washington or Idaho last year. (Think of all the potato chips and potato salad at your barbecue this weekend.)