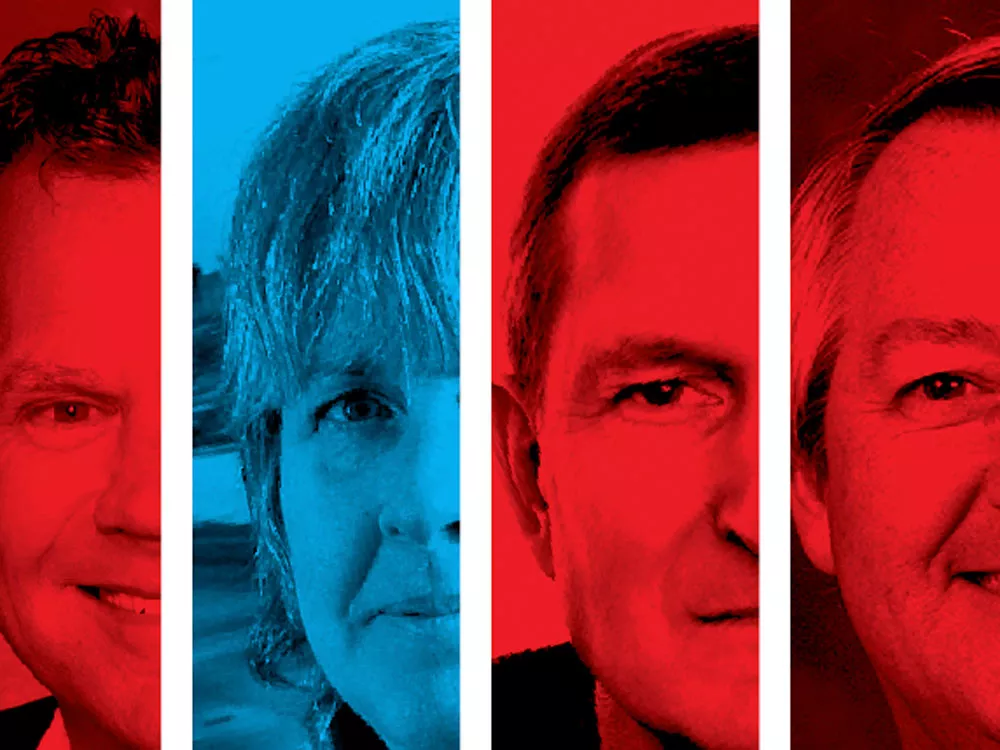 Bonnie Mager's an "odd duck." Her words. She's the only woman on the ballot in the race for Spokane County commissioner this year. She's the only Democrat, the only incumbent.
"And I'm the only fiscal conservative on the board," she says.
In a race with three other Republicans (and one not very serious GOP candidate who's endorsed Mager), them are fightin' words. And a fight it will be.
Four years ago, Mager unseated longtime Commissioner Phil Harris and joined the current makeup of the board, which includes Republicans Todd Mielke and Mark Richard. Since then, she's become known as the "protest vote," usually on the lonely end of 2-1 decisions.
She was the only one to vote against the $4.3 million purchase of the Spokane County Raceway. She was the only one to speak out against expanding the jail too quickly, and by too much. According to some, she's the voice of reason on an unreasonable board.
But for her opponents, being at odds with the other commissioners isn't necessarily a good thing. She's just an obstructionist.
"You have to bring solutions, rather than just saying, 'no,'" says challenger Al French, a former city councilman. "You have to learn how to bring legislation as the minority. She's allowed the other two to squelch it."
Two of the Republicans seeking to join fellow Republicans Mielke and Richard on the board don't want much to do with them.
"I don't march in lockstep with Todd and Mark," says Steve Salvatori.
"Have you read the papers?" Jeff Holy asks jokingly. Holy is the candidate officially endorsed by the county's Republican Party. "[Mielke and Richard] are endorsing Al [French] and Salvatori. They're not endorsing me."
That leaves French, who has no such qualms. "I like working with Todd and Mark," he says. "We have good communication." (French received Richard's endorsement, and Mielke split his between Salvatori and French.)
If name recognition plays any part, French is secure in making it past this August's primary and into the top-two general election. He sat on the Spokane City Council for eight years until he was term-limited out last year.
And, like Mager, French cut his teeth coming up through the neighborhood system. In the five years before joining the council, French was president of the Nevada-Lidgerwood Neighborhood Council. Mager co-founded and was the executive director of the Neighborhood Alliance of Spokane County.
But these two aren't twins. French says it's his experience at City Hall that makes him the strongest candidate on the ballot.
"Three-fourths of the county is in the municipal border," he says. "None of them have municipal experience or connections."
French says it's because of this he can lead local governments to increased cooperation.
"I'm not advocating for regional government," he says. "I'm talking about regional services."
On French's radar for these services include law enforcement, transportation, waste disposal and parks. But what would never be regionalized, according to French, is planning. "Communities have the right to self-determination," he says.
French, an architect by trade, says his private sector career shouldn't give people the wrong impression. "I know there's this fear that I'm a developer and I have this scorched-earth philosophy, but I don't."
Salvatori is a one-issue man. "We need a stronger voice for small business," he says. "We need to increase the pace of government decision-making."
Soon after moving here in 2007 from California, Salvatori founded the Spokane Entrepreneurial Center, a business incubator that allows fledgling companies a home for an affordable price. It's the complaints he's heard from these companies, he says, that pushed him to run for office.
"They don't want no regulation. They want streamlined regulation," he says. "They don't want no taxes. They just don't want to be taxed to death."
Salvatori admits that much of the county's "hostile business environment" is because of state rules — he pointed to the workers' compensation system and personal property tax as two examples. But he says he'll "push to kill" them from the "bully pulpit" of the county board.
Calling him a one-issue man isn't completely fair. Salvatori does have thoughts on other subjects. Like Mager.
"Commissioner Mager didn't vote for the racetrack. Neither did I," he says. "She did vote for the operating agreement [with Bucky Austin]. That went down in flames."
He calls her an "environmental activist" who voted against a $250 million contract with CH2M Hill to build a new wastewater treatment plant. He says she also tried to sideline the Waste to Energy plant.
"I do know what Bonnie's against," says Salvatori. "I just don't know what she's for."
Jeff Holy's an ex-cop. This means his campaign signs sport a badge with H-O-L-Y emblazoned through it. This — along with his "it's-a-question-of-character" campaign — make him the perfect Republican.
Holy, now an attorney, says he began his campaign thinking he'd talk about three issues: public safety, infrastructure and economic development. After doorbelling for a while, he realized something.
"The top issue turned out to be something as simple as reconnecting the people of Spokane County with their government," he says. But how? "A couple simple things: answer the phone. … Respond to e-mails. Be responsive. Have a notebook in hand or a PDA. Make sure somebody in my office gets it and follows up on this."
Holy says he finds political inspiration in conservative Matt Shea, a state representative out of Spokane Valley, who has almost pure Tea Party running in his veins. But aside from that, he talks a bit like Mager on the big issues.
"No, I wouldn't have supported buying [the racetrack]," he says. "The public funds were being misspent when you have police, fire, roads … that weren't being adequately funded."
As for the jail, he says, "I think we should reopen the topic and try to look at all alternatives, not just the ones being presented. I don't think the public's been given all the available options."
Mager says she knows her role on the board: to scrutinize the actions of her fellow commissioners.
She points to action three years ago when a contractor came forth asking to close Ben Burr Road for a planned development. As required by state ordinance, county engineers compiled a report and recommended not closing the road because it was still being used, if only lightly.
At a subsequent meeting, Mager says, her fellow commissioners were supportive of allowing the development to proceed, but the county attorney said if a lawsuit were brought up, the county would lose, due to the engineers report. The development was voted down.
This year, Spokane County-specific legislation in Olympia came forth that would have eliminated the need for an engineers report, clearing the way for the developer to proceed. Mager says it was another commissioner who advocated for the legislation.
"The engineers report was the only thing that stood in the way of the road closure. … I was able to get that legislation killed," Mager says. "The risk really is if I'm gone, there will be nobody there to shine a light on them. You don't know how much worse it could be."