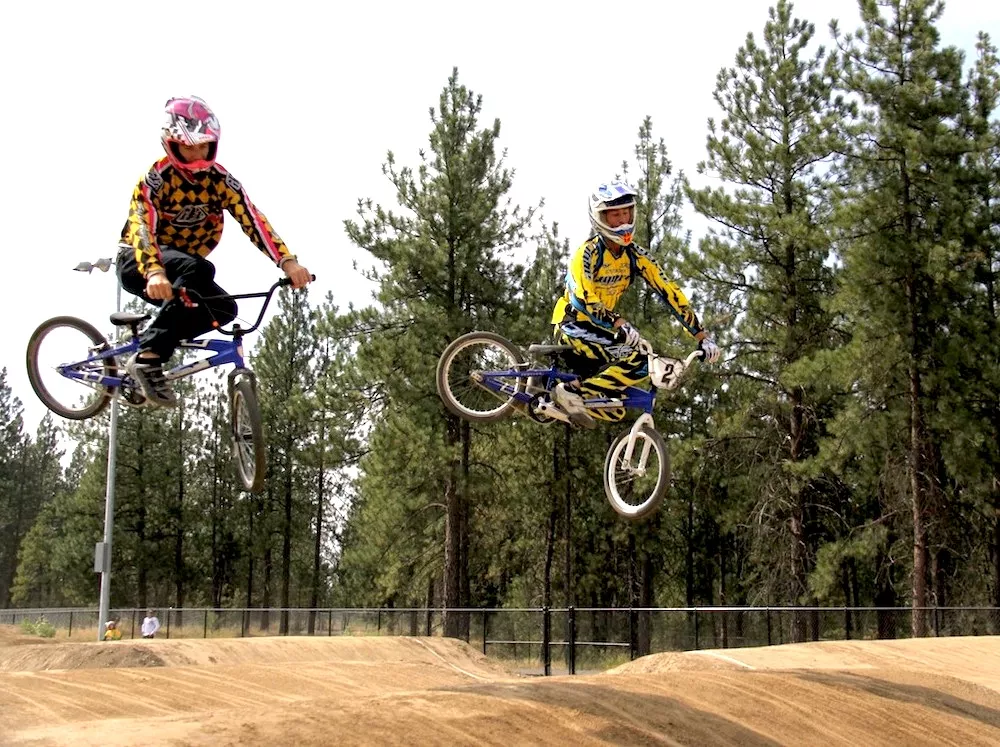 A slew of cyclists were on hand to christen Spokane's premier sanctuary of lovingly manicured dirt last Saturday when the brand-new pro-level BMX track opened at the Dwight Merkel Sports Complex near Joe Albi Stadium.
Frozen into position by a hydraulic starting gate, a row of bikers sat poised and ready on a 16-foot-high concrete hill, waiting to unleash their wheeled fury in a spirited dash to the finish line.
"This is something Spokane can be proud of," announcer Dan Bichler says of the 17-year project, moments before the riders were set loose. (There was even a crash at the end — nothing serious, but still exciting.)
The BMX facility is one of several new features at this state-of-the-art, $11 million complex on Assembly Street.
And if you thought Spokane's BMX scene was low-profile, it was the lack of a communal track — not interest — that made it appear so. Even smaller areas like Moses Lake, Coeur d'Alene, the Tri Cities, Walla Walla  and St. Maries have their own BMX tracks.
"There was a land issue," says Mike Aho, recreation supervisor for Spokane Parks and Recreation. "There was no dedicated land in the Park Department, and they had a hard time finding a parcel of land they could dedicate the park to."
Bichler says the new track, which has outdoor lighting and was built by the American Bicycle Association, is a world-class facility.
There are hopes of hosting a BMX state championship within the next several years.
"This opening day — it's just scratching the surface," he says.
BMX is the newest Olympic sport, though its grassroots history dates back to the early 1970s. It seems to spark enthusiasm the same way surfing and skiing do.
"It's like any sport — people suck at golf, for the most part, but you hit that one good ball, occasionally, and that's what brings you back," says Tim Arnold, BMX lifer and owner of Bicycle Butler in Spokane. "BMX is an individual thing, and once you get a little feel and taste of it, then you're hooked."
I believe him. A tour of the track left me with a nagging impulse to give it a try.
"No kid sits on the bench," reiterates local artist and designer Jim Koch, who maintains the Spokane BMX Facebook page. "It's such an independent sport."
Seeing the stream of colorful jerseys navigate the snake-like run of tricky topography was like watching a human pinball machine. The more experienced riders flew over berms in popcorn-like fashion, twisting midair and zinging around corners effortlessly.
Others meandered at leisure. A tiny participant (No. 903), who looked no older than 4, confidently scooted up and down behind the rest of the pack like it was nobody's business. He decided to dismount his ride about two-thirds of the way, pick up a dirt clod and wander off in another direction.
Needless to say, the track can be enjoyed by the entire gamut of skill levels.
"This is huge. I can't believe what they've done," says spectator Chris Hill, who watched the events from the tailgate of a truck with her husband, John. "When this came in, my son said, 'Oh my God, I can't believe they're bringing it in.' And he's 30."
"This might be as close to the big time for these kids as it will get," adds John Hill. "This is light-years ahead of what we had when we were young."
It's also a respectable alternative to "stick and ball sports," as Arnold puts it.
"That's the big selling point," he says. "Because it's an individual sport, you don't have to be the tallest or the strongest. Little kids compete at this, as well as big, strong kids. And a lot of times, little kids have more energy and can outrun the bigger kids on the track."
Aidan Meyer, for example, who's turning 9 and is new to BMX, came to the opening with his mom and two siblings. When asked why he wanted to give it a shot, he replies, "I didn't have any sports to try."
Another fact for parents to consider:
The correlation of "BMX" with "Better Monetary X-Factor."
"It's cheap," says track operator Chad Furtney. "You can have a kid out here on a $500 bike beating a kid on a $1,500 bike."
Park hours aren't set in stone yet.
Aho says the goal is to be open seven days a week from 6 am to 11 pm. "We're going to wait and see how much damage [the course] gets from the activity," he says. n arts@inlander.com
Joe Albi BMX at the Dwight Merkel Sports Complex, just north of Rowan Ave. and Assembly St. Visit spokanebmx.org or call 570-8118. To use the park and compete in upcoming events, you must be an ABA member; temporary memberships are also available. Visit ababmx.com.