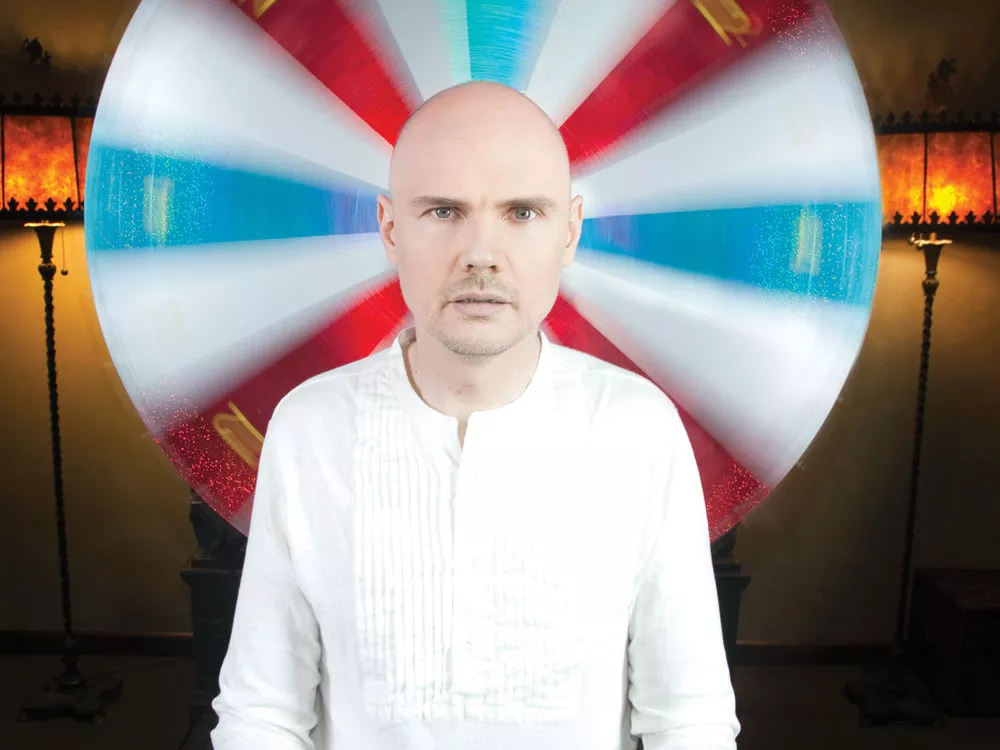 Smashing Pumpkins gave me a drug overdose for my birthday that year. I was turning 16, and my best friend gave me tickets to see Smashing Pumpkins — my first concert ever — on my birthday. At the time, just after the double album dropped, I was batshit-crazy for the band. And in my strange, self-centered 16-year-old mind, I remembered thinking they were coming to play for me. For my birthday.
So when the band's touring keyboardist OD'd on heroin, and drummer Jimmy Chamberlin (who was a junkie, too) was fired, the band canceled a chunk of shows. Including mine.
I was so mad at Kurt Loder that day. My mother will verify this: I laid in bed all day, sobbing and worrying to her bemused face that my beloved band would be done for good.
But they weren't done. I saw Smashing Pumpkins play — minus Chamberlin — six months later.
And I'll never forget that night.
But now — older, wiser, having seen the band in its heyday — I can say this: Maybe they should have quit back then.
That hiccup — the whole kicking-the-drummer-out thing — was, perhaps, the biggest hiccup for the Pumpkins. But it was hardly the first. Smashing Pumpkins was known for drama: the fiery tempers, the intra-band squabbles. Drama was literally there from the start for Smashing Pumpkins: In fact, Billy Corgan hired D'Arcy Wretzky to play bass in his band after they met and got into a heated disagreement outside a Chicago club. Rolling Stone noted in a 1994 article on the band that Corgan's first words to Wretzky were, "You're full of shit."
Drama — before Day One. Later Wretzky and guitarist James Iha dated — breaking up during production of the band's debut, Gish.
Drama.
And then, supposedly, Corgan swooped in and re-recorded Wretzky and Iha's bass and guitar parts on Gish. (He admits on Inside the Zeitgeist, the DVD that accompanied the band's 2007 record, "that pretty much 97 percent of what you would hear off of any Smashing Pumpkins record is pretty much just Billy and Jimmy. People have a hard time believing that.") More drama. And Chamberlin became an addict. To record Siamese Dream, the band had to get far away from Chicago, just to keep him from his drug connections.
But maybe all that drama burning underneath the band — the drugs, the sex, the egos — was what made the music so good. Maybe it's what made the Pumpkins play with such urgency. And maybe it's what made every one of their songs feel less like a song and more like an anthem. They were ballads to depression, calls to angst. Songs that had to be sung and heard right now.
Because, it seems, when the band got rid of the drama — when they fired the addict, when it became a dictatorship rather than a collective, when they traded guitars for electronics (Adore, Machina) and shaggy hair for a polished image — that's when Smashing Pumpkins died.
Billy Corgan became the guy who proclaimed Mellon Collie and the Infinite Sadness to be "The Wall for Generation X." He became the outfit — those silver pants and the ZERO shirt — rather than the musician who wrote Grammy-nominated songs while living in a parking garage. Maybe he shouldn't have been so forthcoming in that 1994 Rolling Stone article: "My reputation as a tyrant, Svengali, asshole — there's truth in that."
Because now, with his partner Chamberlin gone, he's by himself. Smashing Pumpkins is finally, truly only Billy Corgan. And whether or not 97 percent of the time Smashing Pumpkins has always been Corgan, that 3 percent of the time that he let those other members in were the times that made the band.
And those were the times that made Corgan the star he is today.

Smashing Pumpkins plays with Bad City at the Knitting Factory on Tuesday, Sept. 14, at 8 pm. Tickets: $37.50. All-ages. Visit http://www.ticketfly.com or call (877) 435-9849.