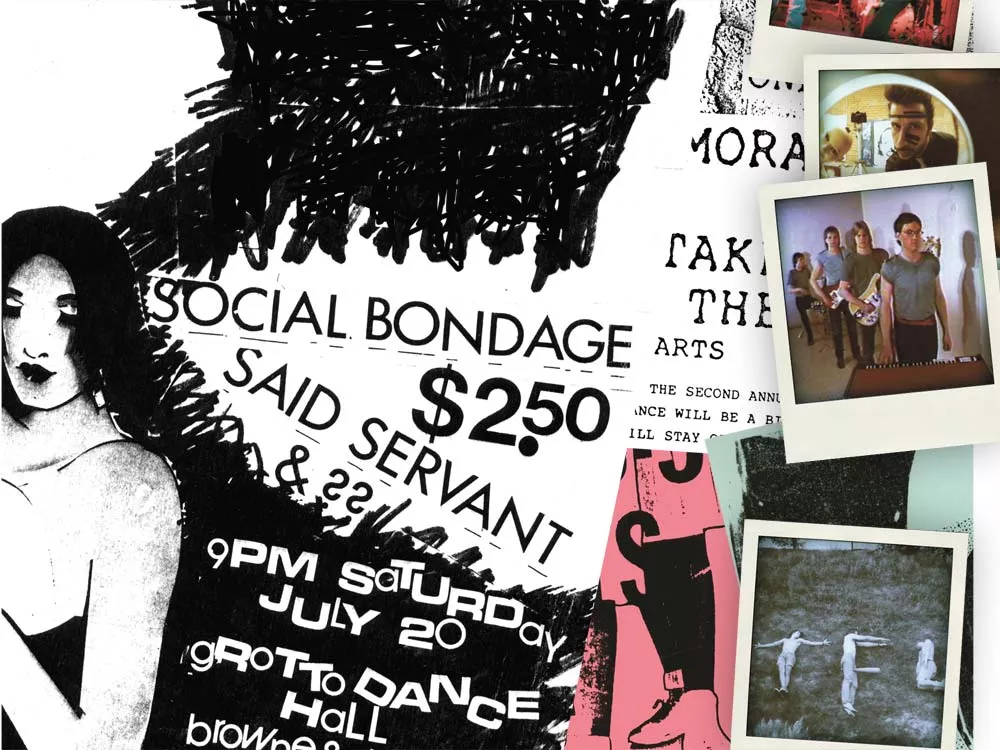 They could have been anywhere, but they were here. And to a bunch of kids stuck in lame old Spokane in the 1980s, everything — everything — seemed absolutely, positively f---ed.
"We were talking about how we felt as teenagers, and all the things that made us feel disaffected and what was going on in our lives, and what as going on politically and economically in the world. And someone said, 'I just felt like everything was f---ed forever,'" says Erica Schisler, executive producer of the upcoming documentary F---ed Forever: The Spokane Punk Rock Story. "And that is how we felt as teenagers."
Schisler, who now lives in Seattle, says growing up here and being just a little different than other kids made a lifelong impression on her. "The truth was, in a conservative small town — I don't know what it is today — even setting yourself apart a little bit sets you apart a lot," she says. "In high school, conformity is the name of the game."
But when most kids changed to fit in, others put their feet down and refused. They were artists, punks and freaks. They took their feelings of disaffection and loneliness and laid the groundwork for a community that would accept them. An art and music community emerged, one that would grow into the scene we have today.

When Schisler attended the Rapture Punk Rock Reunion in the summer of 2009 — 26 years after moving away from Spokane — she realized she wasn't the only one who was permanently impacted by growing up here. Other people from those early days of Spokane's scene felt the same way.
"There was something happening [then]… there was all this new music coming to us. It was finally landing in Spokane," Schisler says.
Eventually, as they do, those kids grew up. Some stayed in bands.
Some got caught up in drugs. Some went to college. Others got famous. And some moved far away and planned to never look back on Spokane or their teenage years.
But five kids from that early scene, now in their 40s, are looking back. And they're making a movie about how those years in Spokane — those years when everything felt totally f---ed — were the ones that would define the rest of their lives.
After filming footage at the Rapture Reunion, Schisler says the concept of the movie they wanted to make quickly changed. Yes, this would be a movie about Spokane punks in the '80s.
But it was more about struggling to fit in. About making something where there was nothing before. About enduring and uniting.
And that's a story that they think rings true for anyone who's ever felt different.
"I think at some level, [the film is] documenting and validating what we did," Schisler says. "I think the broader message, though, [is that] Spokane could be anywhere. It could be Anywhere, America. There are pockets all over the world of smaller towns, and there are kids today, or anyone of any age, who have adopted that DIY culture and are finding a way to make it happen. I think that's one of the coolest messages of the whole film. "
When the film team — Schisler, David Halsell, Theresa Halsell, Jon Swanstrom and Heather Swanstrom — looked at the footage they got from the reunion, they realized there were so many more people they wanted to interview. So they've spent the last year and a half flying all over the country talking with ex-pats from the Spokane scene.
Right now they have over 100 hours of interviews and footage of old Spokane bands like Vampire Lezbos, TFL, M'Na M'Na and An 425 Pound Yorkshire Sow. They're trying to trim it all into a 90minute film that resonates beyond Spokane.
David Halsell, co-editor and co-director of the documentary, says making F---ked Forever has been just as grassroots as making a scene was back in the day.
"Creating the film has been much like the old scene. There's hardly any budget, and we thought, 'Let's just do this DIY,'" he says.
They've paid for the film out of their own pockets and with about $7,000 in donations. In late November, the team saw the first rough cut of the film, and they'll spend the next few months ironing out post-production details. Then they'll start submitting it to film festivals and, hopefully, screening it in Spokane sometime next summer.
"I think originally we thought it was just for people in Spokane and in the scene," Halsell says. "As we became more excited about the story and how interesting it is ... we felt that this deserved a wider audience and that the world needs to see it.
"It was such a profoundly life-changing event to be involved in that scene. It affected how we look at our lives," he says. "We thought, wow, this is the way to honor that. This is the way to reflect that it's still important to us.
"It's like being old war buddies or something. We all went through that together."
Check out the movie's website.