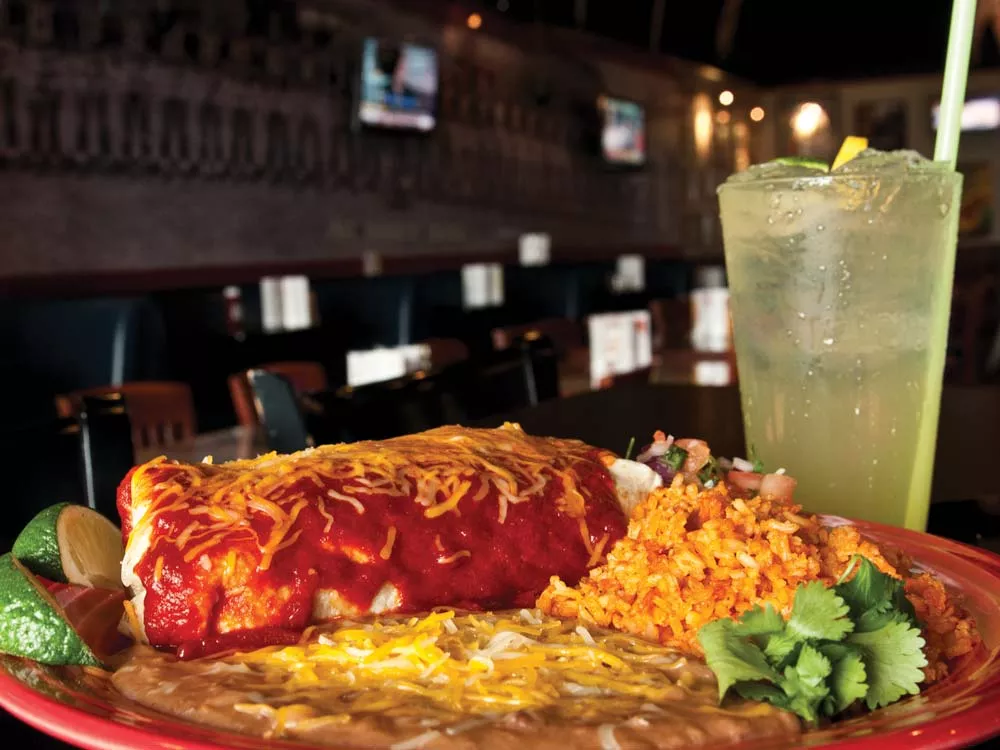 Adrian Gonzales describes Atilano's Mexican food as "authentic fast-food." Spokane has a lot of fast-food places, he says, but there's a hole in the market for fresh, authentic Mexican food. Now fans of Atilano's downtown Spokane location on Third Avenue will have a second outlet to get their late-night California-style burrito fix. Atilano's will be opening a drive-thru Mexican restaurant in Coeur d'Alene sometime in the next few weeks.

"We have one customer who drives in from Kellogg, Idaho, once a month and buys ten to 15 burritos and freezes them," says Gonzales who manages the restaurant for his dad, owner Atilano Gonzales. Many of the customers are transplants from Southern California, where fast-food Mexican abounds. They drive to Spokane from Post Falls and Coeur d'Alene for a taste of home, claims Gonzales.

Atilano's wins homesick hearts with its best-selling California burrito, a hefty steak-and-potato number with cheese and salsa, which costs just over four bucks. The Atilano's burrito is a close second. For ten cents more, you get bacon and sour cream, too. It's also a hit with the late-night crowd; it's hard to complain about cheap, tasty, filling Mexican food at 3 am.

The new location on Appleway will offer the same menu as the Spokane location, with the addition of a salsa bar. "We'll have three different homemade salsas, grilled peppers, carrots, jalapeños and onions for people to add to their tacos and burritos," says Gonzales.

Gonzales says plans for a Pullman location are in the works, too. "We're keeping our fingers crossed for the right location."

Opening day for the new Atilano's in Coeur d'Alene will feature a mariachi band and half-priced burritos. Stay tuned for more details.

Atilano's • Opening soon at 218 E. Appleway • Open 24 hours • Also located at 725 W. Third Ave. • Open 8:30 am-midnight, Sun-Wed; 8:30 am-3 am, Thurs-Sat • 838-7677
---
Happy Closure
First the bad news: After three years on the corner of Riverside and Lincoln, DeLeon's downtown deli is closing. Now the good news: You can still get Sergio DeLeon's mouthwatering mole, tacos, burritos and enchiladas at neighboring sports bar Heroes and Legends.

"We wanted to save some money. Business downtown was hard," explains DeLeon, the deli's owner. Although nothing is definite yet, DeLeon says he has some ideas for a new location for the deli.

Since the beginning of the year, Heroes and Legends has been managed by Josh and Lety Kiehn, who co-own Heroes and Legends with DeLeon.

The former DeLeon's space will be used as a crowd overflow area and for private parties. Kiehn is revising the menu to add more selection and will roll out happy hour specials twice on weekdays from 3-6 pm and from 9 pm-12 am. You'll find drink specials, half-priced appetizers and — try to beat this — a 10-inch, one-topping pizza with a pint of beer for $5. If you can't make it during happy hour, you can stop in from 3-4 pm or 9-10 pm for $1 beers.

Heroes also hosts Wing Wednesdays, which features $2 pints and 50-cent wings from 6-9 pm. On Funday Sundays (all day), you can dig into dollar-tacos and sliders and try out Kiehn's decadent-sounding Chocolate Mint cocktail for $2. "It's a drink we came up with that tastes like Andes mints with a hint of licorice," he says.

There's plenty to celebrate at Heroes and Legends on Cinco de Mayo, where margaritas and tequila shots will be on special, and there will also be a live band and party in the alley. And, they say, there's a gigantic party planned for Hoopfest.

Heroes and Legends • 825 W. Riverside Ave. • Open everyday from 11am-close • 747-2085.