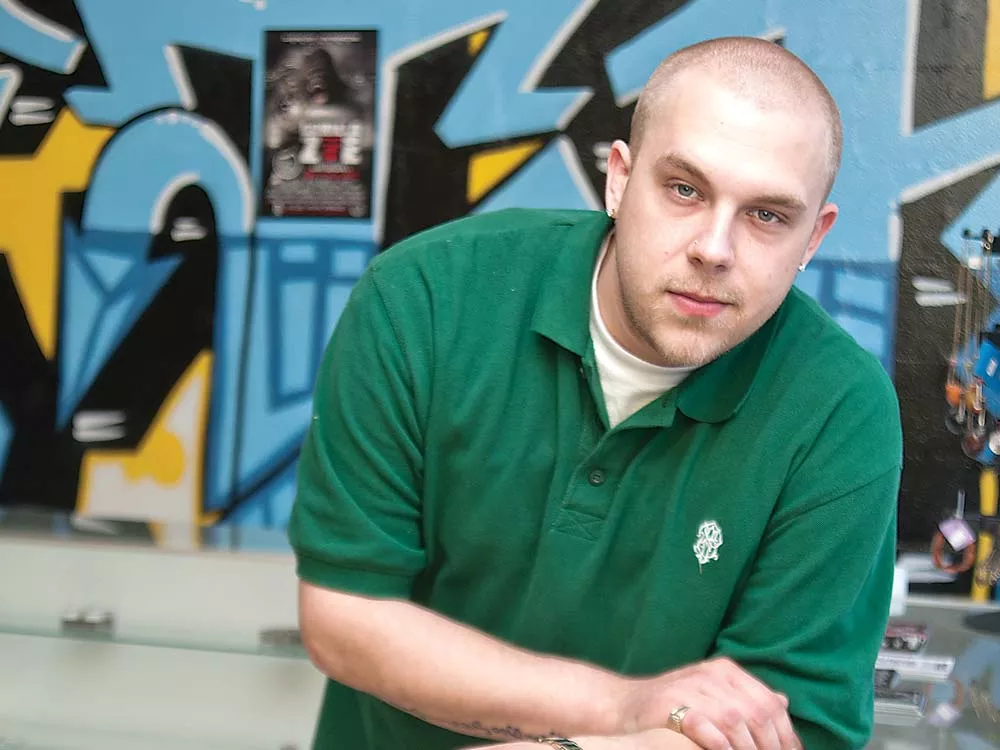 For a while last Saturday, the FTH Music & More grand opening was a one-man show. DJ Beauflexx played to an empty room. The party had been delayed until later in the afternoon. The barbecue needed picking up, T-shirts needed hanging. The graffiti sidewalk signs hadn't been painted. And balloons don't blow themselves up.
FTH (F--- the Haters) Music & More officially opened its doors in March but last weekend's grand opening marked the dawning of a new musical venture. Brother/sister duo Venita Trujillo and Juan Cervantes took over the lease for the store on North Monroe Street (formerly Herbal Discoveries) nine months ago and have turned the former head shop into a space for local hip-hop music.
The storefront sells independent music, its own urban clothing line, and jewelry by consignment. CDs from the Street Pharmacists, Rod Mac the Ripper and local emcee Unique line the shop's three glass cases. Screen-printed shirts with brass knuckles on the front and white booty shorts are adorned with the company's two tag lines — "F--the Haters" and "Bitches are Hoes, Dude." They still have glass tobacco pipes and "aroma therapies and spices."
"We got into the promoting business in December and saw how good it was doing," says Venita Trujillo, who recently moved here from Moses Lake. "There's a lot of local artists but not a lot of spaces for them to put their music. Our main focus is that we are a small business, and we'd rather keep our money and profits in the community instead of like mainstream businesses like Hastings."
Since December, the FTH promotion company has hosted the Planets of the Apes Tour, Mistah F.A.B., Jacka, Yuckmouth, and the upcoming Gorilla Zoe concert at A Club. But in order to build a strong urban hip-hop scene, promoting shows and selling local music isn't enough, Trujillo says.
The store also built a recording studio — Keep Pushin Entertainment — in the back of their shop.
The recording studio looks like something straight out of Hustle & Flow. A fake white leather couch sits in the hallway. A closet lined with eggshell insulation is where vocals are recorded.
"There are less than a dozen professional studios in Spokane that are trying to build a scene out here and keep it going," says Nick Klepacki, also known as Unique. "Right now we're trying to focus on hip-hop and that specific demographic. We'll kind of see how things go then, and take it from there."
Klepacki met the Trujillo and Cervantes at the Mistah F.A.B. show last year and now co-owns the Keep Pushin studio. The trio share a similar passion for music and want to help local musicians record an album, sell their material or simply put together a demo.
The goal, he says, is to create an independent scene — similar to what Tech N9ne has done with Strange Music, his independent hip-hop label.
Klepacki says they aren't the only players in the Spokane scene, but they're slowly getting recognized.
"Insyders' kiosk [at NorthTown Mall] definitely paved the way for this kind of stuff in Spokane," he says. "But now we're trying to pave our way off of that. It kinda led us to the road that we're going to take now."

FTH Music & More • 2415 N. Monroe St. • Open Mon-Sat 10 am–10 pm • 327-4372