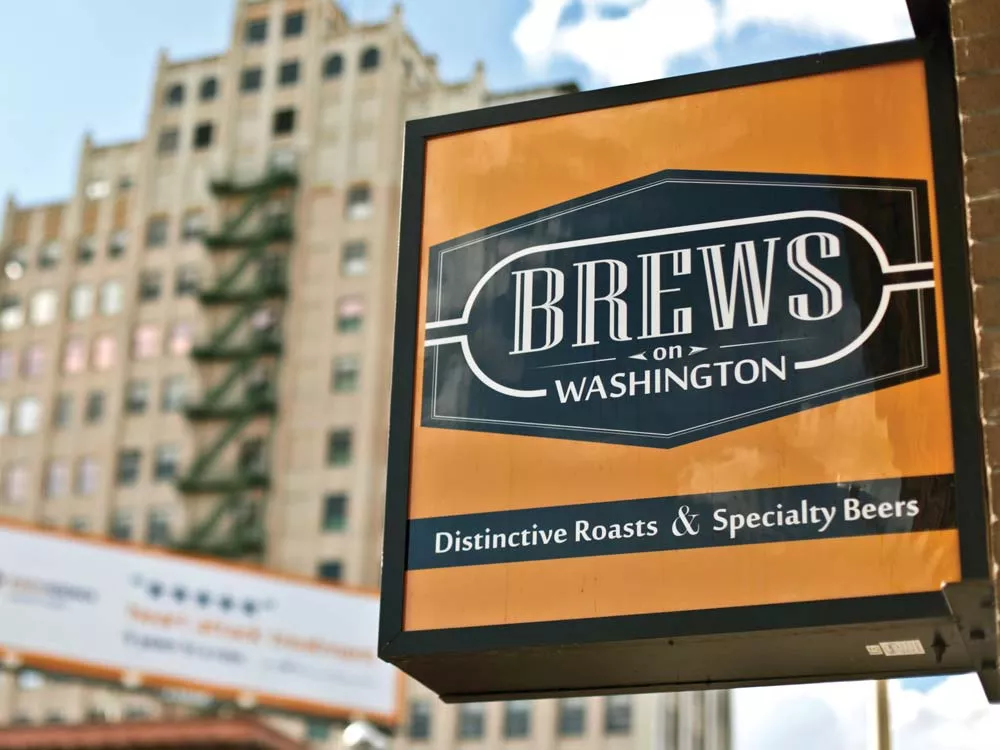 "We like to think of Brews as a specialty beer and wine bar that serves espresso in the mornings," says Brett Anderson, who opened Brews on Washington with his wife, Katie, on June 17. Anderson's passion for small-batch brews is matched only by his devotion to his day job as The Inlander's web developer. Conveniently for him — and the rest of the staff — Brews is located on the ground floor of the Hutton building, just a few floors below The Inlander's headquarters.
The Andersons' main goal with Brews on Washington is to offer interesting beers and ciders that are not readily found at other establishments. Take, for example, the creamy, sweet quadrupel Belgian ale from Allagash Brewing in Portland, Maine, with a whopping 10 percent alcohol by volume. For a lighter summer brew, the High Five Hefe, a ginger- and honey-infused hefeweizen from Iron Horse Brewery in Ellensburg sounds particularly enticing, as do the Spire apple and pear ciders.
Brews plans to rotate its beer selection frequently, which consists of six beers on tap, and over two dozen bottles. If you find something you like, you can pick up a 64-ounce growler of draft beer — perfect for a backyard barbecue.
Brews features the other kind of brews: coffee and espresso drinks made with Tom Sawyer Country Coffee. There's also a menu of breakfast pastries from Petit Chat bakery. The lunch menu is simple but satisfying, with a handful of sandwiches ($5-$8) including a fresh and filling Veggie on inch-thick Petit Chat Tuscan White with garlicky hummus and a side of Tim's potato chips. Pair it with a beer or fruity mango smoothie and sit at the bar or people-watch from the couch near the window.
Happy hour runs from 4 pm to 6 pm everyday, with free popcorn and $1 off beer and selected Washington wines. There's a light food menu ($5-$9) available in the evenings, including artichoke spinach dip, roast beef sliders and a meat and cheese platter. I'll be back to try the "brewy brownie bites" washed down with a Maui CocoNut Porter. (Kirsten Harrington)

Brews on Washington • 7 S. Washington St. • Open Mon-Thurs, 8 am-9 pm and Fri-Sat 9 am-11 pm •
brewsonwashington.com
• 795-8196
---
A Meal with a View
Set back from scenic Highway 200 in the Holiday Shores marina, Sweet Lou's is the most recent inhabitant of the casual dining environment formerly known as Dock of the Bay. It's an ideal location, with a gorgeous view of the lake, and both indoor and outdoor seating.
But we came for the ribs: thick, juicy ribs several fingers wide, crispy in parts and chewy in others, slathered with your choice of house, bourbon or chocolate barbecue sauce. You can order other things at Sweet Lou's, of course — portobello mushroom burgers ($9), grilled salmon with crispy baked fingerling potatoes and spicy slaw ($17), a Cobb salad with roasted garlic balsamic vinaigrette ($2).
Named for their young son, Sweet Lou's is Chad and Meggie Foust's idea of comfort foods in a relaxed environment. We like a place that serves appetizers made with beer batter: the onion rings use Manny's Pale Ale ($6), and the shrimp ($10) use Red Hook ESB. And the horseradish mashed potatoes and seasonal vegetables are a perfect balance to entrées like ribeye ($19), chicken bruschetta ($13), and grilled rockfish ($13).
Sweet Lou's considers dessert part of its signature appeal. S'Mores ($7), for example, come to your table in the form of a mini- Hibachi grill and all necessary ingredients (chocolate, graham cracker, marshmallow) for you to recreate treasured camping memories. And it wouldn't be a North Idaho kind of place if it didn't serve huckleberry: in lemonade ($3.25), in cobbler ($7) and in the grilled PB&J ($7, $5 on the kids menu).
"Our goal is to create a family-friendly atmosphere with good food," Meggie says, "The view alone takes care of the environment. It's up to us to make you happy with what's on your plate." (Carrie Scozzaro)

Sweet Lou's • 46624 E. Hwy 200, Hope, Idaho • Open Tue-Sun, 11 am–10 pm • www.facebook.com/sweetlous • (208) 264-5999