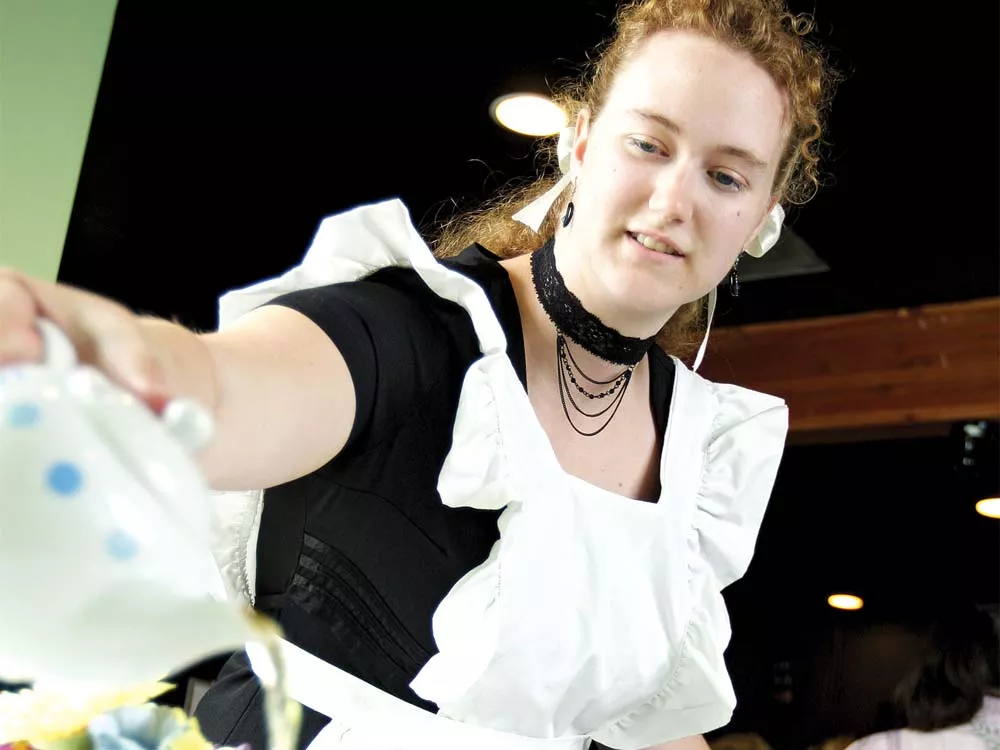 Kara Nelson's face is serious. This is not about sex.
Her outfit proves it. Last week at Chairs Coffee, she's wearing a French maid's uniform, but hers isn't the sexed-up version you're thinking of. Nelson is the vision of a real maid — demure and conservative in a to-the-knees dress and frilly apron. She's explaining that Japanese Maid Cafés — restaurants staffed entirely by attractive women dressed in maid costumes, whose job is to dote on customers and call them "master" — may have something to do with sexual fetishes. But her café, a weekend-long temporary eatery at Spokane's upcoming anime convention, is simply for fun.
It makes sense to assume the worst of the kitschy Tokyo eateries. At a maid café, a customer pays not just for attention from a maid, but for the maid to perform services: Some maids will clean customers' ears, give back massages, kneel while stirring customers' coffee and draw smiley faces in ketchup on customers' omelets.
"They play games with you at your tableside. Sometimes it's like Hungry Hungry Hippos. Or like hand games, like rock paper scissors," Nelson says. "You pay the time to feel like you have your own private maid."
The café is a regular feature of the annual local convention, which is called KuroNekoCon. Nelson, the 20-year-old head maid, says that the experience at her cafe will be much like at the Japanese version. Maids will serve sweets — red velvet cupcakes, cookies, cream puffs. They'll call their customers "master" and wait on them as if they were servants.
This year, though, Nelson is screening each of her maids' costumes; last year, one maid "looked like she wasn't wearing any pants."
"We try to keep things PG-13, because we do have a really young clientele that comes into our café," she says. "It's not good for business if we look really promiscuous."
Maid cafés are just one type of cosplay (short for "costume play") — a trend that has boomed among diehard anime and comic fans in recent years.
At conventions worldwide — from the tiny, local KuroNekoCon to the massive, 47,000-person Anime Expo in Southern California — cosplay has become as important to conventions as the events themselves. Cosplayers dress as their favorite characters.
"It gets really competitive," says Jen French, event coordinator for KuroNekoCon. "You want to be the best-looking, most accurate [version of] your character."
For otaku — the manga/anime equivalent of Trekkies and fanboys — that means not only sewing, rigging together and purchasing the best costumes, but wearing contact lenses, dying their hair or piercing their ears.
"You're like a celebrity. I remember when we went to [Seattle's] Sakura-con, we were riding up the escalator and heard someone scream "SHUICHI!!" French, 28, says. "And we look up and there's these girls up there just screaming 'It's you!' Anime fans are really friendly with anime fans. There's a lot of love."


If you're an anime fan, there's a good chance you're a cosplayer, too. In fact, cosplay has gotten so big worldwide that it has spawned its own conventions. Fans in costume have begun to dominate the halls of videogame, anime, manga and comic conventions.
John Waite, owner of Merlyn's Comics, Games and Books (and a Spokane City Council candidate), saw his image spread across the Internet in May when he tried on a customer's StarCraft Terran marine suit and posed with his campaign sign.
Waite says that cosplay is one of the biggest trends he's seen in his eight years of attending comic conventions — especially at the Mecca of American conventions, San Diego Comic-Con.
"Cosplay is now the main reason that people go to cons," he says. Waite, who has been to Tokyo more than once, says that he thinks Japanese culture is so structured that costuming allows people to let loose a little.
"Their culture and society is very reserved, and you go to work, and you go right down the line," he says. "I noticed when you're not at work and they break, [they] throw themselves into things religiously.
"I think it's a release from the real world." French, KuroNekoCon's event coordinator, posed last week in a baby-blue schoolboy costume from Ouran High School Host Club, a popular anime and manga series. She's been cosplaying as her favorite characters for eight years. She looks around the room at Chairs Coffee at the other members of the KuroNekoCon committee — all of whom she met through conventions and cosplay.
This is the local convention's third year, and French and the rest of the committee are hoping to see more than 500 people attend, which would match last year's attendance. They already have registrants signed up from Canada, Montana and Florida. Their convention also touches on Japanese pop culture, sci-fi, anime, manga, comics, card games, board games and videogames. "It's a coalition of anything nerdy," Luke Garza, head of volunteers, says.
"Anime geeks love any geeks," French says. And, as if to prove her point, a young man and woman walk into the coffee shop, stopping fast when they see French.
"I love your outfit!" the girl screeches. "Thanks! We're talking about KuroNekoCon right now," French responds.
As the girl tells French about a costume she recently saw at North- Town Mall, the young man stares, googly-eyed. Before his companion can finish, he interrupts — as if his fandom has overcome him.
"I really do love that outfit," he says to French. "It's soooo cute!"

KuroNekoCon • Sat, July 16 and Sun, July 17, from 10 am-10 pm • Spokane Falls Community College • Student Union Building • 3410 W. Fort George Wright Dr. • $20 • All-ages • kuronekocon.org