Consider yourself blessed. You're about to read an article that provides remarkable insight into the history of Inland Northwest sports. Or, depending on your perspective, you're about to read one of the most ludicrous articles in sports journalism history.
How in the world can anyone — particularly someone born too late to watch many of these athletes in their prime — accurately select the 50 greatest athletes in Inland Northwest history?
It's absolutely impossible. So, naturally, we didn't just pick the 50 best of all-time; I went ahead and ranked them, No. 1 through No. 50.
Read 'em and weep. But don't be afraid to read 'em and smile, too. Disagree with the rankings all you want, but no one can question the abundant skills of our Fab 50.
Obviously, there is no sure-fire formula for making these selections. More than 150 hours of research went into the project, and only athletes who attended Eastern Washington or North Idaho high schools were considered.
Certain allowances were made for differences in eras, genders, variety of skills and levels of competition. A premium was placed on accomplishments at the professional, Olympic and NCAA Division I levels. Athletes are listed with their primary teams or organizations, starting with high schools.
I asked respected colleagues John Blanchette of the Spokesman-Review and Dennis Patchin of KXLY-TV, two other longtime observers of the area sports scene, to rank their top five athletes.
And we're asking you to share your Top Five, too — or tell us about somebody we overlooked. We'll publish your comments and lists in a future issue. Send to Best Athletes, totheeditor@inlander.com.
To the 50 athletes who made our list, and to the countless other area athletes who have provided us with so many wonderful memories through the years — thank you!
1. Ryne Sandberg

North Central/Chicago Cubs

Arguably the greatest second baseman of all-time, Sandberg was inducted into the Baseball Hall of Fame in 2005. Sandberg played in 10 All-Star Games, won nine Gold Gloves for fielding, set the career fielding percentage record for second basemen (.989) and played a record 123 consecutive games at second base without an error. He hit .285 with 282 home runs and 344 stolen bases in 16 seasons.
"I was taught you never, ever disrespect your opponent or your teammates or your organization or your manager and never, ever your uniform," Sandberg said during his Hall of Fame induction speech. "Make a great play, act like you've done it before. Get a big hit, look for the third base coach and get ready to run the bases. Hit a home run, put your head down, drop the bat, run around the bases."
That's the attitude. No wonder Sandberg is rising through the ranks as a manager to watch, first with Peoria and currently setting the lineup for the Lehigh Valley IronPigs, the AAA team for the Philadelphia Phillies — the team that drafted him and traded him to Chicago.
For me, Sandberg earned the slightest of nods over John Stockton because no other second baseman in baseball history has combined hitting for power and average, superb defense and excellent base stealing like Sandberg. Hitting a baseball thrown by a major league pitcher remains the single most difficult feat in sports.
2. John Stockton

Gonzaga Prep/Gonzaga University/Utah Jazz/U.S. Olympics
Stockton is the NBA career leader in assists (15,806) and steals (3,265). A 10-time all-star, two-time Olympic gold medalist and 2009 Basketball Hall of Fame inductee, Stockton led the NBA in assists a record nine times. He averaged 13.1 points per game during a 19-year career and was voted one of the 50 best NBA players of all time.
The unassuming point guard maintained that he was never the best player on his teams — "Not once." Others begged to differ. "He had enormous God-given talent," said late, great former Gonzaga coach Dan Fitzgerald.
"He was making pro passes in high school," former Gonzaga Prep coach Terry Irwin said.
After retiring, Stockton moved his family back to Spokane full-time, where his kids are making the sports pages, too — his son David followed in his dad's footsteps and now plays basketball for Gonzaga University.
3. Gerry Lindgren
Rogers/Washington State/U.S. Olympics

The scrawny distance runner from Hillyard set eight national high school track records and won 11 NCAA track and cross-country championships. In 1964, Lindgren became the first American to beat the vaunted Russians in the 10,000 meters. He is a member of the National Track and Field Hall of Fame.
"Run with your heart instead of your mind," Lindgren says. "When you think with your mind, you think of the things you can and can't do. But when you run with your heart, you forget what you can't do and just go out and do it."
Lindgren, who wrote a book about running, lives in Hawaii.
4. Drew Bledsoe
Walla Walla/WSU/New New England Patriots

Bledsoe ranks eighth in NFL history with 44,611 passing yards, and 14th with 251 touchdown passes. The No. 1 pick in the 1993 draft passed for more than 4,000 yards three times, twice made the All-Pro second team and led the Patriots to the 1997 Super Bowl, where they lost to Green Bay.
Bledsoe says it was "heady stuff" when he has been mentioned with the likes of Hall of Fame quarterbacks such as Dan Marino and John Elway. "These were the guys I pretended to be at recess," Bledsoe says.
Bledsoe's success can be bottled, apparently, as he is a partner in Doubleback Winery, producing vintages with Walla Walla grapes that are earning in the mid-90s from Wine Spectator. He lives with his family in Bend, Ore.
5. Mark Rypien

Shadle Park/WSU/Washington Redskins

The 1992 Super Bowl MVP is regarded as one of the greatest all-around athletes in Washington high school history. An all-state football, basketball and baseball player at Shadle, Rypien made the 1991 All-Pro second football team when he passed for 3,564 yards and 28 touchdowns.
Rypien was not drafted until the sixth round in 1986, and it took him two years to get into a regular-season game. His perseverance paid off when he passed for 292 yards and two touchdowns in Washington's 37-24 win over Buffalo in the '92 Super Bowl.
"There is no better feeling than this today," Rypien said after the game. "I honestly feel at ease for the first time in a long, long time."
Rypien is back living in his hometown of Spokane, where he has founded the Rypien Foundation to help families facing childhood cancer.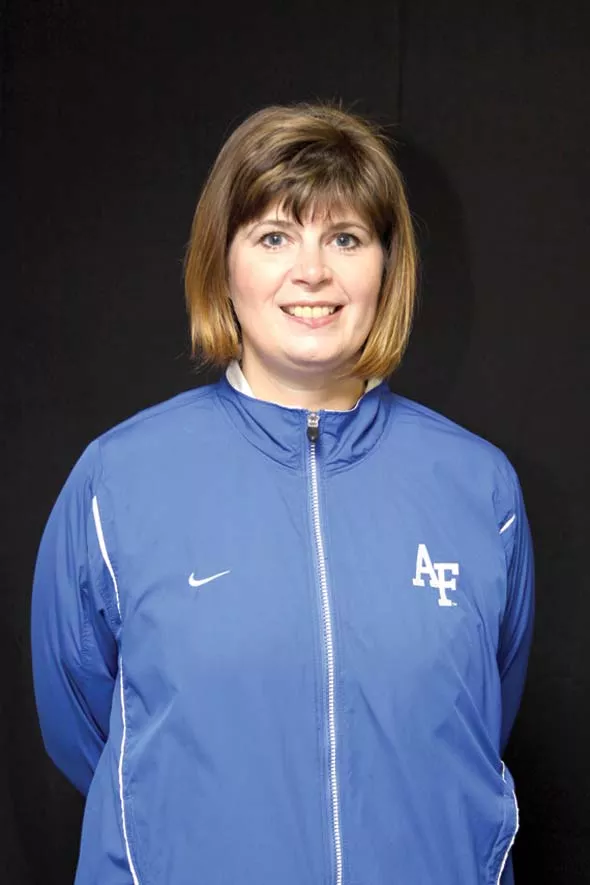 6. Launi Meili
Cheney/Eastern Washington/U.S. Olympics

Meili became the first American woman to win an Olympic gold medal in small-bore rifle when she triumphed in Barcelona in 1992. Meili competed on the national rifle team for 10 years, won seven national championships and set three world records and numerous national records. (Photo: Air Force Academy)

Since her Olympic triumph, Launi Meili has made a career out of teaching others to be the best. After getting her masters in sports psychology at the University of Idaho and coaching a rifle team at the University of Nebraska for five years, Meili is now in her fourth year as varsity rifle coach at the Air Force Academy in Colorado Springs.
Meili says she liked Nebraska, but it couldn't compare to the West. Colorado means mountains, skiing, friends and family, she says. Meili's parents still live on Fish Lake outside Spokane, and she comes home every Christmas.
While her main focus these days is building a winning team at the academy, she's also responsible for helping cadets learn leadership skills. There are only a few distant connections to the military in her family, but Meili says the Air Force job is an exciting challenge. She says she likes the atmosphere of a school where 14,000 people apply every year and only about 1,000 are accepted.
"It's very high-energy and intense," Meili says, "but it's very rewarding." (Heidi Groover)

7. Jerry Kramer
Sandpoint/Idaho/Green Bay Packers
The five-time All-Pro was named a starting offensive guard on the NFL's 50th anniversary team in 1969. Kramer started on five NFL championship teams with Green Bay.
8. Tom Sneva
Lewis and Clark/EWU/Penske Racing
After three runner-up performances, Sneva won the Indianapolis 500 in 1983. He won two IndyCar seasons and became the first driver to top 200 mph in Indianapolis 500 qualifying. Sneva was inducted into the Motorsports Hall of Fame in 2005.
Tom Sneva isn't used to doing things slowly. So when the Indy 500 champion got into the golf business, it seemed only fitting that he build a golf cart that could break 100 miles per hour.
"I thought I better own the world's fastest golf cart," Sneva says from his home in Arizona.
After he won the Indianapolis 500 in 1983 and two season championships, Sneva slowed down, but only a little. He retired, moved to Arizona and purchased half-ownership of the 500 Club, a golf course in Phoenix.
Between building the world's fastest golf cart, owning a busy golf course and serving as the chief mechanic for his grandson's quarter midget racing team, Sneva doesn't have much time to get back to Spokane.
This weekend, though, he will. Sneva is attending his Lewis and Clark High School 40-year reunion on Friday and Saturday.
"I don't come back nearly enough — about once a year or so," he says. "It's always great to come back home." (Heidi Groover)

9. Adam Morrison

Mead/Gonzaga/Charlotte Bobcats

Morrison led the nation with 28.1 points per game as a junior at Gonzaga in 2005-06. He then turned pro after sharing a national college basketball Player of the Year award with Duke's J.J. Redick. Drafted third overall, Morrison made the NBA All-Rookie second team after averaging 11.8 points for Charlotte in 2006-07.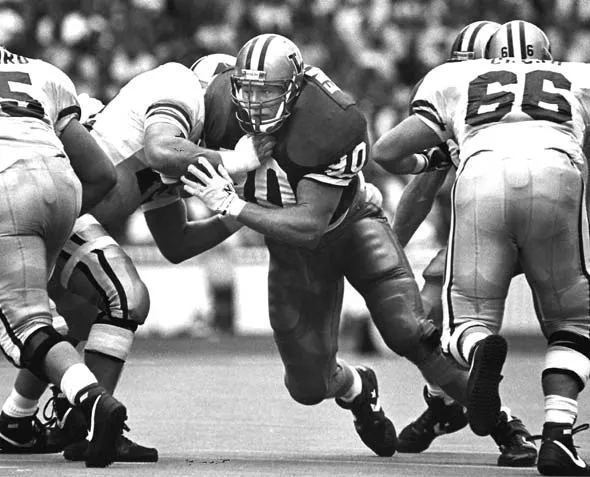 10. Steve Emtman
Cheney/Washington/Indianapolis Colts

Emtman was named college football's lineman of the year in 1991 after leading the Huskies to a 12-0 record and a share of the national championship. The defensive tackle was taken No. 1 in the 1992 NFL draft, but his pro career was cut short by knee injuries. (Photo: University of Washington Athletics)

Steve Emtman was the best player on the best football team the University of Washington has ever put together. He didn't play a glory position. He wasn't a quarterback or running back. He was a defensive end. In order to steal the spotlight from quarterbacks and running backs, Emtman had to crush them, and he did, with a tenacity that, in his junior season (1991), won him every award a lineman can win and put him fourth on the ballot for the Heisman — an award no defensive player has ever won.
His impact on college football was huge (he was inducted into the College Football Hall of Fame in 2006, alongside Emmitt Smith and John Madden), but despite being picked first in the NFL draft by the Indianapolis Colts, his career was short and injury-ridden.
He hopes his biggest post-Huskies impact will be on his hometown of Cheney. Now in real estate development (his company is aptly named Defender Developments), Emtman is in the middle of three new projects, including the massive 1,300-unit "community in harmony with nature" south of town, called Terra Vista.
He says he hopes to see Cheney become a "true college town" where at least 50 percent of students and faculty live in town instead of commuting. Emtman lives in Spokane for now, but is selling his house with plans to move "back home" to Cheney. He wants to avoid the stereotype of the big-time developer who comes into town without much knowledge or concern for its residents.
"I would love to see the town I grew up in — was born and raised in — become a big-time college program," Emtman says, "both athletically and the city itself." (Luke Baumgarten and Heidi Groover)

11. Brad Walker

University/Washington/U.S. Olympics
Walker set the U.S. pole vault record of 19 feet, 9.75 inches in 2008. Walker won the world outdoor title in 2007 after capturing world indoor honors in 2006.
12. Andrea Lloyd

Moscow/Texas/Minnesota Lynx
The Women's Basketball Hall of Famer played 14 years of pro ball after earning three All-America honors at Texas. She starred on the undefeated NCAA champion team in 1985-86, then won Olympic gold in 1988.
13. Jim Demers

Sandpoint/Oregon
A four-sport standout at Sandpoint, DeMers set the world high school javelin record of 205 feet, 1 1/4 inches — when javelins were made of wood, mind you — at the so-called world high school championships in Chicago in 1927. Two years later, DeMers broke the overall American record, then set the world record of 222-6.75 when he won the 1931 national championship. A series of ill-timed health issues prevented DeMers from ever competing in the Olympics.
14. Carl Johnson

Lewis and Clark/Michigan/U.S. Olympics

Johnson nearly broke the national high school long jump record, then won 16 Big Ten Conference individual track titles before winning a silver medal in the long jump at the 1920 Olympics.
15. Jason Hanson

Mead/WSU/Detroit Lions

The 19-year NFL veteran ranks seventh in league history with 1,890 points, and he holds the record for most 50-yard field goals (45). He was a three-time All-American at WSU, where his 62yarder in 1991 remains the longest in school history.
16. Mary Lou Petty
Lewis and Clark/Washington Athletic Club/U.S. Olympics

The Lewis and Clark graduate set one world and six American swimming records (mostly in relays). Her world record came in the rarely held 300-yard freestyle. Petty was the points leader at the 1936 national championships. Despite being ill, she finished fourth in the 400-meter freestyle at the 1936 Summer Olympics in Berlin. (Photo: Washington Athletic Club)
To swimmer Mary Lou Petty and her teammates at the 1936 Summer Olympics in Berlin, attendee Adolf Hitler was "just another dictator." The Spokane native was a great swimmer, but her front-row seat to history has made her story even more fascinating.
Although she and her teammates had heard of Hitler's deeds via leaflets they were given before their departure to Germany, they found the information too outlandish to believe. So each day, Petty (second from left in picture) watched him sit poolside — highly protected, impeccably groomed, stern and cold in his demeanor.
"He looked a lot like Charlie Chaplin," recalled Petty-Skok (her married name) in a recent video by the Arizona Storytellers Project. "The only thing was, he never twitched his mustache, he never laughed at anything, he never smiled at anything."
While Hitler's presence was jarring, Petty had worked too hard to be distracted. An avid swimmer from a young age, she had once before tried out for the Olympics, but due to the collapse of her family's business during the Great Depression, she had had to wait. The summer of 1936, though, brought out her best. Despite illness during the competition, she still competed and placed only just out of the top three. Even though she didn't receive a medal, she was thrilled.
"I was in heaven. And when I found out I was in fourth," said Petty-Skok, "I was still in heaven."
Even though it's 75 years later, Petty-Skok can still feel the spirit of camaraderie.
"In sports, it made no difference where you were from, what color, what you swam," said Petty-Skok. "It was swimming being the common denominator. We didn't need to speak the same language. It was great." (Tiffany Harms)

17. Gail Cogdill

Lewis and Clark/WSU/Detroit Lions
The 1960 NFL Rookie of the Year caught 356 passes for 5,696 yards and 34 touchdowns in 11 pro seasons and played in three Pro Bowls. His 252 receiving yards against Northwestern in 1958 stood as an NCAA Division I (now Bowl Subdivision) record for 33 years.
18. Ray Flaherty

Gonzaga High/Gonzaga/New York Giants
Flaherty made All-Pro in 1928 and 1932 as a two-way end who routinely played 60 minutes a game. He won two NFL titles as a player and two more as a coach. His coaching success earned him a spot in the Pro Football Hall of Fame.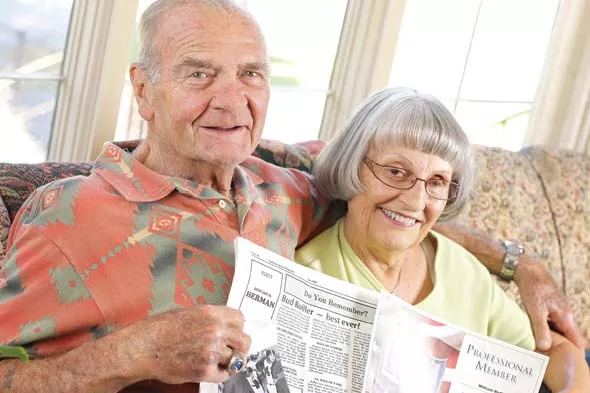 19. Bud Roffler
Lewis and Clark/WSU/NFL

Roffler attended LC in the 1940s, and more than a few old-timers swear he's still the best prep athlete in Spokane history. Roffler could do it all in football, basketball and baseball, and he was a stellar two-way back at Washington State before playing briefly in the NFL. Roffler still holds the WSU career record of 13 yards per punt return. (Photo: Young Kwak)
Bud Roffler almost didn't even turn out for football his first year at Lewis and Clark. But he did, taking the first step into a sports career people are still talking about in the Inland Northwest.
"I was on the move all the time," Roffler recalls from his Spokane Valley home, where a WSU Cougar logo greets visitors. "I played football, basketball and baseball all my life."
Roffler's NFL career was brief — three games with Philadelphia in 1954 before a concussion he suffered in an auto accident shortened his career. Roffler had been drafted by the Green Bay Packers in 1952, but Uncle Sam got him first; he was drafted by the U.S. Army before he ever got to the NFL. Roffler played on a national military championship football team at Fort Ord, Calif. He loved it.
"I was just so tickled to play," he says with a laugh, "because I just knew I was going to get sent to Korea to get shot at."
Roffler, now 80, bemoans the lack of three-sport athletes these days, particularly at the prep level.
"I would have been very upset if I couldn't have played all three," Roffler says. "I see no reason why you can't. If you've got the talent, play!"
Roffler played three sports at WSU, too. He was a guard in basketball and a center fielder in baseball, but he played all over the field in football — halfback, safety, place-kicker, punter and kick returner. Roffler capped his college career by rushing for 132 yards in his final game as a Cougar, a 27-25 win at Washington. And he still holds the WSU career record of 13 yards per punt return.
On that note, Bud's wife of 52 years, Maggie (pictured, above), about sums it all up: "They didn't need anybody else!" (Howie Stalwick)

20. Corissa Yasen

Coeur d'Alene/Purdue/WNBA
Yasen's 6-foot-2-inch high jump in 1992 tied for eighth in U.S. prep girls history and earned her a trip to the U.S. Olympic Trials. Her nine All-America track and field honors at Purdue included the 1996 NCAA heptathlon title. Yasen averaged 11.4 points in her only season of college basketball and played one year in the Women's NBA.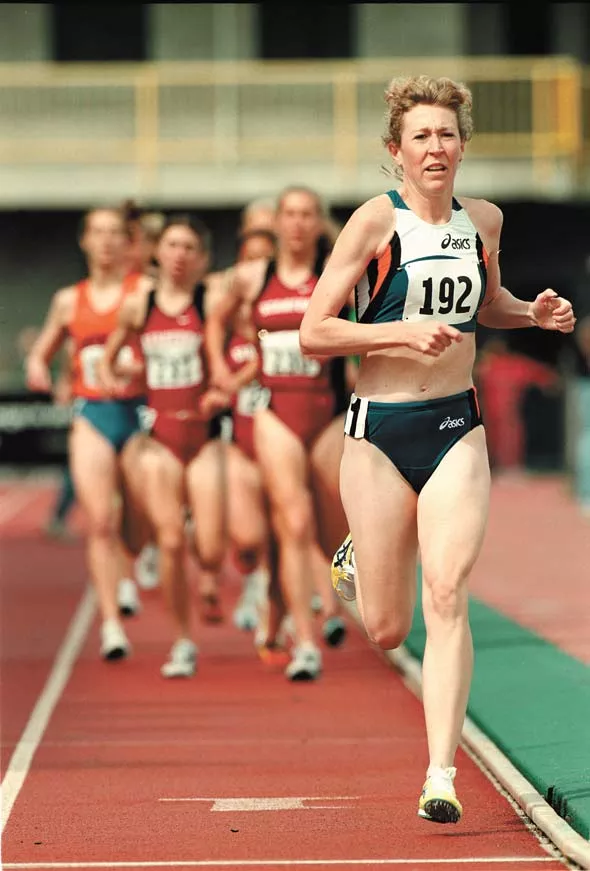 21. Annette Hand
Peters Central Valley/Oregon/U.S. Olympics

Hand set the American women's record in the 5,000-meters run in 1993. She won the NCAA 5,000 title in 1988 and later won U.S. national championships in the 1,500 and 3,000 (twice) as well as in cross country. (Photo: University of Oregon Athletics)
Ask nearly any fanatical high school distance runner where they dream of running, and you'll immediately hear "Hayward Field." The domain of running legend Steve Prefontaine and the host of three consecutive Olympic Trials, the University of Oregon's Hayward Field was the perfect habitat for Annette Hand.
"There was an audience," says Tom Heinonen, Hand's coach for 16 years, starting with her Oregon career. "There were people to perform for." In Eugene, the fans not only pack the stadium, they understand the nuances of a 20-lap race.
But Annette Hand started out in a different legendary distance running community: Spokane, Washington.
Walk through Central Valley High School, and you'll still see Hand's 1982 records dominating the trophy case. She broke the five-minute 1600 multiple times, and she still holds the top two slots for the 3200 meters. In a rivalry only comparable to this year's Kendra Weitz and Katie Knight battle, the Spokesman-Review cited Hand's 1983 record-breaking, last-second 1600 victory against three-time cross country champ Patty Matava as one of the top moments in Spokane high school sports history.
But Hand followed it up with more great moments. In college, she became one of the best Oregon track competitors ever, winning the NCAA championship in the 3000 in 1988, then a spot on the Olympic team in Barcelona. She was always at the front of the pack, always raring to run a harder pace.
These days, she's married — she's Annette Peters now — and works as a kindergarten teacher at Mount Vernon Elementary in Oregon, not far from Eugene. She put in 22 years of competitive distance running, but those days are over.
For those wanting a long career without injury, she has some counterintuitive advice: Run low miles. "Do the least amount possible," she says. "You've always got room to put those miles in." (Daniel Walters)
Professional Rodeo Cowboys Association

A member of the Pro Rodeo Hall of Fame, Copenhaver won back-to-back world championships in saddle bronc riding in 1955-56. The Wilbur High graduate finished in the top four on five other occasions. (Photo: Pro Rodeo Hall of Fame)
You couldn't get Deb Copenhaver off of a saddle bronc if you tried. He loved to ride them. The meaner the better. Through the 1950s — the "Golden Age of Rodeo" — he rode as much as he could, everywhere you can imagine. He owned the middle of the decade, a runner-up for the world title in '54 and back-to-back champion in '55 and '56.
You couldn't reasonably drive to Calgary to Elko to Omak in time to hit them all, so he would hitch a ride in his friend's 180 Cessna. "A man never gets to the point where he don't like to get on a good bucking horse," Copenhaver told Sports Illustrated in 1956. He was inducted into the National Cowboy Hall of Fame in 1991 and the Pro Rodeo Hall of Fame a year later.
Copenhaver was born in Wilbur, Wash., and he'll probably die a few miles east, on his ranch in Creston. He says he loves God as much as he loves horses. In 2007, he built a roadside chapel off Highway 2 out of old cedar poles from the Bonneville Power Administration. It's open to anyone passing by, he told the Spokesman in 2008. "Everyone is welcome to come and lay your burdens at the altar and be refreshed." (Luke Baumgarten)

23. Albert Johnson

U.S. Horse Racing Hall of Fame
The native of tiny Milan, Wash., rode Kentucky Derby winners in 1922 and '26 and won the Belmont Stakes in 1925. Although there's no evidence that he attended high school, Johnson did grow up here and started his Hall of Fame jockey career at Spokane's Playfair Race Course.
24. John Friesz

Coeur d'Alene/Idaho/NFL

Friesz won the Walter Payton Award as the top player in NCAA Division I-AA football in 1989. That year, he passed for 4,048 yards and 31 touchdowns and threw just eight interceptions. He set 24 Vandal, 18 Big Sky Conference and five I-AA records. He played for four teams during his 11-year NFL career (including the Seattle Seahawks) and threw 45 touchdowns.
25. Jeanne Eggart

Walla Walla/WSU

Eggart was way ahead of the curve in girls and women's athletics in the 1970s and '80s. She once scored 47 points in a state tournament basketball game, and she's a member of the National High School Hall of Fame. Eggart held the WSU javelin record for years, and in basketball she averaged 18.4 points, 6.1 rebounds, 3.6 assists and 3.5 steals. She remains the all-time Cougars leader in points and steals.
26. Jaimie Lee
Ferris/Notre Dame/U.S. National Team/pro beach volleyball
27. Jake Rosholt
Sandpoint/Oklahoma State wrestling
28. Earl Sheely
North Central/Chicago White Sox baseball
29. Guido "Young Firpo" Bardelli
Burke, Idaho/pro boxing
30. Vean Gregg
Clarkston/Cleveland Naps (later Indians) baseball
31. Kirk Triplett
Pullman/Nevada/PGA Tour golf
32. Lefty Brandt
Lewis and Clark/Boston Braves baseball
33. Jared Lawrence
Sandpoint/Minnesota/Team USA wrestling
34. Ian Waltz
Post Falls/WSU/U.S. Olympics track and field
35. Max Krause
Gonzaga High/Gonzaga/ New York Giants football
36. Timm Rosenbach
Pullman/ WSU/Phoenix Cardinals football
37. Rod Funseth
North Central/Idaho/ PGA
Wallace/Idaho boxing (Photo: University of Idaho Athletics)
It seems only fitting that Wallace, Idaho — a town with a rambunctious reputation — would produce the best boxer in Idaho history. After growing up in the North Idaho mining town, Herb Carlson went on to dominate the collegiate boxing scene from 1947 to 50 with his fierce style.
During his college boxing career at the University of Idaho, Carlson carried the team, assuring they never finished in worse than fourth place at the NCAA championships. His personal and team wins allowed him to become the first Idaho athlete to be awarded the prestigious La Rowe Trophy — an honor given to the top boxer in the nation.
By the time he finished school, he could boast a 22-fight win streak. In his book Lords of the Ring: The Triumph and Tragedy of College Boxing's Greatest Team, author Doug Moe chronicles the match between University of Wisconsin boxer John Lendenski and then-undefeated Carlson, especially noting Carlson's bold technique.
"His method in the ring was to mount such a ferocious offense that a defense was rendered unnecessary," wrote Moe.
Lendenski would end up winning the match by technical knockout, much to the disappointment of Carlson, who felt the TKO call was erroneous. Despite the loss, Carlson's winning streak secured his place in the University of Idaho Hall of Fame in 2007, nearly 57 years after he roamed the ring. (Tiffany Harms)
39. Angie Bjorklund
University/Tennessee/Chicago Sky basketball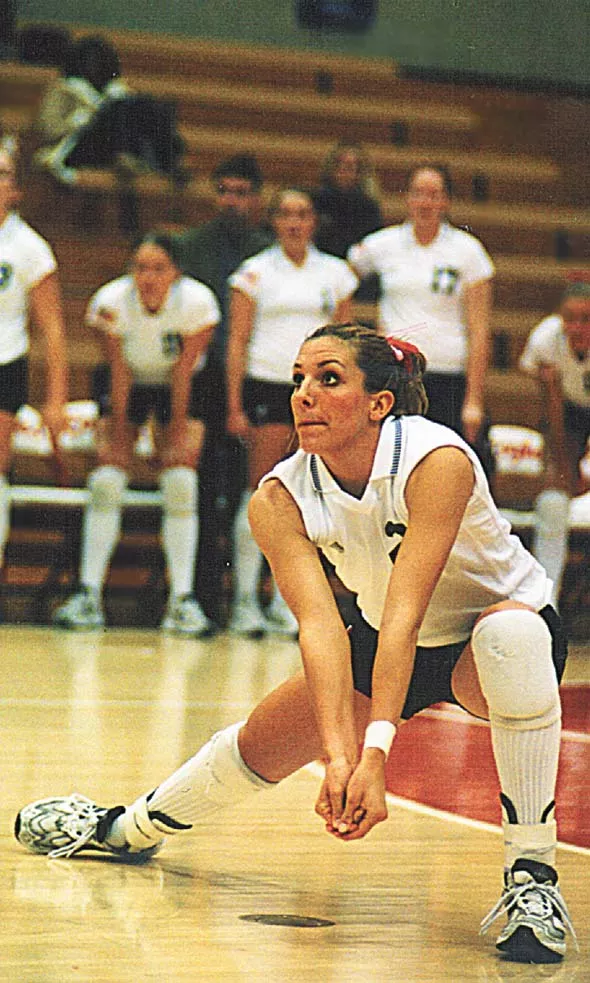 40. Janelle Ruen Allen
Post Falls volleyball-basketball-swimming-track and field/EWU volleyball-basketball/pro beach volleyball (Photo: Eastern Washington University Athletics)
Looking at 31-year-old Janelle Ruen's résumé is enough to make anyone feel deficient. Not only has she dominated both the basketball and volleyball courts through high school and college, taking just about every award the school, region and state had to offer, she was also a standout student.
Growing up in Post Falls, Ruen (now Janelle Allen) stuck mostly to basketball. In an interview with iSport.com, she talked about how club volleyball didn't really develop in Spokane until she was 16. Even so, she played both basketball and volleyball at Eastern Washington University for three years until ultimately deciding as a senior that her passion was volleyball.
She chose wisely, as, after college, she went pro. And yes, it's been a key to the kind of lifestyle you'd think the title "professional volleyball player" might unlock.
Today she earns her living traveling the beaches of the world; her "work attire" is a bikini. In 2008, she even landed a role in Impact Point, a beach volleyball movie. She met her husband at work — Billy Allen is a pro beach volleyball player, too.
Although she now lives in California, far from her home in North Idaho, her mark in the area is far from gone.
"[Ruen was] definitely one of the best in the Inland Northwest," says her former coach at EWU, Wade Benson. "[She is a] great representative for female athletes across the board." (Tiffany Harms)

41. Jennifer Stinson
Davenport volleyball-basketball-track/WSU volleyball
42. Mike Hollis
Central Valley/Idaho/Jacksonville Jaguars football
43. Doug Riesenberg
Moscow/California/New York Giants football
44. Bump Wills
Central Valley/Arizona State/Texas Rangers baseball
45. George Yarno
Ferris/WSU/Tampa Bay Buccaneers football
46. Tracy Hanson
Lakeland/San Jose State/ LPGA Tour golf
47. Rick Riley
Ferris/WSU track and field-cross country
48. Mike Redmond
Gonzaga Prep/ Gonzaga/Florida Marlins baseball
49. Brian Quinnett
Cheney/WSU/ New York Knicks basketball

50. Bill Etter
Lewis and Clark/Notre Dame/Hamilton (Ontario) Tiger-Cats football (Photo: University of Notre Dame Athletics)
He'd never been east of the Idaho Panhandle before college. But now, suddenly, there he was in Yankee Stadium, playing football for Notre Dame against the West Point Army Cadets. Now a trim, white-haired attorney in Spokane, Etter still remembers his pinch-me moment as he was mobbed after the game by Notre Dame fans bringing their sons along to get his autograph.
His trip to the Bronx started when he played quarterback for Lewis and Clark High School. It was 1967, and archrival Gonzaga Prep had a 22-game winning streak. Etter still remembers looking up at the scoreboard after the game: Lewis and Clark 27, Gonzaga Prep 21. Prep's streak was over, and Etter was an All-American.
At Notre Dame, he finally broke the starting lineup after backing up Joe Theismann. He made the most of his chance against Navy in 1969, tearing across the field and scoring on a 79-yard run. That was part of a 146-yard rushing day, still a Notre Dame record for QBs. His teammates pounced on him to celebrate.
"That was the hardest tackle of the day," Etter says. A different tackle, in a later game, tore a ligament in his knee. After only four starts, he thought his football career was over.
It wasn't. In 1973, the Canadian Football League's Hamilton Tiger-Cats signed him as their backup quarterback, where he played for three years.
Football has changed since Etter's era — more passing, less running, way bigger players. Occasionally, when Etter reunites with his former teammates, they'll turn on the game.
"We're interested in the game, but we're not zealot fans," Etter says. "I think it's because we've been there, done it. The mystery, the majesty — we understand it was a bunch of hard work." (Daniel Walters)