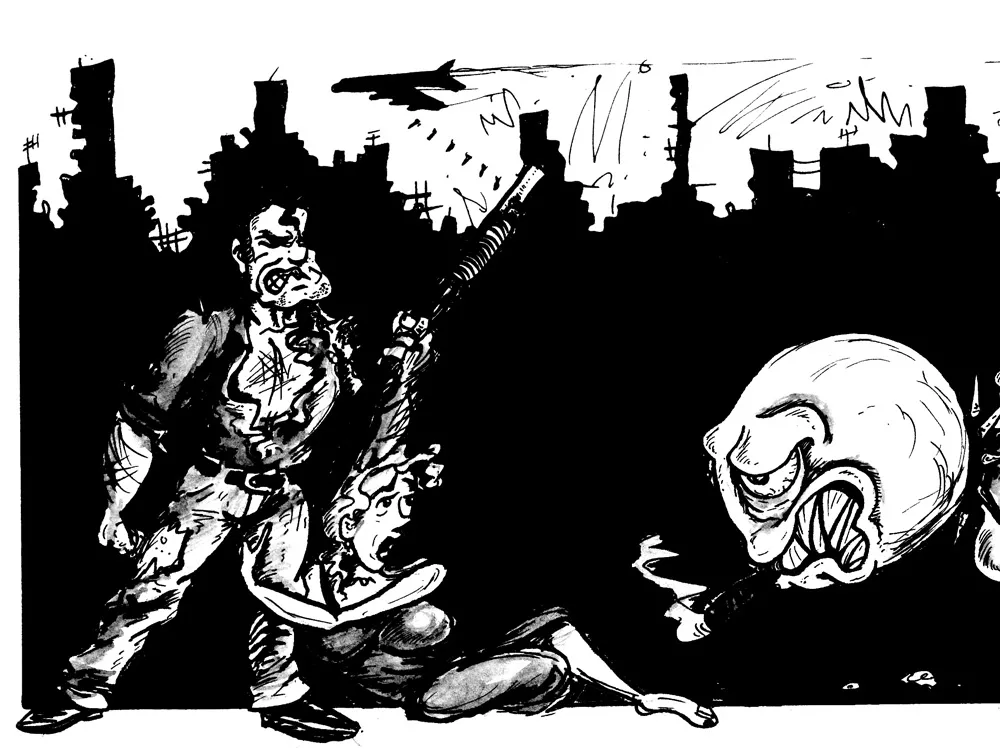 "In all honesty, I can't stand musicals. I've never liked them," says Ben Olson. "Something about a bunch of people suddenly breaking into song and dance ... it always creeped me out a little bit."
Not an uncommon opinion, but a strange one to hold if, like Olson, you're a playwright whose new play is … a musical.
Then again, Olson isn't exactly orthodox. His first play, Death of a Small Town in the West, bit the hand that fed the local economy by mocking the "resortification" of his hometown of Sandpoint, Idaho. And it didn't do it by half-measures. To achieve his radical ends, the protagonist blows up the three bridges that connect the town to the wider world.
"It was politically charged," Olson says. "It was influenced by my lifelong frustration with Sandpoint trying to turn itself into a haven for the rich. Pretty soon the whole town is walking tiny dogs in sweaters and wearing those designer workout suits made of crushed velour. The heart of the town dies."
The dark humor of his angry political fantasy struck a nerve, though. More than 800 tickets were sold in a town that is home to only around 7,000 people.
Olson says that using comedy as his vehicle was a big factor in the play's success.
"I didn't want to alienate anyone for gratuitous purposes," he says. "I wanted them to laugh at their foibles as a town, but when the laughter died down, I wanted them to really think about the underlying message — that these small towns are in fact dying as they grow into the promises written about them in real-estate brochures."
For his new play, which began taking shape before the curtain fell on Death of a Small Town, Olson decided to stick with comedy but switch his focus to a more "feel-good" subject. At first.
"I thought it would be funny to write a musical for people who didn't like musicals."
"As usual, controversies found their way in. I started opening big cans of worms: abortion, genetic modification, sperm mutation therapy, worldwide sterilization."
And in this way, Sperm! The Musical was engendered. It's the tale of Willy and Delouise Johnson, a husband and wife who, in their attempt to conceive a child, visit a sperm bank reminiscent of Little Shop of Horrors — complete with mutant sperm monsters and Sovietera technological contraptions. Sperm! is a strange mix of emotionally charged topics, absurdist humor, and ironic song-and-dance numbers.
"I thought it would be funny to write a musical for people who didn't like musicals," he says. "Make all the songs ludicrous. Make the subject matter even more ridiculous. To hell with the middle ground. I don't want anyone to walk out with a shrug. It's for that reason, I think, that so many people bought tickets for Death, and for the same reason [that they] will come see Sperm! We really hung our balls out there on this one."
In addition to Olson himself and the cast, "we" refers to Brian Hibbard of the band Tennis and director Andrew Sorg. Hibbard wrote the book of catchy jazz- and pop-inspired songs; Sorg is, in Olson's words, the "magician" who is helping him to revitalize and redefine community theater in Sandpoint.
"Whether or not my first play had anything to do with this resurgence is up for interpretation," Olson says. "What I do know is that there is new passion behind [community] theater now. It's not just a bunch of menopausal women in heavy makeup giving heady soliloquies. It's a chance to experiment with taboo subject matter, to push a few limits, to change the very nature of an average person's theater-going experience.
"I mean, the play's called Sperm! for chrissakes."

Sperm! The Musical • Aug. 19-20 and Aug. 26-27, at 7 pm • Panida Theater, 300 N. First Ave., Sandpoint • $15; discounted tickets available before the show at Main Street Music, Eichardt's, Eve's Leaves, and Pack River Potions • 17 • panida.org • (208) 263- 9191