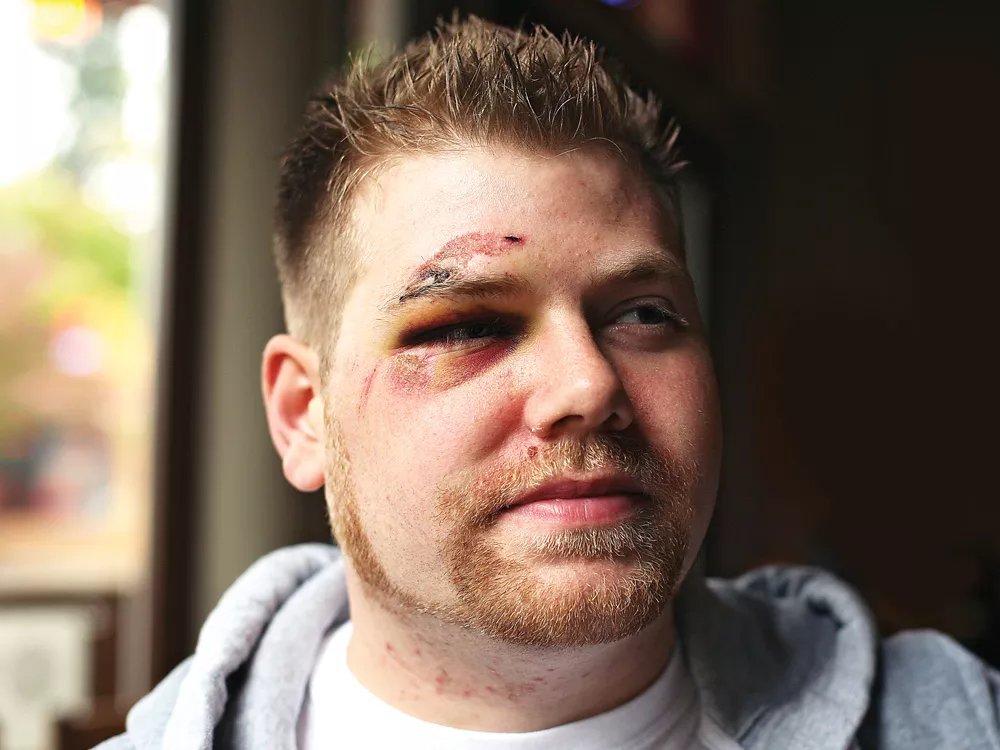 Gay men in Spokane are either being targeted for beatings due to their sexual orientation, or they're getting into trouble just like anyone else.
Representatives from the gay community and four recent assault victims say it's the former. Police says it's the latter.
"They're saying that there's these four vicious assaults on members of their community. And now I can say that four members of the community have been involved in incidences," says Jennifer DeRuwe, a spokeswoman for the Spokane Police Department. "I cannot say that there is a campaign of violence against gays."
Matthew Cannon, a director of the Inland Northwest LGBT Center, a Spokane-based gay advocacy group, says the assaults represent a trend.
"I thought our little community here was making inroads towards equality. The recent events first off have been very disheartening," Cannon says. "I personally think it is a little bit of a trend forming."
Cannon says it started with Bartley Deen, who says he was attacked at Irv's Bar on Sprague Avenue in downtown Spokane on Sept. 8. Police say Deen started it by smashing a glass over an assailant's head. Deen disputes the police account.
Deen says a man who thought Deen was harassing his female friend threw him up against a wall and began crushing his throat with his forearm. Deen's friends tried to pull the man off, and Deen, fearing he would pass out, broke a glass over the man's head.
Deen says the man who assaulted him called him a "faggot." The police eventually arrested Deen for second-degree assault.
DeRuwe says that there was no indication that the altercation was motivated by Deen's sexual orientation and that Deen was drunk and acting belligerent.
Deen, who adopts the name Savannah SoReal when he performs in drag at Dempsey's Brass Rail, a downtown club, denied that he was intoxicated.
"As an entertainer, I have a reputation to protect," Deen says. "I don't get shit-faced at the bar."


The second assault happened on Sept. 21 to Steven Pfefferle, 38, after he returned to the South Hill apartment of a man who he had played several games of pool with and then driven home. According to Pfefferle, the man, who is identified on an assault citation as Curtis Fisk, jumped him in the apartment's attic, pulled down his pants and started strangling him with a rope that had wooden handles on each end.
Pfefferle says he pressed his thumb into Fisk's eye, then hit him repeatedly to free himself. His assailant started hitting him with a piece of metal, but Pfefferle managed to escape and ran to a nearby Zip Trip to call the police. By that point, Pfefferle says he was covered in blood, had cuts on his head and had chipped two of his teeth.
Fisk was issued a ticket for fourth-degree assault, a misdemeanor.
Pfefferle says he believes Fisk, who could not be reached for comment, targeted him because he was a patron at Dempsey's, a popular hangout in the gay community.
DeRuwe says that, based on her understanding of the case, responding officers did not hear that Fisk had strangled Pfefferle, only that he had been punched.
"I would trust that if he was strangled and had marks and they found a weapon, they would have arrested [Fisk] for a higher degree of assault," DeRuwe says. "If [Pfefferle] was concerned with the city assault, he certainly needs to bring it up at the prosecutor's office and not through the media."


The third assault happened around the corner, in the parking lot next to Irv's that is clogged with cars during the day but usually empty at night.
Michael Jepson, 45, was walking through the lot on the night of Sept. 28. He says a group of young people that were loitering near a wall at the border of the lot threw gravel at him, called him a gay slur and then hit him in the face, knocking off his glasses. When he stooped to pick the glasses up, they pushed him over. He got up, and started taking video with his cellphone. The attackers ran off.
When police responded, Jepson gave a "minimal" description of the attackers, and the police took no further action to investigate, DeRuwe says. The responding officer also did not indicate hearing Jepson say that he was called a gay slur, although Jepson says that bystanders heard him mention the slur to the police. Jepson also says he may have still been in shock when talking with the police.
Asked how the assailants could have known of his sexual orientation, Jepson, who identifies as bisexual, says it was probably because he was heading into a drag show at the bar.
"Again, it's just a word that is frequently used in anger," Jepson says of the use of the slur.


The fourth assault took place early last Saturday. Danny Hawkins, 26, was walking through a parking lot off Monroe Street with his boyfriend after departing Dempsey's.
A sport utility vehicle was coming towards him in the parking lot, and Hawkins says he feared it would hit him. He says he tapped on the car with his hand. Hawkins says a man got out of the car, and asked if he was gay. He told the man he was. The man then pushed him to the ground, Hawkin says, and called him a gay slur. The man then punched Hawkins in the face while he was lying on the ground.
It didn't quite happen like that, says DeRuwe. According to the officers' report, Hawkins was drunk, to the point that he couldn't remember his address or birthday, and he had hit the car repeatedly. Hawkins says he had five to six drinks that night, and was told by friends that he was "fine."
In the officer's initial report, DeRuwe says there was no mention of the slur, and the responding officers considered the incident a drunken fight.
Hawkins says he suffered a sprained ankle and had to get stitches above his eye.
"I started it? Whatever, if that's what they feel, let's compare injuries," Hawkins says. "They have no injuries."
As a result of the recent media attention on Hawkins's attack, DeRuwe says a detective from the major crimes unit has been assigned to review the case.
"If something has changed and he feels the assault was motivated because of his sexual orientation, obviously he needs to call and make his report," DeRuwe says. "Both parties that were in this fight together felt that they were victims of a crime."


While the police are investigating, Spokane city leaders have started reaching out to the gay community.
City Spokeswoman Marlene Feist says the city is planning to convene a meeting later this week with representatives of the gay community, along with Police Chief Anne Kirkpatrick, City Administrator Ted Danek and, possibly, Mayor Mary Verner.
In the meantime, Cannon from the LGBT Center says the community has already responded with precautionary measures, such as telling people at gay bars not to go outside to smoke or walk to their cars unaccompanied.
But DeRuwe says there is no evidence indicating a public safety threat to Spokane's gay community.
"I don't know what the intent is behind it, but I don't want people in the general Spokane community to make a generalizations about what is going on," DeRuwe says. "That's what's crazy to me because that's very unfair for the gay and lesbian community."
Feeling disillusioned with the police, Cannon says there has also been talk of forming a Pink Panthers brigade, a group of baseball bat-armed volunteers who escort patrons of gay bars to their cars.
"The next stop, No. 1, is for these crimes to be treated and handled by the Police Department as … hate crimes," Cannon says. "If this kind of thing is handled correctly, it would send a message: It won't be tolerated."