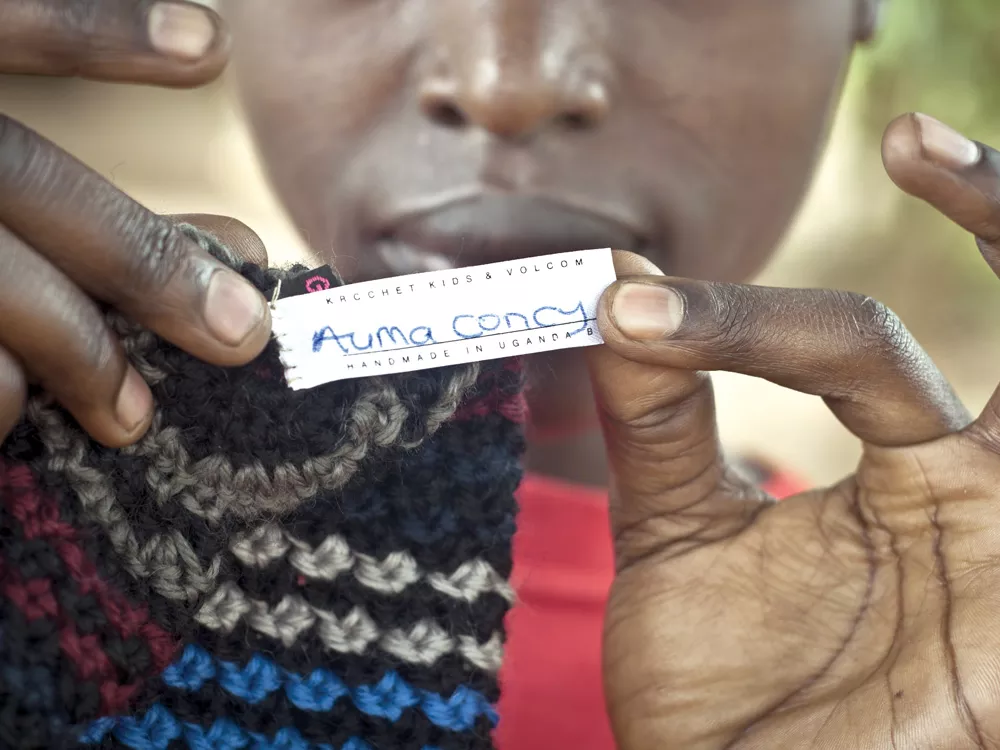 As a girl growing up in Uganda, Akech Santa was told that all women were good for was motherhood and prostitution. But Santa now defies those narrow expectations as a craft artist, crocheting hats to be sold in the United States. She hopes to put her children through school and eventually start her own textile business.
Santa is one of more than 130 women in Uganda employed by Krochet Kids, a nonprofit organization begun in Spokane, to crochet beanie-style hats. The hats are then sold in the United States, and the proceeds are invested back into Uganda.
Last month, the Kids began a new program with 10 women in Peru and, thanks to an ad for the search engine Bing, which spotlighted the organization's work, orders for their hats have "blown up," according to one employee.
Founders Kohl Crecelius, Travis Hartanov and Stewart Ramsey found the germ of the idea at Mt. Spokane High School in the mid-2000s. Crecelius had learned to crochet from his older brother and was getting his friends to learn, too.
"We were skiers and snowboarders, so we just saw a cool opportunity to have our own unique hats on the ski mountain," Crecelius says. "Then people really started liking them and wanting to buy them, so we started selling them."
They thought they had left crocheting behind when they left for college, but after Ramsey visited Uganda in 2006, that changed. Many of the people he had met there depended on the government and aid organizations to provide for themselves and their families. The friends decided to teach people in Uganda how to crochet as a way for them to earn a living (they're paid a fair and consistent income), restore their dignity and start taking control of their own lives.
Crochet may seem an unusual vehicle for change, but Crecelius, Hartanov and Ramsey had experience in designing, making and selling crochet hats, and it was a simple enough idea that could be replicated in other countries. All it takes to crochet a hat is some yarn and a hook.
This simplicity means that anyone in a rural area or developing country can easily make a valuable product.
"We also take that a step further and provide education and resources, like mentorship and career planning, for them to — at the end of three to five years — be doing sustainable jobs within their own local economy," Crecelius says.
Laura Heinritz, an intern with the organization at its new home in Costa Mesa, Calif., is passionate about the group, because they take an extra step beyond food and clothing drops to address the underlying contributors to poverty.
"Krochet Kids doesn't try to solve the problem of poverty by just giving things to people," she says.


The company is now expanding into Peru, where people move from rural areas into the capital city of Lima to find work but are often unsuccessful because there are so few opportunities for the uneducated.
The new initiative is a copy of the Uganda model, and although the Peru hats will differ slightly from those made in Uganda, and the post-program jobs will be a little bit different, the mission of empowering people to rise above poverty is the same.
The personal touch will remain, too. When customers read the name handwritten on the tag inside their hat, they can read its maker's story on the Krochet Kids website (which is where Akech Santa's story appears) and even send her a thank-you note.
"The connection that's made there is a very powerful one, because you, as a customer, know how you are helping Santa accomplish her dreams," says Crecelius. "We deliver all these thank-you notes, so you have this direct opportunity to speak encouragement and truth into this lady's life and it is a very powerful thing."
Krochet Kids has ambitious goals, but the organization's success shows, Crecelius says, when a woman receives a thank-you note and her face lights up with joy and excitement, giving truth to the organization's motto: "Buy a hat. Change a life."
Krochet Kids hats are available in Spokane at Mel's Nursery at 8800 N. Division St., Nordstrom at 828 W. Main Ave., and The Service Station at 9315 N. Nevada St.