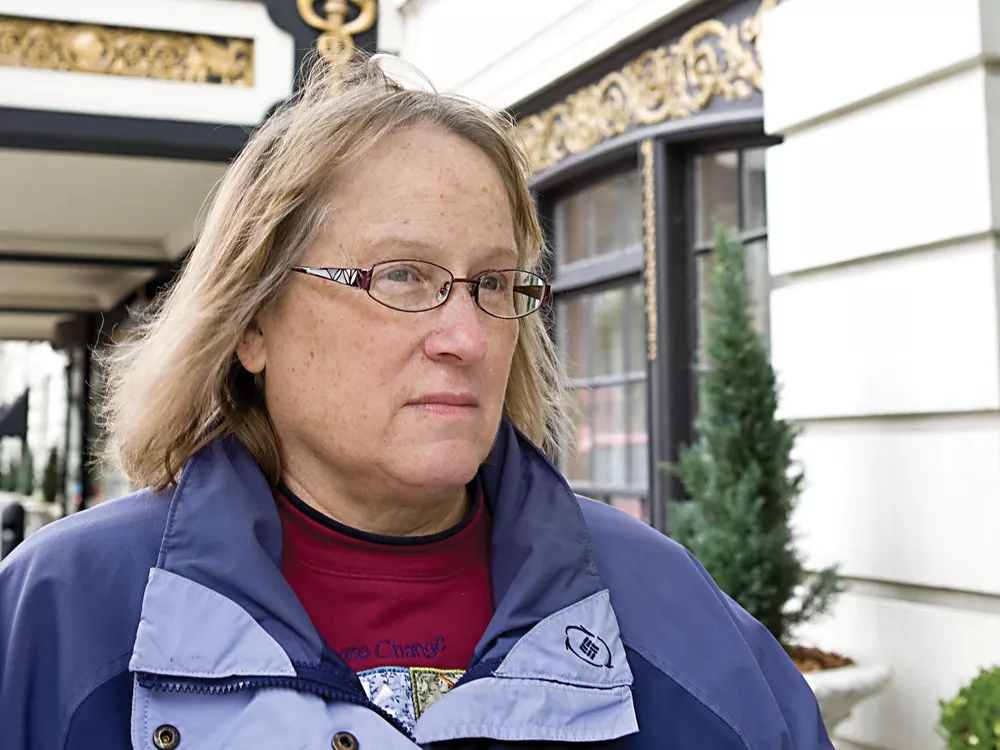 Susie Matteson walks around downtown one brisk morning showing off the Davenport Arts District. Matteson, a former board member of the booster group, passes the Fox Theater. When it re-opened in 2007, after having been scheduled for demolition in 2000, it was considered a key piece for bringing arts and entertainment back downtown. As she turns left onto First Avenue, Matteson rattles off a list for the district: wins, losses, unrealized dreams.
"We always wanted live/work spaces for artists," she says. "[But] it takes huge, big money."
Starved of direction, the board of the Davenport Arts District — a group made up of artists, gallery owners and other volunteers — is in the process of dissolving and plans to hand over its funds to the Spokane Arts Commission. While the district remains, in spirit, the question lingers: Without its guidance, will the vision of an artist-friendly downtown disappear?
"We're putting it in [the commission's] hands, because we don't exist anymore," says Matteson, who co-owns Peters and Sons Florists. Participation in the board began to drop in 2007 and eventually ground to a halt; Matteson left the board in 2008 when her business moved out of the district.
For almost two decades, the Davenport Arts District pushed Spokane to re-imagine the under-used city blocks surrounding the Davenport Hotel as a haven for artists and performers. In that time, downtown was transformed from a bit of a ghost town into the beginnings of a functional city core, where people have begun to live and socialize.
The district's board played a small supporting role in reshaping downtown Spokane. It commissioned benches forged from metal that was pulled from the old Steam Plant building, installed planters, and hung the banners that currently hang from light poles downtown. It also helped with tax-abatement programs for buildings undergoing renovation.
By giving the last of its remaining funds — approximately $17,000 — to the Arts Commission, Matteson hopes the district can boost downtown arts at a time when the public is wondering where tax dollars should be spent.
She also hopes the commission can leverage that money to find matching funds and thus stretch the district's gift even further.
"I want every single one of those dollars to be worth $5,000 apiece," says Matteson.
Spokane Arts Commissioner Karen Mobley says she is grateful for the donation, but adds that it's not a cure-all for her beleaguered department.
"While it's a very generous thing for them to do, it's not a magic bullet," says Mobley.
Mobley worries that the gift will make the commission's supporters think it doesn't need any more help.
As far as the disbanding Davenport board, Mobley says she thinks it fulfilled its purpose. The city's next generation of artists will continue the work but in its own way.
"Some of the most exciting stuff in Spokane isn't institutional," she says, citing Terrain and RiverSpeak, two young groups that take a less conventional approach to fostering artists and performers.


Mobley doesn't envision the next art hot spots as being in galleries, but rather in less conventional places, like "coffee shops and burrito stores."
Which may be a product of reality as much as a generational shift. Downtown Spokane has lost a few of its galleries in the past several years. The Lorinda Knight Gallery closed in 2009. In 2008, faced with rising rent, Matteson moved Peters and Sons, which boasted gallery space at its downtown location, outside of the district.
"As typical with many arts districts, you go into an area of blight, you create something good, and then others come in, the rents get raised, and the arts get pushed out the door," says Matteson.
She also points to the Otis Hotel, at the intersection of First Avenue and Madison Street. It saw its low-income inhabitants evicted in 2007 to make way for a swanky renovation that never came.
Jim Kolva, one of the few remaining downtown gallery owners, agrees that rising rents could cause problems.
"As the demand increases, building owners [are] going to raise rents, typically," says Kolva, who operates Kolva Sullivan Gallery on South Adams Street. "Though there are some [building] owners who are arts supporters."
But Kolva also thinks the higher rents are due to the necessary renovation of the antique buildings.
Still, the galleries and artists can still find cheaper places downtown by opening stores off the street-front, in "the less attractive spaces," he says.
The district's money, which the Spokane Arts Commission last week voted to accept, will fund arts projects within a mile and a half of the Davenport Hotel — the district's original boundary.
Matteson, who still displays some art at Peters and Sons, now at Pacific Avenue and Sherman Street, believes the economy was at least partly responsible for the demise of the district board.
"It feels good to be a volunteer for the [Vanessa Behan Crisis Nursery] or anything medical-related," she says. "When it comes to the arts, it's really hard to get people to be involved. Everybody's stretched too thin."
She says it's the same story with donations.
"They're more willing to give to a family crisis center than to a statue in the street."