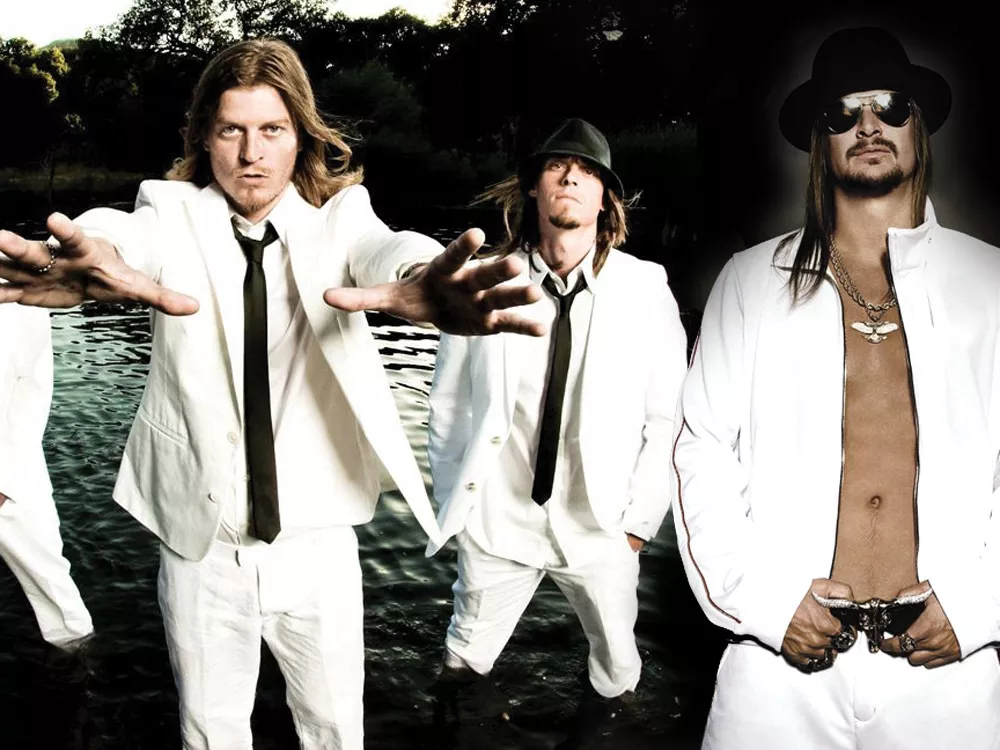 It's been a while since the year 2000. Everyone was worried that decimal places could ruin the world's finances in Y2K, and Britney Spears had yet to become an epic punchline.
Meanwhile, rock music found time to make two new genres happen: nu metal and a country-rap-rock hybrid. Soon, bands like Uncle Kracker and Creed popped up. Limp Bizkit began traipsing all over the airwaves. MTV was overtaken with Korn, Papa Roach, Slipknot and Linkin Park — bands who fused scatman-style delivery with screaming guitars and DJs scratching here and there.
At the same time, Kid Rock and Puddle of Mudd — two bands with feet embedded equally in countrified tavern rock and white-boy rap-rock — happened. This week, both will pass through the Knitting Factory, but as of now, Mr. Rock is sold out.
But fear not. As it turns out, the apple doesn't fall too far from the Y2K tree. When it comes down to it, Kid Rock and Wes Scantlin, the frontman of POM, are disturbingly similar.
1: They are both blonde dudes with longish hair who are frequent patrons of the folded head-bandanna. Basic, yes. But no one does this in real life. Especially not since around 2005.
2: Both have dated women who are not strippers, but have played them on TV.
The very public rise and fall of Kid Rock's marriage to Pam Anderson was all over the media back in the day. Pam did the Playboy thing for a while, then opted for a more legit career in acting. Most un-notably, she played the role of Barb Wire, a superhero/stripper/night-club owner in the film Barb Wire.
Scantlin also kind of dated a stripper through his relationship with Michelle Rubin, who took on the role of "Stripper" in one 2004 episode of Entourage.
3: Both have inspired works of literature.
No celebrity is safe from the imaginations of fans. And this is evident by the fact that someone, who goes by the name "Jangrafess" on the site thestudentroom.co.uk, wrote some steamy fan fiction about Kid Rock and a mystery guest. It's called Love in the Shadow of an Oak Tree: a Love Story, and catalogues Kid Rock as he spends his days solving poverty in Africa and canoodling with a stranger called David Mitchell.
Wes Scantlin has also been involved (unwittingly) in inspiring the imaginations of fans. In Olivia Cunning's romance novel, Backstage Pass, a group of five rockers in fictional band the Sinners set out to seduce a psychologist who is on tour with the band. Cunning lists Scantlin as the inspiration for her characters.
4: Both have had some trouble with the law.
Kid Rock has had some disagreements with the legal system. Mostly he's punched a lot of people, including Tommy Lee of Mtley Cre, DJ Jay Campos in a strip club, and a random person at a Waffle House in 2007.
As for Scantlin, his entire band is now banned from Graceland after he decided to jump in Elvis' pool. Before that, he was arrested alongside his then-fiancee after the couple had a weird fight inside a Jeep Cherokee. Scantlin has also sworn off the entire city of Toledo after getting arrested there for being wasted on stage.
5: Both convey a sexiness that has a disorienting effect on people.
A small bit of Googling reveals the havoc that the sexiness of these men is reaping on the general population.
One woman, Gayle Goldberg Sax, confesses on a Facebook event page for a Kid Rock show that she is willing to sacrifice hygiene and her underpants (cost unknown) for a man she's never met.
"Kid! I got to touch your sweaty arm as you came by and [THOSE] WERE MY PANTIES!" said Goldberg Sax.
Another woman professed on dearcupid.org that Scantlin was causing some issues in her marriage.
"I've found out that my husband has been looking at pornography online. However, it's not female porn, but pictures of Wes Scantlin (look him up on Google)." 
Puddle of Mudd plays with Lansdowne, Sugar Red Drive, The Fail Safe Project • Sat. Dec. 3 at 7:30 pm • Knitting Factory • $9.45-$25 • All-ages • Kid Rock plays with Ty Stone • Tues, Dec. 6, at 8 pm • Sold out • sp.knittingfactory.com • 244-3279