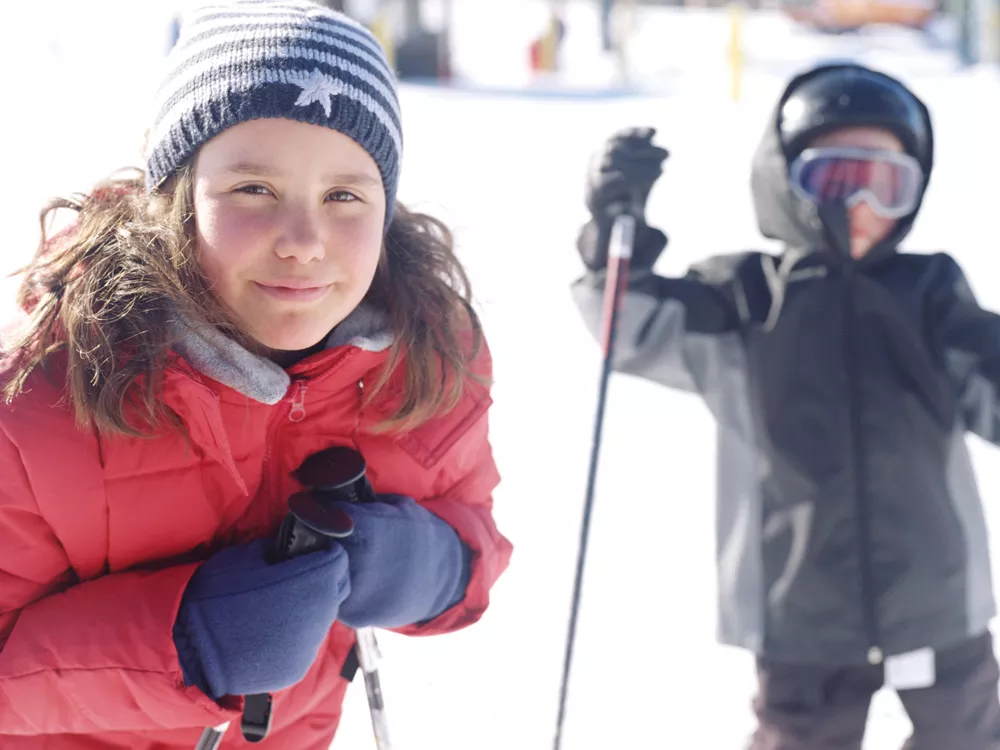 Whether it's to kick off your participation in winter sports or to brush up on your technique after nine months away from the slopes, lessons play a key role in developing the skills you need to have fun and be safe on the mountain.
All local resorts offer lessons for kids and adults, with some programs geared toward children as young as 2 years old, like one offered through 49 Degrees North. Rick Brown, the ski school director at 49, who has also been an instructor for 18 years, says that getting kids into lessons will make it easier on them in the long run.
"The biggest benefit is that they're going to learn to do [the sport] the right way," says Brown, who adds that the development of proper technique will allow them to progress more quickly through the sport. "Get a good start, a good solid foundation, so you can start the fun earlier."
Brown, who is responsible for training ski instructors across several states as a divisional clinic leader with the Professional Ski Instructors of America, has seen it all when it comes to lessons. He says a lot of people avoid lessons and opt to have a friend teach instead, but what seems like a logical move can often lead to trouble.
"It's very easy to get frustrated with someone you know well on either side of the learning partnership," says Brown.
This is true for couples, especially, he says.
"We say that that's the best way to end a relationship," says Brown. "If you've got a boyfriend or girlfriend you really don't like, come up and learn to snowboard from one another."


Instructors aren't just a bunch of ski bums — they go through extensive training that teaches them to recognize different learning styles, techniques and how to handle different personalities. It's a skill set that makes a huge difference when you're starting a sport, regardless of age.
Local-Lessons Lowdown
49 Degrees North
If you're starting from square one in the world of winter sports, 49 Degrees North has done a great job of simplifying what can be an overwhelming process through the EZ 1-2-3 Ski & Ride Program. On weekends, for a flat rate of $129, skiers or boarders ages 12 and up get three days' worth of lift tickets, equipment rental and lessons. Call 24 hours in advance to sign up. If you'd like to purchase a single lesson, 49 offers 90-minute group lessons starting at $49, and one- to three-hour lessons starting at $79. Also, kids as young as 2 can be enrolled in lessons, which start at $69, and parent-child lessons, which start at $99. 509-935-6649 ext. 610 • ski49n.com
Lookout Pass
Home of the famous free ski school, Lookout Pass has inducted tens of thousands of people into winter sports since it started teaching in the 1940s. Kids ages 6-17 can take advantage of the program, which runs every Saturday from January 7 to March 10. Registration is limited to 500 students, so make sure you sign up before it closes on January 21. Lookout also offers the EZ Ski & Ride 1-2-3 package; it's $99 for three lessons, three lift tickets and three rentals. Lookout also has several workshops, like the Downhill Divas program for women on Fridays at $140 a month or $45 a session, and senior workshops on Mondays. The Mini Moose Club is a program for ages 3-6 and features two weekend or holiday lessons with a break in between for hot chocolate and cookies, at $40 for one lesson or $70 for both. Ages 7 and up can take part in group lessons for $29 per hour or 90 minutes. Private lessons clock in at $45 per hour, with $25 added for each additional student. 208-744-1301 • skilookout.com
Mt. Spokane
For the casual learner, Mt. Spokane offers walk-in lessons for just $39 that range from one to two hours. Private lessons start at $49 for one hour, with $39 added on for each additional student, and $79 for a two-hour session, with $59 added for each additional student. You can tack on a rental for $15 and an all-mountain lift ticket for $20. Students need to register 24 hours in advance. Mt. Spokane does the EZ Ski & Ride 1-2-3 program, too, and it costs $109 and is available to ages 7 and up. The mountain also offers the Never Ever Package, which includes one beginner group lesson, a Chair 5 lift ticket and rental equipment all for $69. 238-2220 x215 • mtspokane.com
Schweitzer
Schweitzer offers a host of lessons, starting with kids as young as 4 months old and going up through adult learners. Their Kinderkamp on the Mountain program, for kids ages 4-6, combines two ski lessons with an indoor recreation break in which kids can make art, play or just chill out in the daycare center. The program is $99, or parents can just enroll their kids in one lesson for $45. For older kids ages 7-12, the Mountain Riders program offers a package of lessons and a hot lunch. On weekends and holidays, this starts at $85 for the full day, $95 if rentals are included. Schweitzer's EZ 1-2-3 package is available to ages 13 and up and costs $159. It offers some flexibility, because days don't have to be consecutive. Private lessons are also available, ranging from $65 for early and late specials to $330 for a full day of development. 208-255-3070 • schweitzer.com
Silver Mountain
Silver has various programs for first-timers, like the universal EZ 1-2-3 program for ages 13 and up at $129. They also have the "Learn To" package, which includes equipment rental, a group lesson and a limited lift ticket for $70. For $80, guests can pick up the "Next Step" package, which is the same as the Learn To, but has an all-access lift ticket. Private lessons for ages 13 and up are $60 for one hour, $45 for each additional hour, and $20 for each additional person. Kids group lessons start at $35 for 90 minutes, $60 for a full day with lunch and $200 for four full-day lessons. 208-783-1111, ext. 8302 • silvermt.com 
The difficulty of starting is something that Kristin Whitaker knows well. Whitaker, who is the marketing and guest services manager at Mt. Spokane, and who also taught lessons for six years, says that the experience can be initially overwhelming, especially for kids.
"Learning to ski and ride can be intimidating if you've never been to the mountain before," says Whitaker.
The school at Mt. Spokane is focused on "creating a lifelong skier or rider," says Whitaker, so their program is geared to eliminate any fears that newbies may have coming in. With more than 130 trained instructors, Whitaker says she believes they have the largest ski school in the region. Class sizes are usually four to six students for group lessons, and Whitaker says those are great for people who flourish in a team environment. 
And like Brown, Whitaker says that she sees people skirting the programs in favor of trying to teach their own kids without much success.
"A kid is going to listen to a professional instructor they don't know," says Whitaker.
Beyond that, she says, instructors are finely tuned to notice small lapses in technique others may not, like pressure, balance and edging. Plus, she adds, lessons let parents enjoy some time on the mountain. Alone.


Whether child or adult, Brown and Whitaker agree it's easy to maximize your lesson — you've just got to talk about what you want.
"The way to get the most out of a lesson is communicating with your instructor," says Whitaker. She says that this conversation could cover anything from goals to fears, like being nervous about the chairlifts.
Bottom line — "It's your lesson, you've paid for it," says Whitaker.  
For those interested in starting lessons, resorts will usually do a quick Q&A to determine skill level. For parents signing their kids up, Brown says it's essential to be honest and take multiple factors into consideration beyond your kid's experience — like their personality characteristics. If your kid has a short attention span or low energy levels, a one-hour lesson would be much more beneficial than an all-day one, says Brown, where getting bored or tired could squash enthusiasm.
Most parents are pretty good at gauging their kids, says Brown, but occasionally something will go awry. Brown recalls a case where a parent had signed their kids up as intermediate skiers, informing the staff that they had "skied the whole mountain." Brown says that this wasn't the case.
"The instructor figured out that the kids had never been out on skis before," says Brown.
The truth? "They had played on their Wii," says Brown.
Brown stresses the deeper importance of picking the correct lesson level — psychologically, it can make a huge difference.
"It's great for a kid's self-esteem to get bumped [to a higher level]" says Brown. "It's hard to get demoted."
It's always a good idea to aim low when it comes to lessons, says Brown. That, or opt for private instruction, which lets the student move at their own pace as opposed to the pace of the group's weakest member.
Lessons, overall, have benefits that extend beyond technique as well. They're also a great way to get introduced to the culture and etiquette of snow sports, something folks may not be aware of their first time on the mountain. Just show up basically prepared. "And don't wear jeans," adds Whitaker. 
Welcome to Snowlander, Vol. III
Wow! What a November and early December this has been. While we're less than a month into the season, many avid riders in the region are boasting double digits for their ski day totals with still many days (and months!) of winter left to go. How many do you have?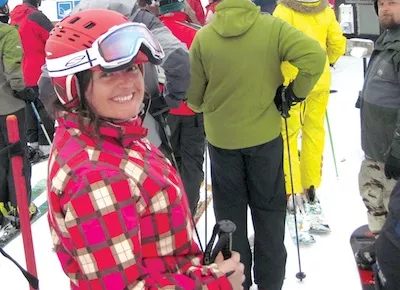 If coverage or conditions are your concern for having not clocked your first day, there's no need to have this worry. Conditions and coverage are historically better than many can remember. All ski areas opened within a week of each other, and 100 percent of the terrain in the region is open. Many of the resorts opened earlier than they have in recent history. The rain during the last week of November actually helped the current snowpack, which is why area resorts are still boasting great coverage even without any recent snow. But keep in mind that it is still early season so remember to ski and board with care.
With the shortest day of the year almost upon us and a lingering high-pressure system, valley fog is masking the beautiful sunshiny days up in the mountains. Soon, the days will start to get longer, and we'll be back to enjoying long afternoons full of sun.
The holiday season is in full swing and the Inland Northwest has the most epic start to the best time of the year — ski season. So what are you waiting for? Get up to the mountains and enjoy the snow, sun and laughter with fellow snow-riding enthusiasts.
Happy holidays and see you on the slopes!
Jen Forsyth
Snowlander Editor
[email protected]