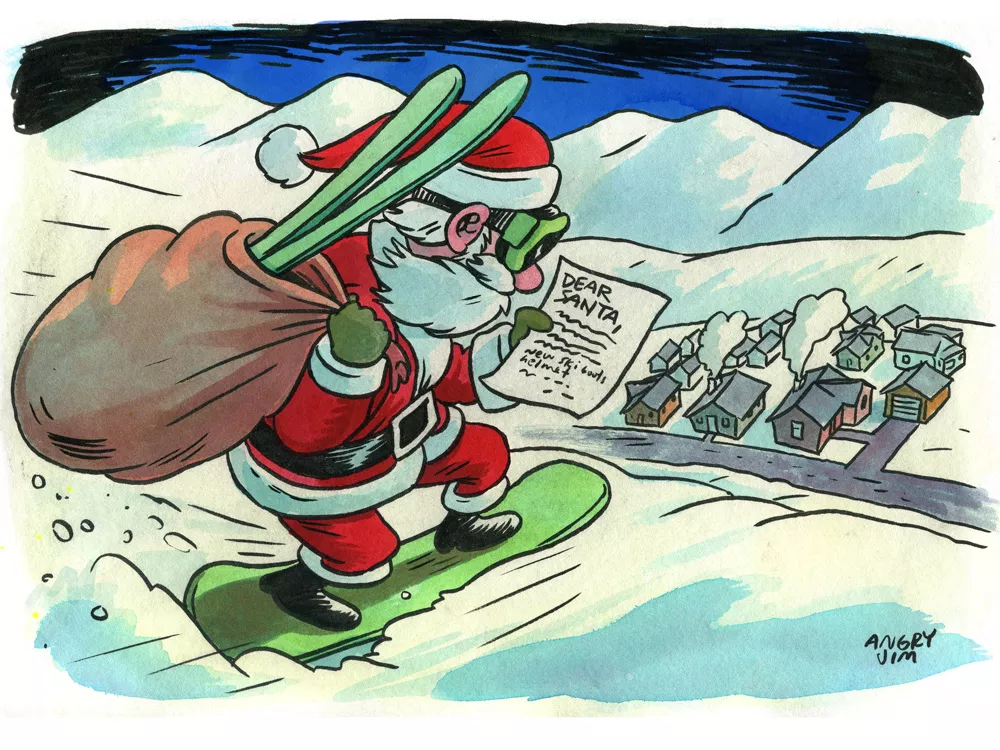 Dear Santa: I know you're busy this time of year, so I'll keep this short. I have been good — really good actually. So here's my Christmas wish list. Go ahead and take your pick, but I think any and/or all of them would work for me. Not kidding, I have been that good.
Most of this stuff should be easy for a guy with your skills, but on some of them you might have to consult with Ullr, the ancient god of skiing — I'm sure you and the reindeer see him around.
#1 I'd like a fresh coat of wax and perfectly tuned skis, like, everyday. This probably seems like a tough one, but a gift card to my local ski tuner would work perfectly, he says.
#2 Christmas morning: 18 inches of fresh snow that's light and fluffy — preferably in the 6-percent moisture range. And it should be blanketing a perfectly pitched slope that consists of a 10,000-foot fall line.
#3 Skis are always a great gift, but I want a ski that can do it all — a pair that can take the groomers, powder, crud and bumps with the same style and feel. I know those elves of yours are clever, and you spend a lot of time up in the winter wonderland, so I'm sure I won't be disappointed with what you guys come up with.
#4 As I am a big fan of "first chairs" and "last calls," it would be great if I could have both of these whenever I want — like, on demand. So I guess this really is two wishes, but if I had to pick, I'd have to go with "last call" whenever I close my eyes and click my skis together three times.
#5 Hydration is always an important part of the day. So are staying warm and celebrating after a great day. That's why it would be so great to always have the appropriate beverage waiting for me at the bottom of the lift at the end of any day: water, cocoa, coffee or an ice-cold PBR, depending on how I'm feeling. I take two sugars in my coffee, FYI.
#6 I know I'm getting a little greedy here, so I will let you, in your infinite jolliness, be the judge on this one. If I find this present parked outside come Christmas morning, I'll be even better next year — promise. I always hate asking for big presents but, hey, 'tis the season, as they say. Did I mention how good I've been? OK — I'm seeing a bright orange helicopter and my very own former Marine pilot who will take me and my friends to any epic peak that we fancy. But really, Santa, only if you feel like I've been good enough on this one — which I have been, but then you know that, don't you? You're Santa!
Well, I've got to go, but let me know if you ever get up this way after your busy season. I'd love to take a couple runs with you!

Cheers!
Jen

Welcome to Snowlander, Vol. III
Wow! What a November and early December this has been. While we're less than a month into the season, many avid riders in the region are boasting double digits for their ski day totals with still many days (and months!) of winter left to go. How many do you have?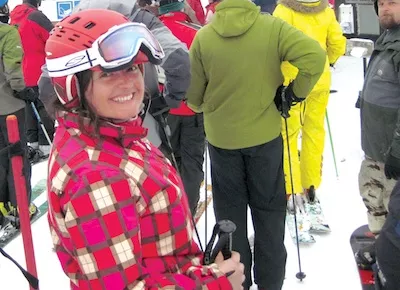 If coverage or conditions are your concern for having not clocked your first day, there's no need to have this worry. Conditions and coverage are historically better than many can remember. All ski areas opened within a week of each other, and 100 percent of the terrain in the region is open. Many of the resorts opened earlier than they have in recent history. The rain during the last week of November actually helped the current snowpack, which is why area resorts are still boasting great coverage even without any recent snow. But keep in mind that it is still early season so remember to ski and board with care.
With the shortest day of the year almost upon us and a lingering high-pressure system, valley fog is masking the beautiful sunshiny days up in the mountains. Soon, the days will start to get longer, and we'll be back to enjoying long afternoons full of sun.
The holiday season is in full swing and the Inland Northwest has the most epic start to the best time of the year — ski season. So what are you waiting for? Get up to the mountains and enjoy the snow, sun and laughter with fellow snow-riding enthusiasts.
Happy holidays and see you on the slopes!
Jen Forsyth
Snowlander Editor
[email protected]