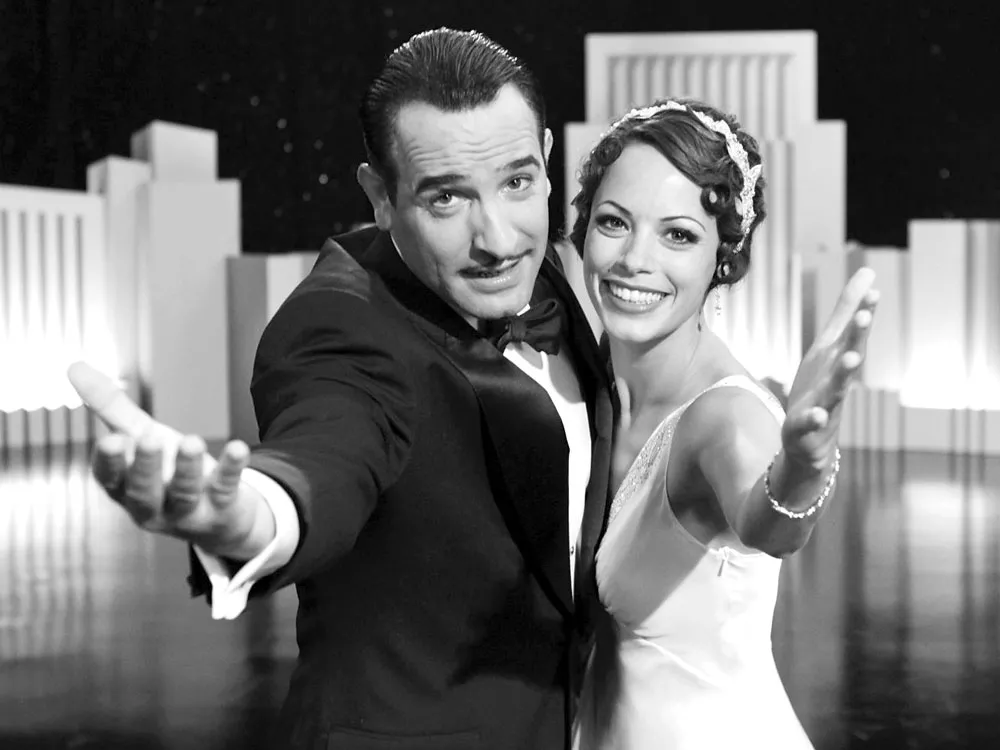 The Weinstein Company is quite proud of its best awards-season offering, French filmmaker Michel Hazanavicius' charming black-and-white, mostly silent feature, The Artist. Thanks to the distributors' warm glow over it, I was fortunate to see it within its critical sweet-spot timeframe — several months after its buzzy Cannes Film Festival debut, but before its admittedly gimmicky hook became too widely known and thus whittled down to a backlashbaiting reference point: "That silent movie," or something dismissively simple like that.

Rated: PG-13
Directed by: Michel Hazanavicius
Starring: Jean Dujardin, Berenice Bejo, John Goodman
I went in knowing next to nothing about it, and that's a gift. The Artist has the ability to surprise and delight greatly those who aren't going in crossing their arms and daring it to. It stars Jean Dujardin as silent-movie star George Valentin, whose pencil moustache and expressive stoicism recall Douglas Fairbanks. Things seem to be going well enough for Valentin, even though two major forces as yet unknown to him are about to collide and spell his doom: the popularization of talkies and the effervescence of a bright, ambitious starlet, Peppy Miller (Bérénice Bejo).
She's an extra on the set of one of his films, and her captivating pixieness (thrown down in a series of old-school set-pieces, such as practicing her dance steps so Valentin can only see her legs or wrapping herself in his coat and manipulating it to grope her in his absentia) and show-biz cunning land her on the tips of everyone's tongues.
For a short while, Valentin has her all to himself; they flirt and banter and role-play some light hero-ingénue sensuality. Things get serious, however, when Valentin's longtime producer, played by national treasure John Goodman, decides to do away with silents altogether and enlists Peppy as a future star.
As wonderfully slight and a bit jarring as this first act is (it takes a while to remember how to chuckle politely in a quiet theater), the second act devotes itself more to being a tribute factory with mixed results. Hazanavicius nods to (at least) A Star is Born, Fritz Lang's Spies, Singing in the Rain, Citizen Kane, The Adventures of Robin Hood and, least successfully, in a subplot devoted to Valentin's dusty old relics of his career, Sunset Boulevard. It can be a dizzying treat for a cinephile, but it does nothing for the story or the run-time lifespan of its gimmick.
Another small problem is the casting of Bejo.
Though she is, by all means, a beautiful and talented performer, her role calls for her to be a sensation the likes of Greta Garbo or Marlene Dietrich, and sadly, I just couldn't buy her look, even her facial structure. She's just so modern.
Still, Hazanavicius — and especially Dujardin — deserve great credit for proving, as Wall-E did to a lesser extent, that storytelling is still about human emotion and expression. The Artist is by turns funny, heartbreaking, thrilling and a visual marvel with only Ludovic Bource's sublime score to guide our reactions. The Artist is art that stands on its own, a reflective surface for some of cinema's best ideas.