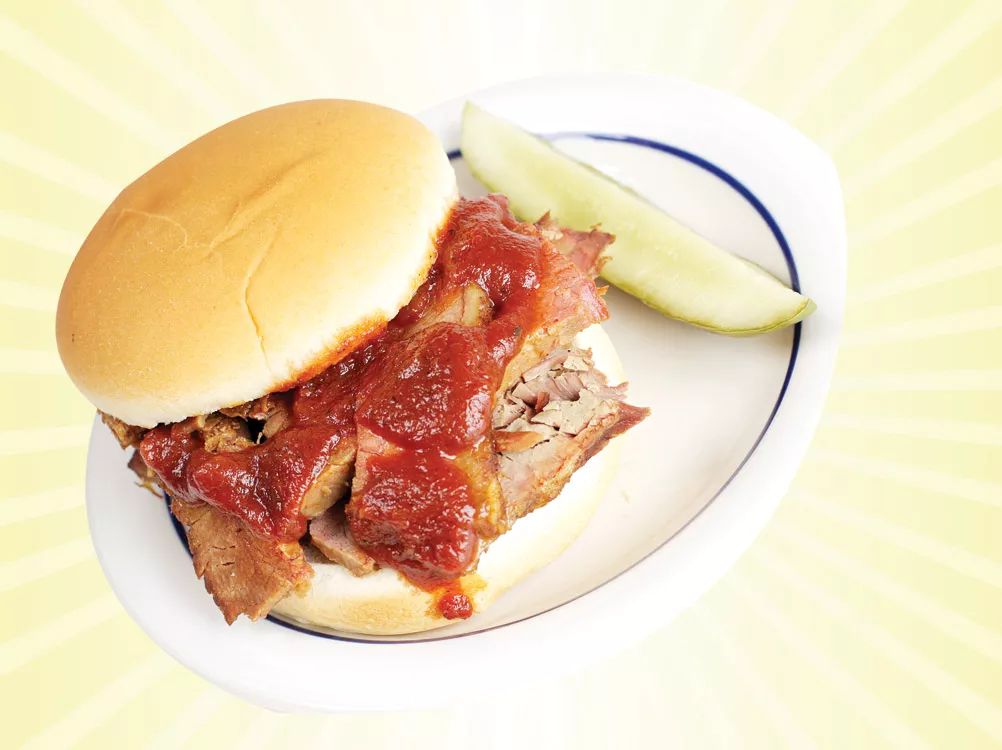 I married well. Not only is my husband, Mike, a true Southern gentlemen, but his family also makes a mean brisket. Every time we make a trip to visit family in Texas, I look forward to a plate of that tender, smoky barbecued meat. I feel honored when my brother-in-law prepares a brisket for us. Standing watch over a smoky barbecue in 105-degree heat for hours on end takes dedication.
Brisket is a humble cut of beef that comes from the tough, muscular chest of the cow. "Slow and low" is the mantra when it comes to cooking time and temperature — no shortcuts here. It's served to celebrate all of life's important events — graduations, weddings, even funerals. Even so, there's nothing fancy about it. In fact, in many true barbecue joints, the meat is slapped down on a piece of paper with a slab of bread and a pile of napkins.
METHODOLOGY
Yearning for a taste of home, Mike agrees to help me hunt down brisket nirvana. In a land where "barbecue" is synonymous with grilled hot dogs and the occasional salmon fillet, where do we start?
I decided to ask two close confidants, our Texas-schooled pediatrician and our pastor, who used to live in Austin. He's a barbecue aficionado who deemed our brisket pursuit a worthy mission and promised to pray for us. A few other Southern foodie friends weighed in and we made our list. Going for the mom-and-pop shop experience, we left the chains off the list.
So here's how to we decided to judge the mother of all meats:

The Beef — We're looking for falling-apart tender, smoky flavor, melt-in-your mouth texture. Dry meat and gristly bits are automatic negative points.
The Sauce — A good brisket should speak for itself. Any sauce should be flavorful but not smother the taste of the meat. Sauce served on the side is perfectly OK, too.
The Bread — We don't need a sandwich here, but some fluffy white bread to soak up all of the goodness is a must.
Each category was worth 10 points, and scores for the categories were reached by averaging our two assessments together. The sum of all three category scores became our total score for the dish.
THE RESULTS
Smokie's Log Cabin BBQ
($7.35 for brisket sandwich and one side)
"Welcome to BBQ Heaven," the sign reads. I guess winning the 2010 Inland Northwest BBQ Championship gives Smokie's bragging rights. It's a drivethru close to Mike's office — this could be dangerous.
"Uuggh," Mike says after one bite.
He's not impressed by the chopped brisket. It should be sliced, not chopped, he says. In all fairness, I think the small pieces of meat are easier to eat. But we agree that the flavor of the meat gets lost in the large hamburger bun. The sauce is traditional and tangy — good, but nothing to write home about. I go home and floss my teeth. 3415 E. Trent Ave.
The Meat: 6

The Sauce: 5
The Bread: 3.5

Total: 14.5
Porky G's
($7 for a brisket sandwich)
The pit master is stoking the smoker with wood, and the aroma makes my mouth water. Unfortunately, even though it smelled delicious, the meat falls flat on flavor. The brisket slices are tough and dry, and I don't like the thick layer of fat.
The sauce is sweet and spicy. I think it's too thin, but Mike likes the sauce's red pepper kick. The soft hoagie roll was the best part of this sandwich — it's sturdy enough to hold the meat but not too bread-y. 1527 Northwest Blvd., Coeur d'Alene
The Meat: 2.5

The Sauce: 6
The Bread: 6.5
Total: 15
Chicken-N-More
($7 for a BBQ Brisket Sandwich)
The tables hold bottles of barbecue sauce, rolls of paper towels and not much else. That's a good sign — fancy décor and expensive silverware make us immediately suspicious.

Mike rates the brisket a little bit higher for its authentic smoke rings and crustier exterior, where I find it just a little too chewy. The basic hoagie roll does the job, but it isn't anything out of the ordinary. Not too sweet, tasting faintly of garlic with a pleasing peppery kick, the sauce is the best part of this sandwich. My mouth is still buzzing. 414 W. Sprague Ave.
The Beef: 6.5

The Sauce: 6.5
The Bread: 5.5

Total: 18.5
Smoke Creek Barbecue
($9 for a brisket sandwich with potato chips)
Located on an industrial stretch of East Sprague, Smoke Creek is a barbecue joint inside a bar called "Spitfire."
The brisket is surprisingly good. The slightly charred crust adds to the smoky flavor of the falling-apart-tender meat. The potato bun scored high, and Mike liked the authenticity of the pickles, peppers and onions that came with the plate.
We disagree on the sauce. Mike really likes its unusual flavor and spicy kick, but I think the too-thick molasses sauce is just strange. I skip the sauce, add some pickles and peppers and chow down. This is going to be hard to beat. 6520 E. Trent Ave., Spokane Valley
The Meat: 7.5

The Sauce: 4.5
The Bread: 7

Total: 19
Famous Willie's Barbecue
($6.29 brisket sandwich)
The level of carcinogens in my body is climbing dangerously high and my hair smells like smoke, but it's worth it. We found what we've been looking for.
The brisket at Famous Willie's is buttery tender, with serious smoke flavor. It's so soft it just about melts in my mouth. It's served on a plain white hamburger bun, which suits me fine. The sauce is tangy and thick and a little bit smoky.
It's the third sandwich of the day, but we're already wishing we'd ordered the Texas-sized instead of the regular. Famous Willie's brisket isn't quite as good as my brother-in-law's, but it's still a taste of home. 107 E. Seventh St., Post Falls
The Meat: 9

The Sauce: 7.5
The Bread: 5.5

Total: 22