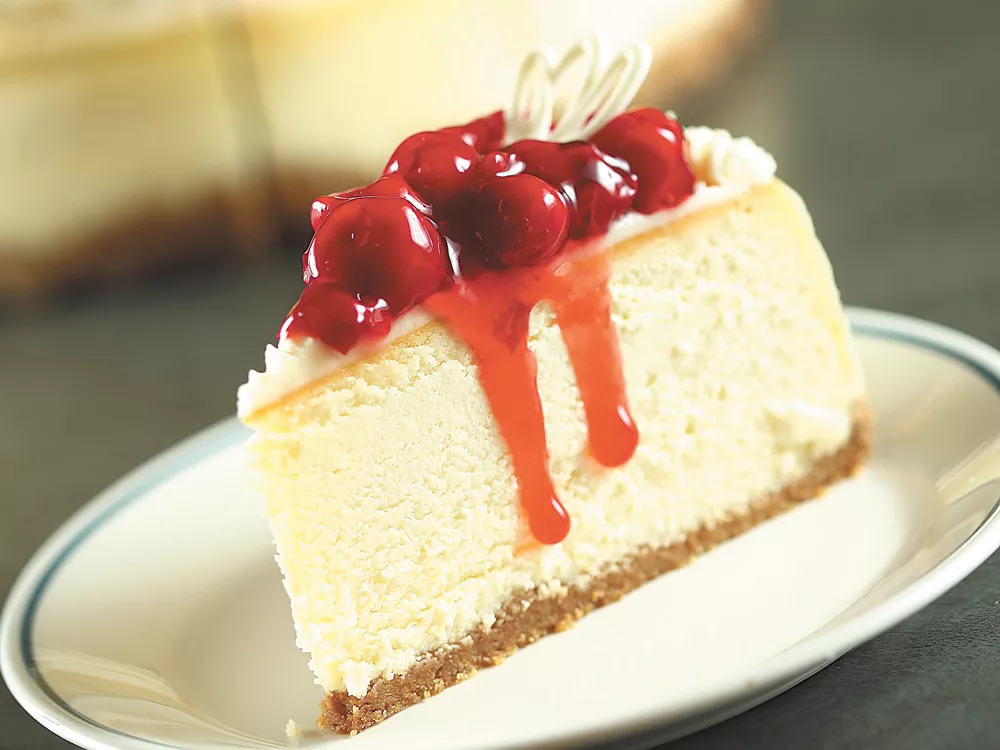 They mostly looked the same. Their crusts were uniformly brown and flaky. Their fillings were within a shade or two of that iconic, eggy off-white. The pie cherries looked like they might have all come from the same jar.
But the presentations of the five cheesecakes we tested for this throwdown varied. There were adorably round mini-cheesecakes and squat, pie-looking specimens. There was one wedge that had clearly popped — defying gravity — from a springform pan.
These were academic distinctions, though — shape and not form. To the specimens arrayed before us, our four-judge panel mostly shrugged. Yep, that's cheesecake, all right.
Once we put the stuff in our mouths, though, well, insert your favorite cliché about judging things by appearance. The flavors were surprisingly varied, from almost sickeningly sweet to tart to almost savory. The textures were equally so — the crusts went from crumbly to grainy to nutty; the cherries mealy to soft to springy on the tooth.
WHY CHEESECAKE?
You can't swing a desert menu or bakery case in this town without finding a slice of turtle or huckleberry in it. We wanted to seek out excellent examples of the stuff to help guide people through this confectionary labyrinth.
WHAT WE ATE
The granddaddy of Spokane pie-makers, Cyrus O'Leary's, makes a cherry cheesecake that has won a couple of national awards in the last decade. We pitted that against a geographically representative slate of four local cheesecakes (also cherry-topped, with one exception, to remain consistent) that came highly recommended by food people and random readers alike. We wanted to crown a new local champion. We succeeded (read on).
WHO ATE IT
Our judging panel consisted of two fervent devotees of cheesecake in any form, one tepid but amiable participant and one person whose love of a classic, unadorned New York cheesecake (he's from Jersey) is so pure that, he said, "I don't want it f---ed up with any bullshit like cherries." A diverse group.
METHODOLOGY
It was a three-quarters-blind test. I knew what we were eating (because I had run around frantically picking them up), but everyone else was clueless. We scored each slice according to its filling, crust and the way everything worked together, a category we fancily called "gestalt." Filling and crust were awarded a maximum of five points each, with gestalt being worth a maximum of 10 points. When the scoring was done we added up everyone's points and divided by the total possible — just like your teachers did in grade school — giving nice, round, easy-to-understand percentages.
We would like to reiterate: it's cheesecake, so there are no losers here. There are, though, a few places that won more than the rest. Here's the breakdown: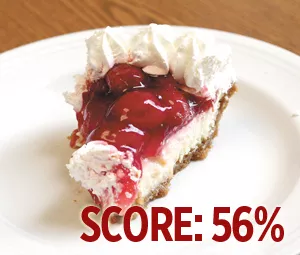 Cyrus O'Learys
$9/whole pie • Available at most grocery stores

FILLING: Words like "smooth" and "creamy" pervaded the judges' notes. As did "sweet."

CRUST: The crust was crumbly yet moist, verging on granular at times. As this is baked in a pie tin, the crust went all the way up the back of our slices — a nice bonus for crustophiles.

GESTALT: The granddaddy performed admirably, but we all seemed to agree that its sweetness overpowered other flavors. The cherries were tart and gummy, but to get to them you had to swim through a lot of sugary red sauce.

$2.50 • Rocket Market (726 E. 43rd Ave), Huckleberry's (926 S. Monroe St.)
FILLING: This was the densest cake we tried. Cut into little bars, it held up under fork and wasn't too sweet.

CRUST: The crust got average marks. People liked the texture, which was flaky and moist, but this was a rare instance where the judges wanted a little more sweetness.

GESTALT: A couple of us thought Scrumdiddlyumptious had the best cherries of the lot.
They were plump. There wasn't an overabundance of sauce. They added a nice tang. The bars were the cheapest and had the smallest portions, which would be perfect for those looking for just a little bit-o-cheesecake to tame the sweet tooth.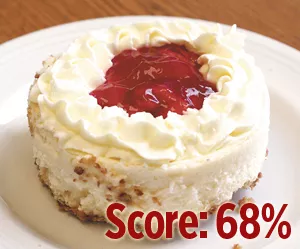 White Box Pies
$5 • 28 E. Sharp Ave.
FILLING: "Totally different" wrote one judge, and it's true. The filling almost tasted savory. We thought it might use sour cream or even goat cheese. A White Box rep refused to offer any insight into what accounted for the difference, citing trade secrets, but it left an impression.

CRUST: The only gluten-free cheesecake we tried, this one had a crust made with hazelnuts and rice flour. The judges liked it. We actually would have liked a little more of it.
GESTALT: Solid entry that relies on the flavor of the cheese (whatever cheese that may be) with just a bounce of sweet from the cherries and the whipped cream.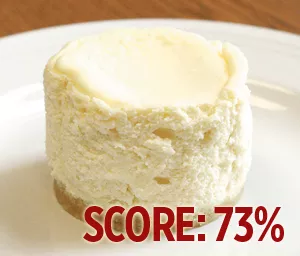 Spokane Cheesecake
$3.25 • Spokane Public Market (24 W. Second Ave.)
FILLING: Though it was served New-York-style (complete with a slick of sour cream over the top), this cheesecake amazed judges with the airiness of the filling and the fact that it still had big flavors.

CRUST: The crust was nice and flaky and just sweet enough. There wasn't very much of it, though, which may have been the reason it came in a nail-bitingly close second.

GESTALT: An absolute hair's-breadth from the championship, this simple, fluffy, cherryless cheesecake was less than a percentage point from the winner, despite completely lacking cherries and opting to forgo whipped cream. A testament to what is possible with just great filling and good crust.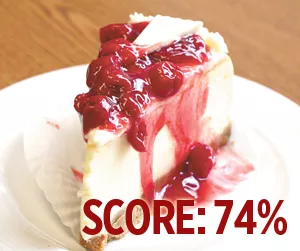 Just American Desserts
$4.25 • 213 S. University Rd. • 9323 N. Division St.
FILLING: The cake was fluffy but still had the heft to keep its shape. A couple of judges enjoyed the refreshing notes of citrus.

CRUST: The highest marks for any bakery in any category were scored for Just American's crumbly, brown-sugary, damn-near religious-experience-triggering crust.
GESTALT: Tall and spring-formed, with a drizzle of cherries over the top, this was a gorgeous cheesecake that won the style contest easily, and it earned high marks for its cherries. The difference-maker, though, was the crust.
North Idaho Style
Some suggestions for cheesecaking the panhandle:
COEUR D'ALENE

Dockside 115 S. Second St. • 208-765-4000
Pastry and More 411 W. Haycraft Ave • 208-667- 3808
SANDPOINT
Cedar Street Bridge Café Corner of Cedar and First • 208- 265-4396
DiLuna's 207 Cedar St. • 208-263-0846
MOSCOW
Moscow Co-op 121 E. Fifth St. • 208-882-8537