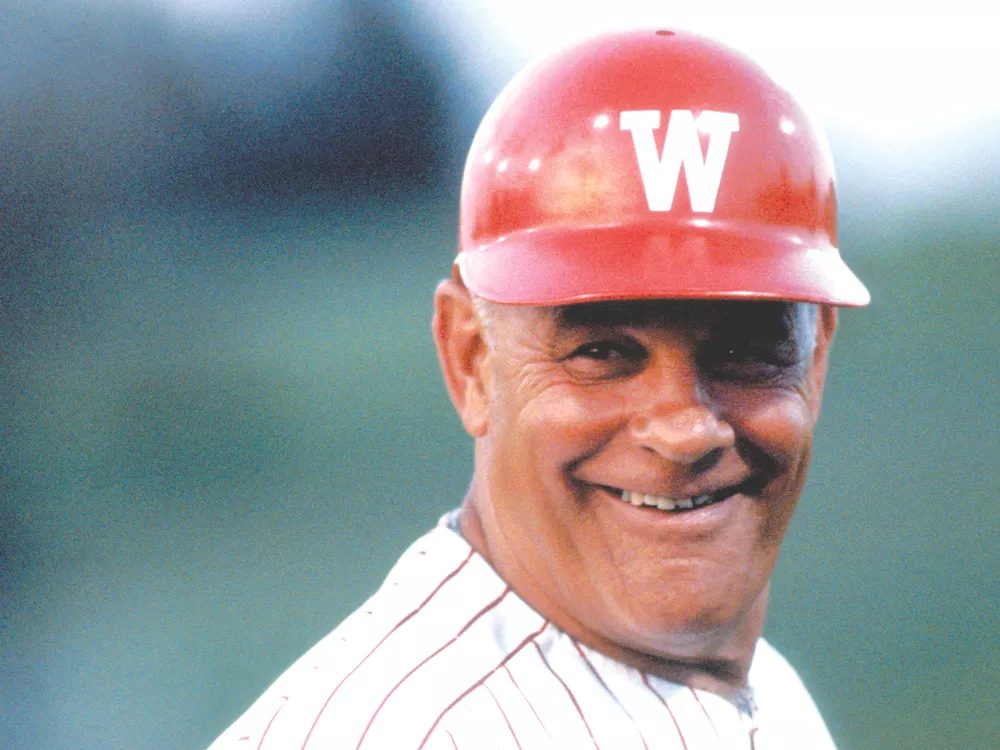 Long before he (literally) helped build Washington State University's current baseball stadium, and long before his name was attached to the facility, and long before he established himself as one of the most legendary coaches in college baseball history, Bobo Brayton received what he describes as his greatest honor as a Cougar — and it had nothing to do with baseball.

"I made the all-opponent team for USC in football," Brayton says with no small amount of pride. "It was in the paper; I've [still] got it."

Brayton, who lettered at WSU in baseball (as a 1947 All-American shortstop), football (as a 180-pound linebacker) and basketball (as a guard), was much better than "pretty good" as a baseball coach. His 1,162-523-8 record (a winning percentage of almost 69 percent), 21 league championships and two College World Series appearances in 33 years with the Cougars earned him a spot in the National College Baseball Hall of Fame.

On Friday, Brayton will be inducted into the State of Washington Sports Hall of Fame. The ceremony will be held prior to the WSU-Arizona State baseball game, set for 5:30 pm at Bailey-Brayton Field.

"It should be fun," Brayton says. "I should've been (inducted) 20 years ago!"

Famously feisty during his coaching and playing days, Brayton has slowed down physically but not mentally at 86. He's still a regular at Cougars baseball home games with his beloved Eileen, the WSU co-ed he married 64 years ago.

Brayton, who lives on the family ranch outside Pullman, still speaks with the raspy growl that once terrorized umpires — and, at times, his own players.

"Bobo made you grow up fast, but in a very caring environment," says Aaron Sele, one of 23 major leaguers coached by Brayton at WSU from 1962 to 94. "He demanded a lot of you on the field, and he demanded a lot of you as a student-athlete. … Bobo really helped me grow up."

John Olerud, the national college player of the year under Brayton in 1988, admits he was initially intimidated by Brayton's in-your-face coaching style.

"It definitely took me a while getting comfortable around Bobo," says Olerud, who spent 17 years in the major leagues (including with the Seattle Mariners).

"The more you got to playing with him and got to know him and his personality, his great sense of humor and his heart, you just couldn't help but love the guy. He was just such a big influence for me," says Olerud.

Brayton arrived at Washington State in the fall of 1943 after hitchhiking to Pullman from his tiny hometown of Birdsview, east of Mount Vernon. Brayton, who starred in six-man football at old Hamilton High School, was set to play football and possibly baseball at Western Washington University before a last-minute change of heart.

Brayton says he came to WSU "intending to play something" but without a concrete plan. He rented a room at the fire station for $25 a month and soon established himself as a key football and baseball player despite a two-year break to serve in the Army Air Corps during World War II.

Brayton didn't need Army duty to learn about discipline and perseverance. His father was killed in a logging accident when Brayton was 10, so he soon began waking up early to milk cows to help his mother pay the bills and care for her six children during the Great Depression.

Scott Hatteberg, a former major leaguer who caught for Sele at WSU, says he learned all about Brayton's grit on fall trips to tournaments in Canada.

"We would sleep under the stars," Hatteberg recalls. "We had to 'shower' in the streams. I mean, we roughed it! At least we got tents. He would just lay a sleeping bag down under a tree and talk to himself until he fell asleep.

"You can't make it up. I mean, he was just an old-school dude."
Fiercely loyal to WSU, Brayton promoted Cougars baseball relentlessly, and players became family.

"Bobo, he was larger than life," Olerud sums up. "Just a legend."