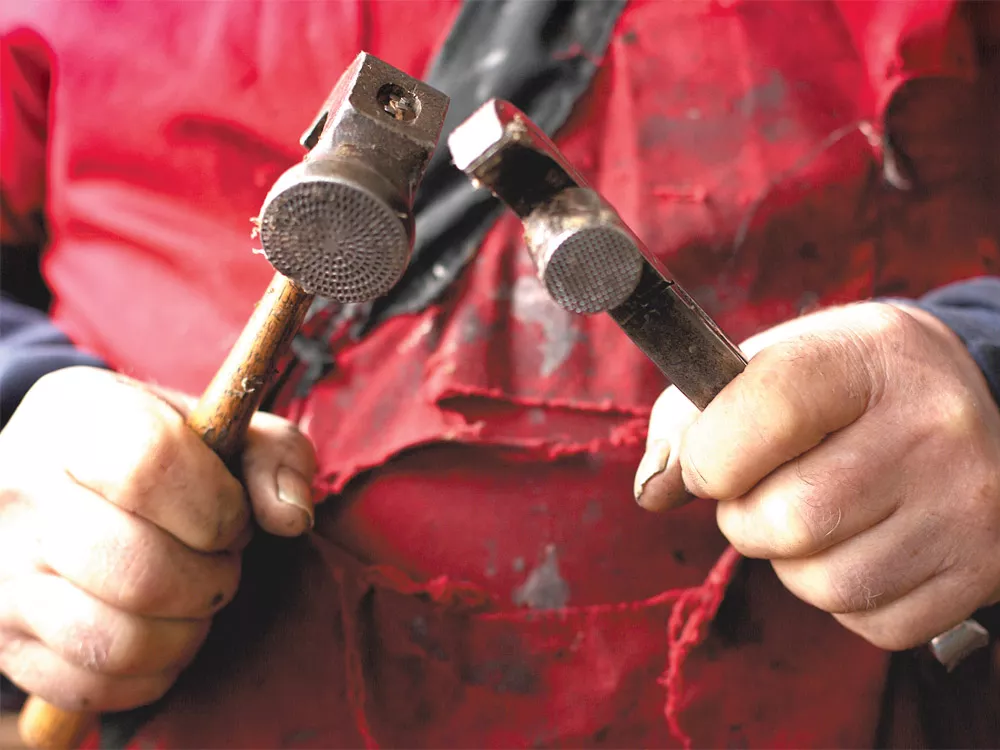 An apocalyptic scene. Main Street devoid of life. Vacant storefronts, abandoned buildings. Small businesses dead where they stand, counters empty, the moms and pops gone.
Again and again, we're told, that is the future of small business, as globalization and big-box stores transform how commerce is done in the 21st century.
Despite all the predictions of doom and gloom, the era of the small business has yet to pass, at least in the Inland Northwest.
"Over half of all new jobs created are by small businesses right now. It really is the small businesses that's helping stabilize the economy," says Tammy Everts, a business advisor at Washington State University's Small Business Development Center.
According to census data, 6,520 of the 12,515 businesses in Spokane had between one and four employees, based on figures gathered in 2009. Meanwhile, the federal Small Business Administration estimates that small businesses nationwide have generated about 65 percent of all new jobs in the past 17 years.
But not all is well.
A study by Washington State University and the Social and Economic Sciences Research Center shows that 36 percent of small-business owners surveyed in 2010 listed survival as their main goal for the next two years. Forty-seven percent stated they planned to grow.
Still, some shuttered mom-and-pops may have been past their expiration date, says Chris Stevens, an assistant professor of entrepreneurship at Gonzaga University.
"Way too many mom-and-pop stores aren't necessarily doing anything that's different than Wal-Mart. Those that do, that are able to … create some bond that you wouldn't find at a place like Wal-Mart, in my opinion, are surviving just fine," he says.
But beyond theory and statistics, who are the small-business owners who are moving the region ahead?
Let's start with Cruz Albisu ...
The Bootmaker

Main Avenue in Spokane is lined with merchants eager to please, stores decked with lights and signs to impress passersby.
Walk into Cruz Albisu's shop, and he'll barely look up. He will probably say hello. He will most certainly continue working.
His customers are waiting, you see. In Japan.
The boots Albisu makes in this shop — a large storefront with nothing in the windows but a few forlorn boot treads and a big, dusty statue of a grizzly bear — rate $1,000 in Japan.
"They come in here and they meet me," he says of the businessmen who came into his shop 10 years ago. "They are liking my boots over there."
A native of the Basque region of Spain, Albisu has been making boots since he was 16.
"Before I came here, in Spain, I worked three years, no pay, learning," he says in heavily accented English.
When he came to Spokane in 1970, he worked at White's, making up to nine pairs of boots a day. Thirty-four years ago, he decided to branch out on his own.
Parts of his shop feel as if they haven't been touched since then. Dust covers everything. The only light comes from the sunlight streaming through the display windows. Greasy equipment hides sagging shelves holding molds for the boots.
Much of Albisu's days are spent rummaging around the shop, flaying pieces of leather over a "jack," a type of stand that he uses to hold the boots together.
He works mostly in cowhide but has branched out in the past, dabbling in ostrich and shark as a material.
"Elephant, that's the very best. Elephant lasts a long time," Albisu says. "And they're soft."
But from the grit of the workshop comes what many would call art: tall black smokejumpers with laces up to the ankle or embroidered cowboy boots, some bearing the "Cruz Custom Boot" stamp near the top.
A bulletin board at the shop displays bills from the 1990s and letters of praise from his customers.
One, stamped by a land surveyor in North Carolina, states that "Cruz Albisu makes the best boot in the free world," then gives a number in North Carolina for the man, who invites readers to call him.
"Have Cruz make your boots," he concludes.
A part-time employee stops by every once in a while, as do a few customers, popping in to ask him about some ratty shoes they need repaired, or to pick up a leather bag that's he's fixed. But most of the time, Albisu is alone.
"Well, I feel good," he responds when asked how long he plans to keep doing this. Then he hedges it: "We'll see how many orders I have in Japan."
The Bookbinder

Willem Bosch restores the past. His tools are presses and pastry knives, toothbrushes and shoe polish. His gear is stored in a house on Second Avenue, a two-bedroom dubiously situated between a tile store and a car mechanic.
Inside the house, where a guillotine board-cutter takes up the dining room, and what would probably be a TV room is covered in presses and sewing machines, Bosch does his work.
All this for books.
"If people would just realize, if you got a leather-bound book, like any other piece of leather, it has to be oiled," the 57-year-old says, gesturing to a weathered family Bible that he's restoring. "Otherwise, ashes to ashes."
The thick tome lays flat, pages splayed open on the table. One cover and half of the spine is covered in shoe polish, bringing out the brown and gold hues of the book that contains a family's history. The back cover is faded, having not been polished yet.
"This is their family life history in their Bible," Bosch says. Pages of births and deaths are contained within, along with a complete Old and New Testament. If it falls apart, so will two centuries of recorded memories.
Hard covers for books about rocks in Venezuela are strewn about, as are stacks of financial reports and high school newspapers. All told, he's got a work backlog that he estimates will take him a year to get through.
The books come from all over the country, addressed to "Arts & Crafts Book Manufacturing Co," the bookbinding business in Spokane that his family has run since 1972. They may be Christmas presents from 1925 or once-sturdy hardbound books looking to have their covers polished or their pages repaired.
His work on a recent rainy Thursday afternoon is a stack of Rolling Stone magazines, owned by a man who has collected every issue.
He's binding them all together for him and is somewhere in the 1990s, back when Gillian Anderson was star enough to grace the cover.
Except for the books and Bosch, the house is empty. His brother worked with him for years but stepped out in 2010, looking to get out of the business.
"Either I'm too damn picky to work for or they get delusional or think they can do it," he says of his struggle to find employees. And so, Bosch works alone, the sound of talk radio his only accompaniment.
The craft was passed down through the family, brought by his father from the Netherlands and eventually to Spokane.
"The school of hard knocks was my teacher," he says with a laugh. His daughter, however, chose a different path: dental assistant.
He chugs along, he says, because without his presses, shoe polish and sewing machines, the bloodlines written in the family Bibles would cease to be remembered.
"Doesn't it feel rewarding, that if I don't do it, it's going to fall apart?" he says, gesturing to the many Bibles scattered in his workspace. "And then they're going to lose it."
The Gunmaker

In a past life, Shawn Carlock kicked down doors. Nothing against the doors; rather, it was their owners, suspected of cooking meth or growing pot or generally running afoul of the Clearwater County Sheriff, whom he served as a deputy.
But where Carlock really excelled was in shooting. He'd go to competitions and put bullets in 10-inch discs from 500 yards away and take home titles in shooting competitions against teams from around the world.
The question that kept coming up from the people he encountered was: Hey, what did you do to your gun there? Think you can do that for mine?
Pretty soon, he wasn't a cop anymore.
"I miss it sometimes," Carlock, 43, says. "[But] I wouldn't give up doing this to go back to law enforcement.
It started with a pistol for his wife: a modified Colt 1911. He filed checkers into the metal grip one line at time.
"She was shooting competitive," he recalls, holding the silver pistol up.
By 2000, the Sheriff's Office was behind him and building custom guns was a full-time business, done in a well-lit shop behind his Rathdrum home under the name "Defensive Edge."
It was a free-for-all, at first: AR-15s, shotguns, pistols, rifles. There'd be times when someone would come in and ask him to make an assault rifle with so many knick-knacks and doodads — laser sights, flashlights and extended clips — that it became too heavy and cumbersome to shoot effectively.
Along the way, he'd design his own improvements, like a thicker recoil and a chin rest for the stock of his weapons.
"I was always into long-range precision shooting since my early teens," he recalls. So he scrapped the rest of the weapons and found a specialty: long arms capable of putting a .338 bullet into a precise spot thousand of yards away, blowing wind be damned.
"There's only so much time in the day," Carlock says. "I was just going crazy trying to get it all done."
The .338 Edge is Carlock's premier weapon, and word soon spread. The orders are piled up now — for that weapon and for customization on other weapons.
Fortunately, his father, Bob, joined the business about three years ago and brought his knowledge from years working in a machine shop.
"Machining is machining," Bob Carlock says as he works a gun barrel through a lathe. The business buys up rifles, then re-machines their mass-produced components to their more exacting standards. "This is just a specialized type of machining."
Shawn has a backlog of 45 rifles and turns out about 70 a year for buyers across the country. About 70 percent of his products leave Idaho, he estimates, heading to long-range hunters in Texas and Colorado.
The Edge's reputation makes it a rare find. Cabela's in Post Falls wanted one, and the gun Carlock sent them lasted on the shelf a day and a half. He's sending another to an outlet near Seattle.
"In spite of the depression, the economy, we don't see any of that here," he says. Business has been steadily increasing. So, too, have the ranges of his rifle.
In a storage room off his workspace lies an unusual rifle. It's a .338, but the bullet is fired from right behind the stock. A three-year project for Carlock, this is a prototype capable of shooting over 2,500 yards.
"It'll shoot better than I'm capable of on a given day," Carlock says. "It'll outperform me."
The Funmaker

First came the marriage. Then came the layoffs. In between was a drive from Arizona to Spokane, a move into a 3,200-square-foot office, financial calamity, and a move into a 600-square-foot office.
Misfortune and woe brought on by the economy? In part. But you might also blame Google.
The company, which specializes in selling party games to a mostly-female audience, learned a hard lesson in the ways of e-commerce last year when a twist in Google's search algorithm threw their website onto the second page of its search results — the equivalent of no man's land for any online business.
"You might find [our website] some way, somewhere. You wouldn't find it on the first page," says Heather Pieczonka, 37, of that dark day.
Before then, Funsational! had been thriving by serving an obscure but profitable market.
Here's the scenario: 9 pm, the night before a baby shower. The house is decked, the refreshments refrigerated. But you forgot the party games.
"Log in, click on a game that you want and send it to print," Pieczonka says. Maybe it's "Things in Bride's Purse" or "Pregnancy, How Sweet it Is!," in which players are asked to match a pregnancy-related word with a related candy. (Twins is a dead match to Twix.)
"It's a huge volume play," says Rick Pieczonka, Heather's husband and business partner, also 37. Partiers in 110 different countries have printed their games, and he estimates they've sold over 10 million of them, starting at $6.99 a pop.
Over a decade into business, the Pieczonkas' talk is speckled with terms like "search-engine optimization," "discretionary spending" and "the cloud."
"We just got married and had the idea of writing an e-book and we'll be rich," says Heather Pieczonka. That was over a decade ago, when they were living in Phoenix.
Both were computer people. Heather worked for Motorola, while Rick was a dot-com boomer, jumping from startup to startup.
The e-book was full of baby shower games, and it wasn't the hit they predicted. But the idea for the business grew from there, Heather Pieczonka says.
"I don't find this very hard at all. In fact, I enjoy it," she says when it comes to dreaming up their different games. She keeps a notebook by her bed to write down ideas that come to her in the middle of the night.
They moved to Spokane seven years ago, and the business took on a 14-person staff and an office much like the golden days of the dot-com years: scooter-riding in the halls and Nerf gun battles over computer monitors.
In 2010, Funsational! began expanding into premium offerings, which would be less customizable but a little more flashy. But the move was ill-advised.
"The markets started to slow down a little bit," Heather Pieczonka says. Discretionary spending started to tighten. Meanwhile, the company had directed its focus to convincing people to buy their more expensive line of games.
Then Google tweaked its algorithm, knocking out of whack Funstational!'s finely tuned web presence.
As web traffic melted, so did the company's income.
"When it got to 2011, it really started to slow down a lot," Rick Pieczonka says. "We were reducing every expenditure that we had."
So the office went, as did nine of their employees, though they have since rehired some positions. They downsized to a suite in Spokane Valley and put all their operations online, including most of their employees, who work remotely.
They say their business is rebounding.
On the plus side: Their competitors are few.
"No one has near the niche that we have," Heather Pieczonka says. And that's good for the baby-showerer, too.
The Barber

To get the attention of everyone in the Wagon Wheel Tavern, all you have to do is mention the barber.
Drinks are ignored. Pool sticks are stilled. Smiles are cracked.
"There's plenty of other places, but not barbers," says John Alderman, while nursing an Olympia beer at the bar. "Bottom line is, he's been there, shit, since I was knee-high to a grasshopper."
He is talking about Jim Terry. At 90, the World War II veteran runs a defiant, one-man barbershop in Medical Lake's forlorn downtown. And he plans to do so indefinitely.
"Ever been shaved around the ears before?" he asks, as he pulls out a straight razor and rubs shaving cream behind a customer's ear. "Well, I'll tell you, I don't have very many ears. But I'll try and save yours."
That's another big hit down at the bar: the blade. Terry's been collecting straight razors for years. He's got a collection in a case to the left of the sink, held closed by a golf tee. In it are blades with celluloid handles, blades from Germany and the U.K.
Midway through a cut, he grabs the day's blade, runs it along a piece of leather, to keep it in balance, and gingerly scrapes behind the ears.
A former pastor at Assembly of God churches, Terry has passed most of his life in a long arc around the Inland Northwest, bouncing from church to church in Stevens, Pend Oreille and Spokane counties.
He started barbering in 1964, figuring "it would be a good job to have to fall back on. And I've never been sorry."
He's settled now in Medical Lake, cutting hair while civilization around him seems to creep back toward farmland. The building across from his is condemned, and the boarded-up gas station around the corner still advertises gas for $2.60.
Much of the town's action has shifted to the new grocery store down the street and the quiet subdivisions that pop up from the plains. But those are beyond Terry's range. He only walks, from his house by the lake to the barbershop.
"She's been gone 17 years," he says of his late wife. "There's not a lot for me to go home to."
Just within eyesight of his shop is a newly opened beauty salon, a place where they do all kinds of stuff to hair, for a price. He eyes it and wonders what's going to happen to shops like his, where a haircut costs $8 and a beard trim $2.
"They're all so different," he says when asked about why he got into haircutting. "That's what makes it fun, you know?"