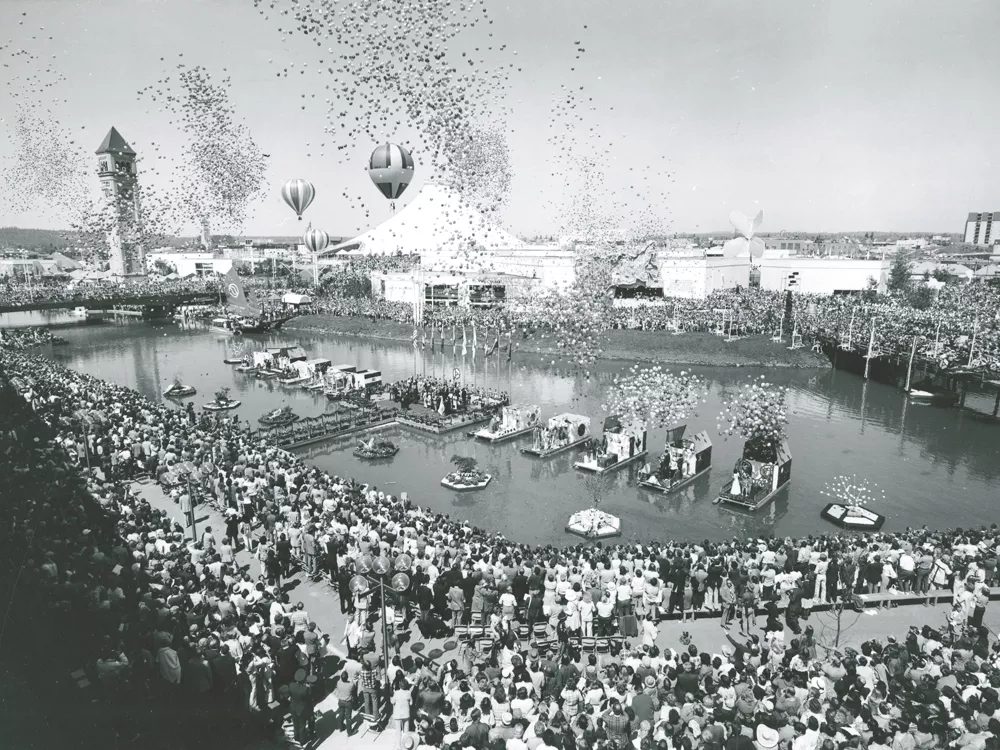 Bill Burke sees Spokanites with their toes in the sand. He sees teenagers with sunglasses, candy and soda, and someone to sell them all that.
"That should be a beach," he says emphatically of the riverbank near Riverfront Park's amphitheater. "I've always felt we don't take advantage of what God gave us here."
Burke has been putting on concerts and festivals, including the massive Pig Out in the Park event, for more than 30 years, and he thinks Riverfront Park is teeming with unrealized potential.
As the city's Parks Department this month finalizes its master plan — spelling out the vision for the decades ahead — Burke and others say city planners could be missing the chance to make the park something more.
The current vision emphasizes green space and preserving the legacy of Expo '74, which attracted 5 million visitors and transformed the rail yards and warehouses that had covered the area into a park. The Expo landmarks that remain — the pavilion, the opera house and the building that houses the carrousel — have long driven the city's vision of the park.
Parks Department planners are labeling some land on the north end of the park as "mixed-use development," which could mean residential developments or businesses, but not anytime soon. At one time, they thought the Mobius Science Center might end up there, but no one has talked much about it since those negotiations fell apart.
"We're going to set ourselves up again for this Phase Two of really diving deeper into what this place would look like in the next 40 or 50 years," says Craig Butz, Parks' entertainment and recreation manager.
For now, they're prioritizing bridge improvements and a "pedestrian promenade" that will run through the center of the park to give visitors a clear walking path and good views of the river. They talk about pathways, quiet spots and park benches.
Councilwoman Nancy McLaughlin says the park's beauty isn't enough.
"People will only walk through the park so many times unless there's something to do or somewhere to go," she says. "I would encourage [the Parks Department] to look a little more closely at how to develop it around an economic concept."
In 2009 the Park Board considered using county Conservation Futures to buy and demolish the vacant YMCA and return it to green space. At the time, McLaughlin opposed the idea, arguing the lot was ripe for development. She lost that fight, but she's not done arguing for development in and around the park.
McLaughlin says she wants to see more restaurants in the park along the river, and she thinks if the citizens were asked, they'd say the same thing.
"I just don't think it's been part of the public conversation," she says.
Parks has asked people to weigh in on the master plan, but turnout has been dismal. At one of three public meetings last month, only one person in attendance wasn't on the Parks staff or board. (Butz says public interest will pick up as his department wades into the specifics of the plan in coming months and years.)
The few people who did attend the meetings filled out comment cards, and some urged the Parks Department to focus on projects for the north bank that would make money. It's not a new concept. Chicago's Millennium Park, with its iconic "bean" sculpture, hosts 525 free events and attracts about 4 million visitors a year. The city of Pittsburgh in 2007 began renovating its downtown Point State Park, which had previously been designated a "passive park," because they wanted to better attract and accommodate big events. The San Antonio River Walk (a park along the river lined with restaurants and businesses) is a widely cited success story.
But Butz says it's not that easy in Spokane. There isn't a lot of space for new restaurants or shops along the river because they have to be set back a certain distance, he says, Plus, you have to find the funding.
"We've been challenged by a lot of people [who say], 'Wouldn't it be cool to have restaurant or attractions along the river?'" he says. "It would be a cool concept to explore, but there are lots of challenges."


Urban parks like Riverfront are more than tourist attractions, says University of Washington professor and researcher Ken Yocom, who studies open-space planning in the school's landscape architecture program.
Urban parks can help cool temperatures or offset the effects of stormwater runoff. When it comes to attracting visitors, Yocom says, city planners sometimes get so caught up in trying to make a park a national attraction that they forget who actually goes there.
"There's the tendency to try and make a regional gem such as Riverfront Park larger than it actually is," he says. "It's for the people of Spokane before it's a tourism draw."
Get Involved
Find the master plan and take a survey about Riverfront Park at spokaneriverfrontpark.com. Send comments to parks@spokanecity.org.
But some wonder if it's even doing enough for the people of Spokane. Mike Tedesco, president of the Downtown Spokane Partnership, worked in Pueblo, Colo., where he found developers to build projects around the city's recently transformed downtown river walk. He looked for the projects that would bring the most people and money into downtown. Even though he found a few big projects, like a convention center, smaller retail shops and restaurants were just as important, he says.
Since Spokane's downtown already has the convention center, the gondola and the park itself, Tedesco hopes planners will focus on turning parking lots around the park into "showcase real estate" for smaller development.
"Those anchor attractions are the sizzle, but the steak is really in those more ordinary types of projects," he says. "You're filling in that mix for both locals and visitors. You have to give them a reason to come downtown and spend a few bucks."
As for Burke, who continues to plan festivals in the park, he's not sure he'll ever see big changes like the ones he imagines.
"This is what [park planners'] education and experience has told them would be the best thing to do, but, again, wouldn't a beach be cool? Barbecues, swimming, music, people," he says, almost out of breath with excitement. "Can you imagine?"