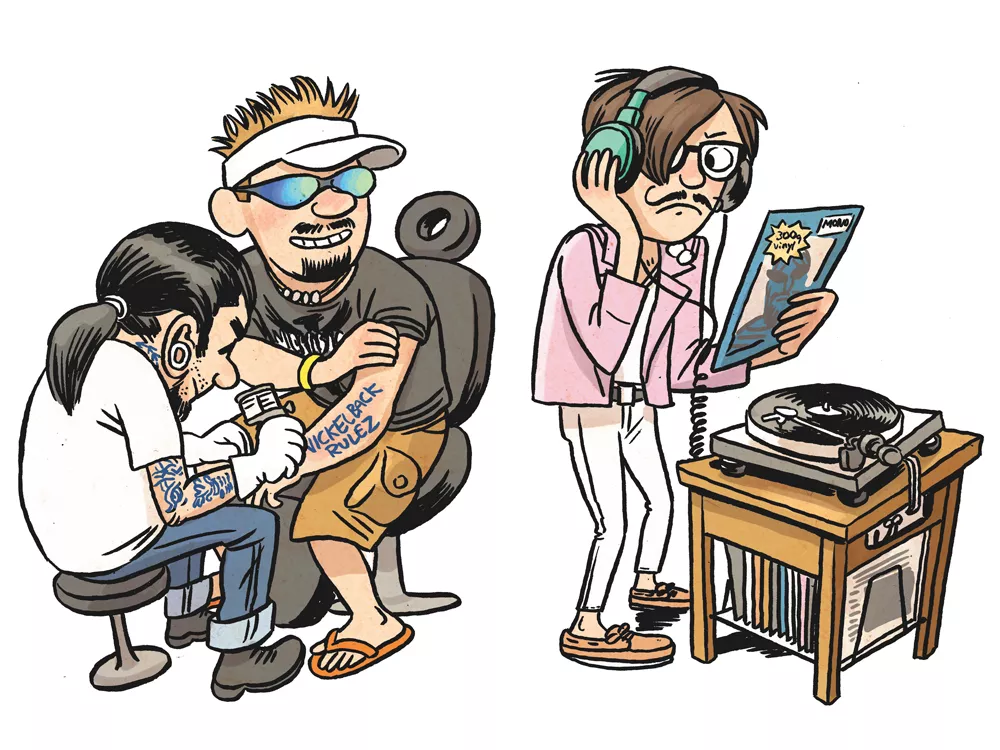 I
n 2010,
the Facebook page "Can This Pickle Get More Fans Than Nickelback?" shamed the band by gaining 1,471,000 fans — 65,000
more
fans than Nickelback. The Internet cried out: People would rather like a fake pickle than listen to Nickelback.
In the years before and the years since, the music world has been polarized over the band — a veteran four-piece from a coal-mining town wedged in the void between Calgary and Saskatoon. The Internet and its pickle proved that there are, simply, two types of humans: people who love Nickelback, and people who hate Nickelback.
Clearly, people do love Nickelback: Singer Chad Kroeger and his band mates have sold more than 50 million records worldwide and are the second best-selling foreign act in the United States.
The first best? The Beatles.
Nickelback plays to a nearly sold-out Spokane Arena this week, and so The Inlander decided to gauge the pulse of the Spokane area on this whole Nickelback thing. (LS)
THE PEOPLE WHO LOVE NICKELBACK
To love Nickelback openly is to welcome vitriol, dirty looks and raised eyebrows into one's life.
So says Connor Nuckols, a 19-year-old Spokane Falls Community College student. He rates his Nickelback fandom: "On a scale of 1 to 10, I'm an 8.5." He's fan enough to wear a Nickelback T-shirt every now and then, and he laughs as he recounts a time when he walked into his music history class wearing it.
"It was like all eyes were centered around my shirt," Nuckols says. "And my teacher was like, 'You like Nickelback?'"
Nuckols — an avid music fan who listens to classic jazz artists like Stan Getz and Charlie Parker when he's not rocking Nickelback — still can't understand why people spend so much energy hating the Canadian band.
"They're a good band and I think they really make good music," he says. "I'm just confused because people say that their songs sound the same. Their songs sound the same because they have the same lead singer."
It's a common criticism heard of the band: that their similar sounding songs — often about booze and chicks — are the reason to hate them.
But for some — like Sabastian Nelson — that's actually an asset.
"Their music has the same tune and the same melody to it," he says as he chains up his bike. "I like their music. I like the way they express themselves."
Jennifer Vincent, a fan who owns all of the band's albums, says she tends "to disagree with most of the negative feedback.
"Their music has changed a bit since their Silver Side Up CD and has been brought more into the mainstream, but I wouldn't ever call them generic," she says.
But even more, Vincent's fandom is reinforced by the charitable works that the band has become known for. She feels that Nickelback are actually good human beings, in addition to being talented musicians.
"I appreciate their global awareness and the work they've done to bring awareness to teen suicide," she says.
Nuckols and Heather Hanson, a 36-year-old mother of three, say that their fandom was solidified when they actually heard the band up close and in person. Hanson, who will have seen them three times after this week's show, says seeing the band surrounded by massive pyrotechnics and hearing the power of the band through an arena-sized sound system is a must.
"I would tell anybody who doesn't like them at all to go see a show — then come talk to me," she says. (LS)
THE PEOPLE WHO HATE NICKELBACK
There are people who hate Nickelback and they want you to think they are everywhere.
They hate Nickelback not like people hate broccoli or Jennifer Aniston's new haircut or the New York Yankees, but with a fervor that precludes them from realizing that not everyone shares in their disdain. They don't seem to understand how millions and millions of people could possibly hate Nickelback so little that they would actually listen to Nickelback music on purpose.
If you ask people on the Internet to send you their thoughts about Nickelback, your inbox will become filled with vitriolic language and maybe a few jokes.
"I actively hated them several times a day when they (and the god-awful Creed) had a total monopoly on the local radio stations. I hated them at my first job in retail when they played on an endless, mindless, soul-crushing loop," writes Meaghan Lane, a 26-year-old north Spokane insurance professional.
The people who hate Nickelback can also be funny.
"Nickelback walks into a bar... there's no punch line because ruining music isn't funny," tweeted rock god Dave Grohl via an email shared by a Spokane-area social media specialist.
"The only advantage is if you buy tickets you can store them on your car's dashboard and the city lets you park in handicap spaces," writes a local entertainment promoter on the condition of anonymity because that's an awfully mean thing to say.
If you go out on the street and ask people what they think about Nickelback, you'll quickly find that real life human beings don't hate Nickelback as much as their online counterparts. Many of them have never even heard of the band. Others, like 23-year-old Austin Martin, think the Nickelback hate is just Internet hype.
"The internet is a virus. If one person makes fun of something, then everyone else just goes off of that," says Martin, waiting for his bus after working a shift at a downtown restaurant.
But on that same street, you will indeed find people who really want to tell you how much they hate Nickelback.
"They suck and they're annoying. I think 98 percent of people hate Nickelback," says a man sitting under a downtown Spokane tree who calls himself Cletus McNasty and claims to be 30. This is almost certainly not his real name and that 98 percent statistic isn't likely the result of scientific investigation. Cletus smells like the devil and has an Insane Clown Posse tattoo on his arm that he doesn't want to talk about. It's as if an Internet troll has come to life.
As seven different haters pointed out to me in emails last week, Nickelback's "How You Remind Me" and "Someday" are essentially the same song. This is mostly true. These tunes are similar in both their melody and lack of creativity. The two songs are also similar in that they're both wildly popular. In other words, the people who don't hate Nickelback really enjoy these two ostensibly awful songs.
It's hard not to wonder if the hate is misdirected. The people who hate Nickelback probably actually hate the people who love Nickelback more than they actually hate Nickelback. They just don't know it. (MB)

Nickelback with Bush, Seether, My Darkest Days • Sun, June 24, at 6 pm • Spokane Arena • $45-$80 • All-ages • ticketswest.com • (800) 325-SEAT