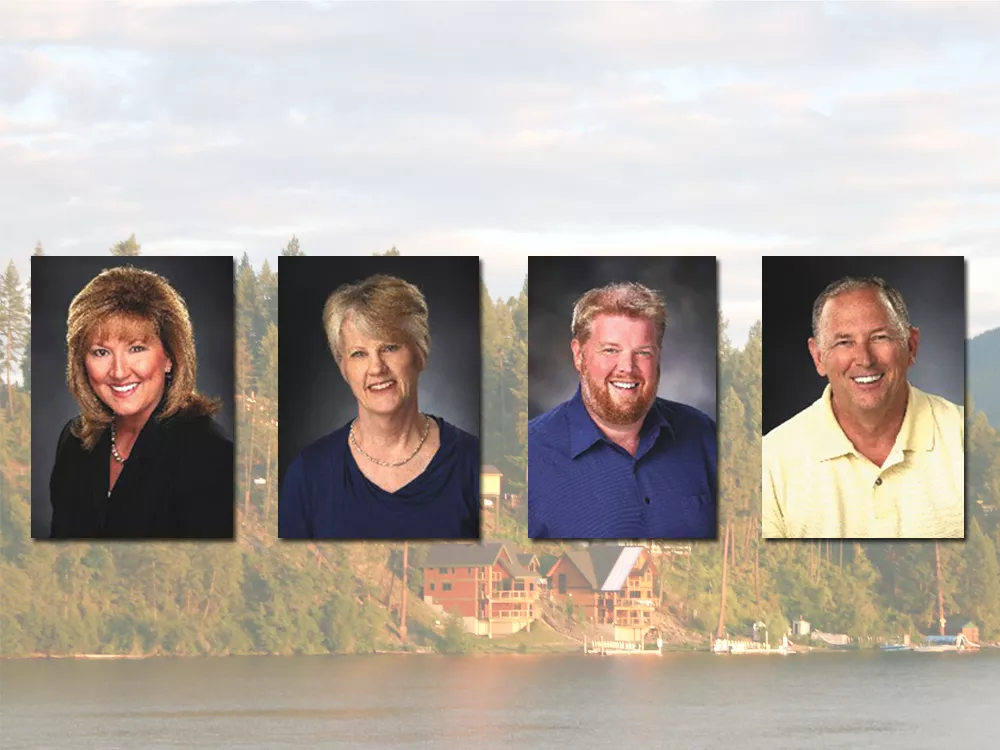 I
t took an election, three resignations and a lawsuit.
But now, after a little more than a year, the Coeur d'Alene school board has all new members. And to some observers, the changes have brought about a notable ideological shift.
Coeur d'Alene City Councilman Dan Gookin says there's at least a perception of a shift rightward, while the Kootenai County Reagan Republicans praise the board's new fiscal conservativism. Amid the controversy, the fledgling school board has a challenge: Pass a school bond while assuring Coeur d'Alene its focus is on education âeuro;" not politics.
"The teachers remain concerned about what this board's going to do. We need to allow some time to pass," board president Tom Hamilton says. "We're not crazy, we're not radical, we're not out to shut down public education."
Total Turnover
"I'll be blunt," Hamilton says about his first year on the school board, "We'd appreciate being able to put a lot of it behind us."
It all began with a partisan election for the non-partisan school board. Hamilton and Terri Seymour were encouraged to run by the Reagan Republicans, who supported their campaign.
"The reality is that non-partisan races are always really partisan," says Jeff Ward, former president of the Reagan Republicans. "But the Reagan Republicans just pulled the cover off."
Soon after their election, the board chair resigned and voted to appoint her own replacement. Hamilton and Seymour saw the practice - often used by the Coeur d'Alene school board - as an illegal way to maintain the status quo and filed a lawsuit. A judge agreed with them: When a person resigns from a board, she doesn't have the power to vote on her replacement.
In the months following the verdict, two frustrated, long-standing board members also resigned and two replacements, businessman James Purtee and former teacher Ann Seddon, were appointed. That left an entirely new school board, and one vacancy.
A Different Plan
Changes loom. Last week, the school board ended the International Baccalaureate program, a world-renowned high-standards program in the high school. They analyzed the cost of the program, Hamilton says, and found too much expense, and not enough success.
The board wants to subject the Primary Years Program, the elementary school version of the IB program, to the same sort of scrutiny. Hamilton feels the board is already more financially responsible and treating parents with less contempt. He plans to continue asking financial questions.
"Should we be privatizing our transportation, our custodial services, our grounds-keeping?" Hamilton says. "I want to look at it."
Other board members poised different ideas: Purtee suggested the district consider student uniforms, arguing uniforms would reduce distractions, and that one focus of the district is to "protect the community's morals." (For, now the district has deciding to focus on enforcing its current dress code.)
The IB program, however, remains a major flashpoint. As early as 2010, IB opponents flooded into school board meetings, arguing that IB was pushing a liberal, United Nations-backed agenda.
Activist Duncan Koler quoted local fourth-grade essays supporting free housing and opposing cars and logging as evidence of IB's liberal bias. His group, Citizens for Better Education, backed Hamilton and Seymour in their election.
While Hamilton doesn't believe in United Nations conspiracies, he says as a parent he's philosophically opposed to the "moral relativism" of the IB curriculum. Clashes with his child's teacher over religion catalyzed his involvement in district politics.
"We raised our kids in pretty typical Judeo-Christian tradition," Hamilton says. "I don't believe that it's the job of any school district to teach any differently."
By contrast, the Advanced Placement program, he says, was a lot less expensive and had a much greater success than IB.
That hasn't stopped some community members from seeing meaning behind the IB elimination. To Ward, of the Reagan Republicans, it represents the new board members' commitment to cost control.
But Senior IB English teacher Mike Ruskovich doesn't believe the decision was entirely monetary. "People either become school board members because they are going to be community-minded members, or they have an ax to grind," Ruskovich says. "I'm worried they're ax-grinders." He says he's going to give the new board time, but so far he's not impressed.
"Our school board of trustees voted out IB last night," parent Eden Richey Irgens wrote on Facebook. "What other items may be on their target list?" She worried that Sorensen Elementary, a specialized school focusing on the arts, would be in danger.
"Oh, Heavens, that's totally untrue," board member Ann Seddon says. "[Sorensen] has been a shining example of success in this district." On Facebook, Hamilton responded to Irgens personally to assure her that her worries were misplaced.
Bond Issues
"Your first year on a school board, it's like drinking from a fire hose," Hamilton says, referring to the amount of information he's absorbed. "My mind has been changed on a few things."
He now supports the Aug. 28 $32.7 million school bond. He looked at the bond âeuro;" which would provide for major renovations for five schools and district-wide renovations - and says he realized it's a necessity.
But last time, he didn't vote for the bond. And if the old school board was still in charge, he says he wouldn't be voting for it.
For now, support of the bond issue has, at least temporarily, allied different factions. One parent has real concerns about the direction of the board, but didn't want to start complaining until after the bond passed. A district representative and board member James Purtee says he doesn't want to participate in "politicizing the school board."
"The well-being of our students is too important," Purtee says. "Instead of listening to or participating in gossip, most people would be well advised to actually attend school board meetings."