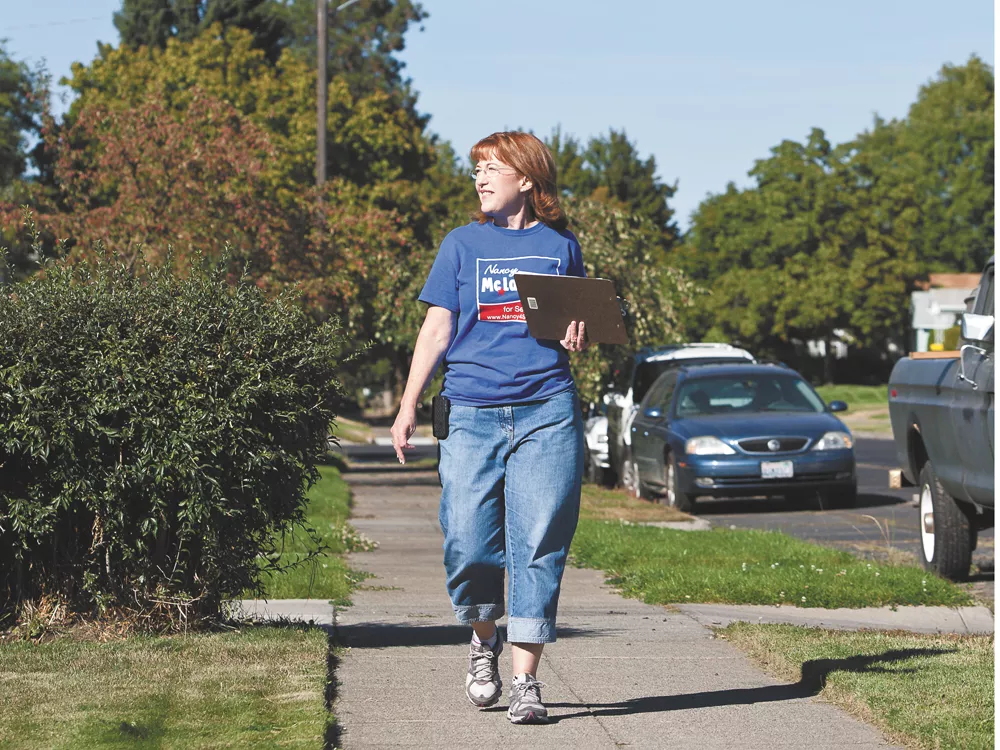 Nancy McLaughlin stands at the door of a house on the corner of Stevens Street and Wellesley Avenue, trying to convince a smiling old shirtless man with a deep surgical scar up his sternum to post a campaign sign on his fence. He agrees, though it's tough to tell whether he's an interested voter or he's just happy to have company.
Unlike the picket fences of South Hill, the fences in this North Side neighborhood are of the chain link variety. And as McLaughlin, 54, walks door to door, she tells residents — a military vet, a county employee, a recent immigrant from Alaska — that her time on the Spokane City Council and owning a cabinet business with her husband should make her Spokane's next state senator.
McLaughlin isn't the only small business owner in the race. Her opponent is state Rep. Andy Billig, co-owner of the Spokane Indians baseball team. With the retirement of Democratic Senate Majority Leader Lisa Brown, the winner has to fill a hole left by a longtime legislator and statewide power broker.
For Democrats, the 3rd District — spanning downtown, to Francis Avenue and the South Hill — is their only state Senate seat east of the Cascade Mountains. For Republicans, it's a chance to replace a powerful Democrat and adjust the state's balance of power.
The question for Spokanites, then, is which business owner do they want?
As she door-bells, McLaughlin sells her voters on the nuts-and-bolts of her time on the Spokane City Council, where she's serving her second term. She talks about her votes against the car tab fees (which passed anyway), and for lower city water rates (which was successful) for most residents after last year's water hike. She occasionally talks of working to increase police accountability in Spokane and about finding ways to increase high school graduation rates. She also also talks about keeping taxes and regulations low so businesses can prosper and hire more workers.
She doesn't speak ill of her opponent Billig, though, except to take issue with his definition of being a business owner.
"He's a 5 percent owner [of the Indians]," she says. "He hasn't had to take the risks … of whether you're going to lose what you invested."
She's had some stumbles in the campaign — which Democrats have pointed to as proof that she's unfit for the seat. For instance, her campaign mailings accused Billig of supporting a state income tax, without noting that his proposals also included doing away with other taxes. McLaughlin ended up publicly apologizing to Billig for misstating his position. A week later, she had to pull down part of her campaign website because some of her positions were copied directly from a Republican Party website.
McLaughlin's campaigning has also drawn fire from colleagues on the City Council, including Council President Ben Stuckart.
"For the last six months, I haven't seen her," Stuckart says.
Andy Billig, 44, is a man with a permanent smile. He's always smiling, and as he door-bells around 15th Avenue and Perry Street one day, he smiles at the prospect of flipping a voter who has identified as a Republican.
He doesn't say it, but Billig wants to win big. No matter that he beat McLaughlin in the primary 57 percent to 42 percent. He's knocked on 7,000 doors in this race, he says, and loves to try and convince independents and Republicans to vote for him. But most houses today are full of Democratic voters who largely pledge their support.
His pitch is different from McLaughlin's: Billig talks about his 19 years as manager and president of the Indians, the minor league team affiliated with the Texas Rangers. He talks about going to the state Legislature in 2010 and working on jobs and education. At one door, a woman is concerned about Billig asking for a promotion so quickly — his 2010 election as state representative was his first try for office — but he stresses that retiring Sen. Lisa Brown urged him to run.
Billig, who grew up in Bethesda, Md., graduated from Georgetown University, got working with baseball teams and came to Spokane almost 20 years ago to manage the Indians.
He stresses his role in securing the state's financial assistance that is allowing the construction of the medical school in Spokane on the Riverpoint Campus. He touts legislation he sponsored in the House "to play offense on voter access," in response to recent efforts in other states to make it harder to vote. Billig also cites his study of aviation biofuels and how they can bring farmers and the aerospace industry together in a common cause.
"I had all these things I really wanted to work on," he says. "And then I get [to the House of Representatives] and there's already people working on them."
Billig says he's different from McLaughlin.
"I've worked across the spectrum, every bill I've passed is a bipartisan bill," he says, adding that McLaughlin "looks at things through an ideological lens."
Billig says one of his favorite charges from Republicans is about how the business climate is so much better in Idaho.
"Why is it then that they go to Post Falls and Lewiston and Moscow?" he says. "The reason is, they want Spokane's education system."
One warm Saturday, between the oompah-tubas of a big folk band and pop songs sung live over recordings, McLaughlin speaks to a crowd at a Slavic Folk Festival. Speaking through a Russian translator in a palm tree print shirt, McLaughlin talks about how she believes in Jesus Christ, about marriage as defined by a man and a woman, and life beginning at conception. A devotee to a non-denominational Christian church, McLaughlin talks openly of her faith, and often ends her conversations by saying, "Blessings."
But speaking today, she doesn't linger on the religious points, and she doesn't talk about politics or her campaign. Instead, she goes right into a pitch urging the spectators to join city policy groups, like the Arts Board, the Bicycle Advisory Board and the city Plan Commission.
"It's important to me that we have a … diverse representation of culture on these boards," she says. 
An earlier version of this story incorrectly quoted Rep. Andy Billig on businesses in Idaho.