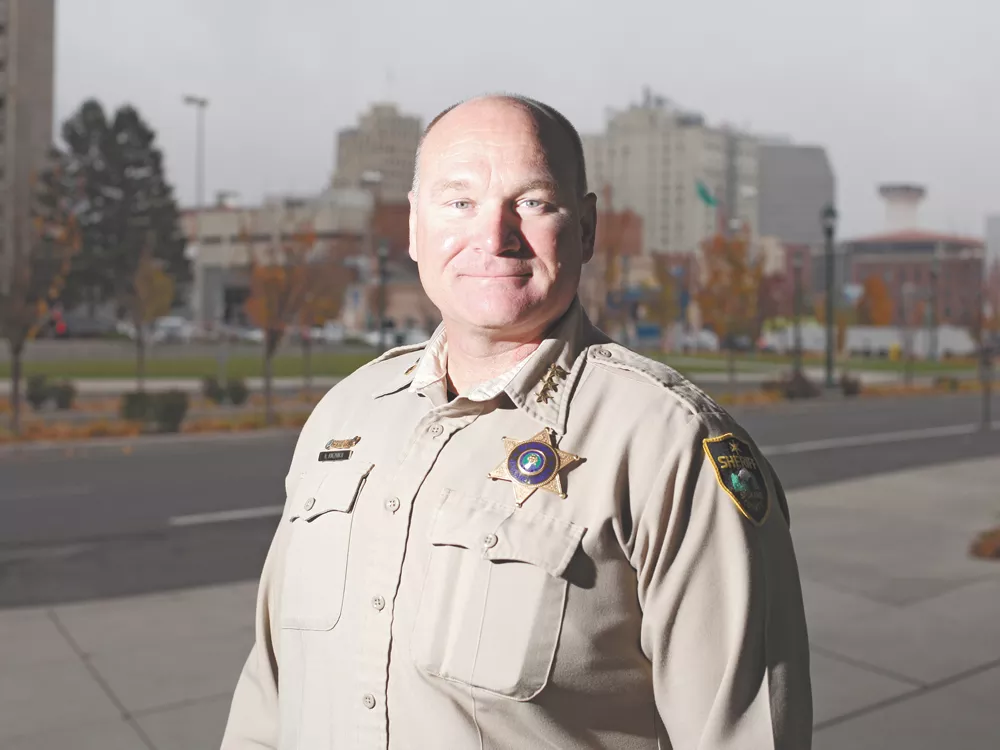 Arbitrate This!
Spokane County Sheriff Ozzie Knezovich sent a letter to local lawmakers last week, pushing for a state law to tighten the arbitration process for deputies and officers fired over illegal or dishonest misconduct.
"You shouldn't be committing crimes if you wear a badge," he says. "You shouldn't be untruthful if you wear a badge. ... Everything that we do hinges on our integrity."
Knezovich says public trust is shaken every time arbitration rules force him to keep a problem deputy on the payroll. He says he opposes the current termination process, in which an arbitrator can agree that an officer committed serious misconduct but still force the department to rehire them into the ranks.
"We don't have places to hide people," the sheriff says. "If you give them back to me they're out stopping your daughters, your family, your wives, your husbands. They're dealing with you. Do you really want them dealing with you?"
Knezovich proposes a new state law to specifically prohibit an arbitrator from concurring that an officer committed a crime, but still ordering the officer reinstated anyway.
"It's a simple matter of upholding standards," he says. "Allow us to uphold the standards and we can keep our house in order."
— JACOB JONES
---
The Bounds of Neutrality
Despite efforts to free themselves from their constraints, the Spokane County Board of Commissioners still can't take a stance on the Spokane Tribe's proposed casino. In 2010, Commissioners Bonnie Mager and Mark Richard signed an agreement with the city of Airway Heights requiring the board to remain neutral.
"The reason I signed the document is because I think we've left the tribes very few mechanisms to be able to sustain themselves," Richard says.
Todd Mielke cast the lone dissenting vote.
"You don't sign away your ability to participate before you have the details," he says.
Mielke and Commissioner Al French had requested Airway Heights remove the paragraph requiring neutrality, but the city was unswayed. Even if the county is officially neutral, it hasn't stopped officials from petitioning the Bureau of Indian Affairs with potential objections. In a letter sent last week, the county asked the bureau to review whether a recent court case — calling into question the way a casino's money was split between municipalities — might invalidate the agreement entirely.
A second letter the county plans to send, Mielke says, is a public records request about the methodology of the casino's environmental impact statement.
"Each of these environmental impact statements is supposed to be unique to the project," Mielke says, but he believes the statement may have relied on generic boilerplate language.
— DANIEL WALTERS
---
Justice, Smarter
The way Smart Justice advocates see it, Spokane is on the cusp. We'll either start doing things right when it comes to criminal justice, the thinking goes, or we'll continuing doing them very wrong.
The group — composed of activists, lawyers and mental health and drug professionals — advocates for putting fewer non-violent offenders in jail, then using those cost savings to invest in more alternative programs, like home monitoring. To start figuring out exactly how to make that shift in Spokane County, they're hosting a day-long public symposium Friday.
Presenters from all levels of the justice system will be on hand, includling Spokane Police Chief Frank Straub, who is scheduled for a talk on "de-escalating conflict with the mentally ill."
— HEIDI GROOVER
Smart Justice Symposium • Fri, Nov. 9 from 8 am-5 pm • Northern Quest Resort & Casino • 1001 N. Hayford Rd. • $20-$35, scholarships available • smartjusticespokane.org