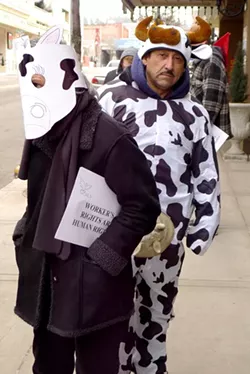 Magarito Martinez is the man in the cow costume.
Through an interpreter, he says he believes he was fired from Ruby Ridge Dairy in Pasco for complaining about working conditions. But he never received an official explanation — just a paycheck and a final trip through the front door.
Martinez was at The Davenport Hotel, hoping to attract the attention of the stockholders for the Northwest Farm Credit Services (NFCS), which was meeting there today. Along with other former dairy employees, members of the Peace and Justice Action League of Spokane (PJALS) and the United Farm Workers, they are asking NFCS to demand fair treatment from the owners of the dairy, Dick and Ruby Bengen.
According to PJALS, the lending and insurance company holds the dairy's $13 million mortgage, and the contract specifically prohibits violations of the law including labor law.
Liz Moore, director of PJALS, says the "really horrible working conditions" include:
No lunch or rest breaks
An owner who uses racial epithets and carries a rifle to intimidate workers who support the union
Being told to get their water from where the cows drink instead of being provided clean drinking water
Job Pozos-Avila, regional director of United Farm Workers, says it was also common for workers to put in 10- or 12-hour days but only be paid for eight hours.
This isn't the first time the two groups have met. Last month, PJALS, the farmers union and 60 workers delivered 32,000 signatures to NFCS demanding workers' rights.
"We are urging (NCFS) to enforce their own mortgage language and stop the illegal behavior," Moore says. "What they've said so far is it's not their problem, that Ruby Ridge Dairy is a good customer and they don't negotiate worker rights.
"But they don't have to negotiate worker rights. They just have to enforce the law and require the dairy to abide by the law. That's why we're here."