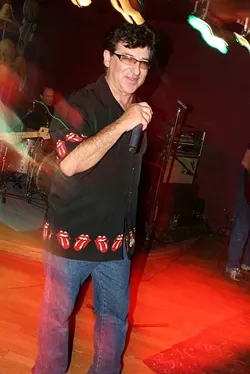 Jon Pieroni, a longtime figure in the Spokane music scene (most recently as the frontman for
the Perones
), passed away yesterday. Pieroni had complications with his liver, which caused him to go into a coma two weeks ago. He died yesterday with his brother, Mark Pieroni (the drummer from the Perones), by his side.
"There's not a musician in this town that doesn't know that man," Steve Lyons, a longtime friend of Pieroni's who called to give us the band news, says. "I wasn't a musician — I was a friend of his. If I went out with John, there was not a place I could go where people didn't say 'Hey John, how you doin?'"
"He's just one of those guys."
Memorial services for Jon Pieroni will be held later this month, with a tribute show at Bluz at the Bend on Aug. 22 (details to come). Cary Fly, another longtime Spokane musician, started a Facebook page titled Jon Pieroni News. That page — which includes nearly 100 photos of Pieroni and is overflowing with thoughts on the man — can be viewed here.