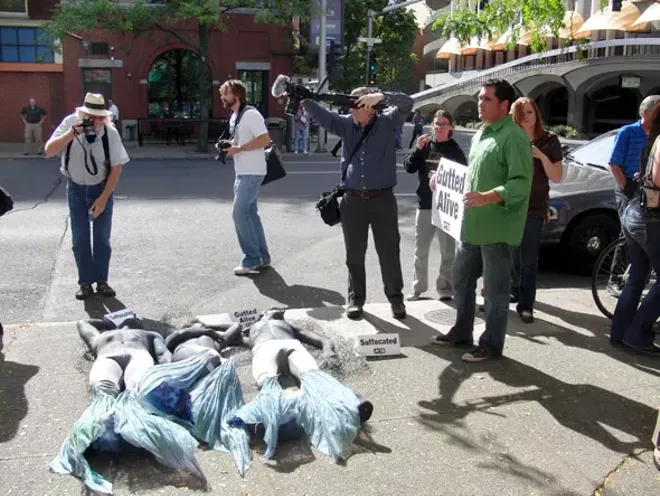 They didn't smell fishy, but the three protesters in front of downtown Spokane's Sushi.com restaurant tried to give the impression of dead fish this afternoon. Shirtless, painted blue, and lying motionless on fishing nets, demonstrators from the People for the Ethical Treatment of Animals (PETA), along with campaigner Hayden Hamilton (in plain clothes), were protesting fishing.
"More fish are killed for food every year than any other animal," Hamilton said. She stressed that fish are intelligent and can feel pain.
The Spokane protest is the second of four PETA protests building up to National Fish Amnesty Day on Saturday. Hamilton and the three demonstrators held a protest in Seattle on Tuesday that aimed to discourage parents from taking their children fishing. The "Don't Let Kids Become Hookers" protest will repeat in Vancouver on Friday, while today's demonstration will be repeated in Yakima on Thursday.
PETA targeted Seattle because it is a top urban fishing location, but why Spokane? "Washington is just a big fishing state and people eat fish all the time here," Hamilton said, gesturing toward Sushi.com.
Spokane police were present throughout the protest and asked the demonstrators to move over 40 feet to allow for better pedestrian access. Spokesman-Review columnist Doug Clark was also present, handing out fish sandwiches from McDonald's.
"He makes us look better, because he's being insensitive," Hamilton said.
Jennifer Mills, executive director of the American Heart Association's Western States Affiliate, wanted to visit Boo Radley's but couldn't find a parking space on Howard Street. Settling for a spot further away meant passing PETA's protest.
"I have a survival-of-the-fittest outlook," Mills said. "I eat fish, and fish is an important part of a healthy diet to combat heart disease and stroke."
But Mills said she respected the protesters and supported people expressing what they believe.
"I like to see stuff like this going on in our town, because not a lot of liberal stuff happens here," she said.