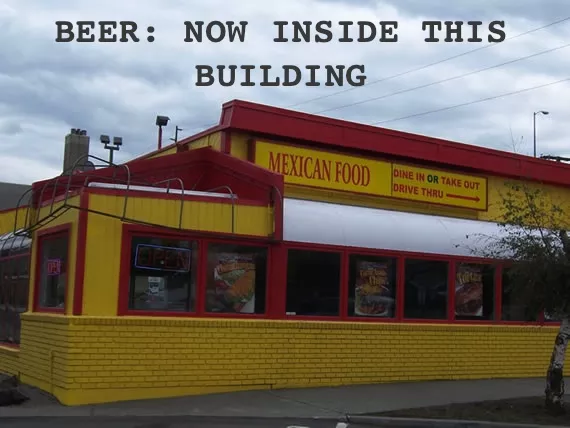 Today is a momentous day for late-night dining aficionados, indeed, for
Atilano's
Mexican restaurant has gotten a liquor license that kicked in last night.
Atilano's has long been a popular after-hours stop. It's weekend 3 am closing time makes it ideal for the post-bar crowd, who show up in droves for the restaurant's signature "gut bomb" menu items — a notorious last-ditch remedy for those who may have over-indulged on appletinis downtown.
The addition of beer, though, could pull in an earlier crowd.
Their selection is pretty impressive. In the cooler behind the counter sit the typical American lagers alongside some of the more mainstream Mexican beers, like Corona and Pacifico. But Atilano's has also added some less-common brews, such as Carta Blanca and La Victoria.
As of now, it's all bottled beer, but we're not scoffing. Jarritos soda is always nice to wash down their epic burritos, but it doesn't quite do the job like a crisp Pacifico with lime.
This is all very exciting.
Atilano's • 725 W. Third Ave. • Sun-Thurs, 8 am-12 am; Fri-Sat, 8 am-3 am • 838-7677