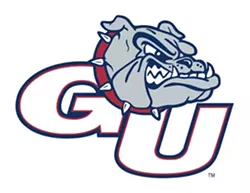 Yeah, Zagnation (aka Zagdom, Zagonia, Spokane) you're probably still reeling from that weird loss to San Francisco on Saturday night.
For a second there, it looked like a WCC co-championship was signed, sealed and sitting on the counter ready to be delivered. All that has changed.
Now, BYU comes into Spokane, playing in the Kennel for the first time in the hopes of bringing the Zags into a tie for second place in the conference heading into the WCC tournament next week in Las Vegas.
But don't expect the Zags to look all befuddled like they did when they went to Provo a couple weeks ago and got beat by double digits. The Zags will be ready for (yet another) Biggest Conference Game of the Season™and will have eyes all over Noah Hartsock, who straight torched them last time.
Zag fans are, again, appropriately pumped for the game. Here is what they're saying.
In other basketball news:
Somewhat Gonzaga-related news, I had a chance to see former GU coach Dan Monson (the guy who started this whole Zagmania thing back in the late 90s) coach his Long Beach State team to a victory over UC Santa Barbara last night on ESPN2.
With an RPI of 40 (basketball nerds will know what I'm talking about), a run-and-gun style and a guy named Casper Ware, Monson — after a less-than-awesome run at Minnesota — seems to be hitting his stride down in SoCal.
His team is tough as nails and has already beaten Pitt and Xavier earlier in a non-conference tour that also brought them up against UNC, Kansas and Louisville. Look for Monson and his 49ers to totally ruin your bracket come mid-March.