We're reviving our Bands in Vans series this summer: an occasional series collecting dispatches from the tour vans of local touring bands. First up: Terrible Buttons. After playing a really, really, really packed house last week at Volume, the Buttons took off to tackle a mammoth drive to Alaska, where they'll be on tour for the next month. Sarah Berentson, the band's co-singer, writes us from Talkeetna, Alaska.
Any local bands going on tour who want to participate should write me at leahs@inlander.com.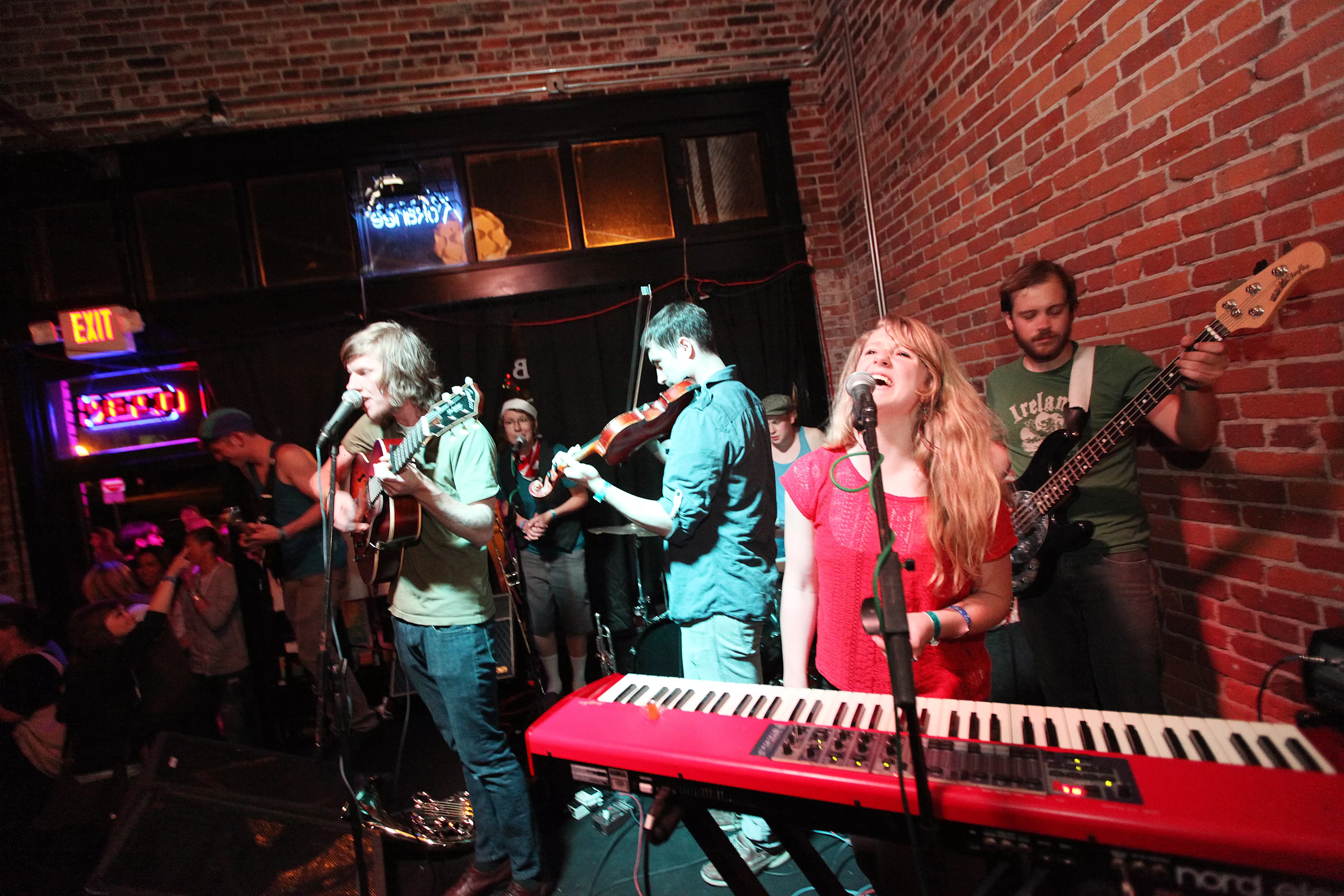 So much for a daily account of our "Shiny Pines" tour — after 55 hours straight in our trusty van, the days have blurred together and we have all lost our sense of time, and probably our minds. The drive started off with high energy, as we asked our native Canadian drummer pressing questions about his homeland we were about to venture through. "Do you all ride horses?" " Is everyone a Mounty?" "Do you think the six of us could take over Canada?" You know, the kind of things you want to know before you head into a different country.
Hour two and the accents have started. The van has a funny way of making all of us talk in thick, country accents, even in public. If you see us a few days after tour, you'll probably hear the remnants of the lingering accent.
By hour six we started our bear count heading North through the province of Alberta, marking it on the roof of the van with a Sharpie. Half way through the Rockies Kris got naked as co-captain in an attempt to raise our spirits. It worked. By morning our bear count was at six. We made a pact that when we see bear number ten we will do a naked run around the van in celebration. After a while we settled into a rotation of people sleeping and people staying awake, and conversations rattle on. We don't have a working radio, yet we always had something to talk about, even if it was complete nonsense.
By hour 28, things had gotten a little weird. I learned how to pee outside. Kris and Jon stole the van and took it for a joyride at a rest stop. We began referring to our GPS as Ryan Brown, our violin player, who is flying into AK in a few days. And Tyler's name was changed from Tyler Tupper to Tyler Poodle.
Our last stop before Talkeetna, AK was in Whitehorse, Canada where McChickens were $5.00 and Kent was harassed for being an Ontarian by a short man wearing what looked like Natural Born Killers glasses, even though our plates clearly say Washington.
We finally made it to the border of AK and Canada early in the morning. "Do you have any tobacco and liquor?" she asked us. "Yeah, about half a carton and a fifth," we replied. "Oh, is that your breakfast? Have a nice trip."
After hours of Kris and KB singing manically about the town of Tok, entitled "Desolate Wasteland", we safely crossed into Talkeetna, AK and met up with our dear friends "Reed Lakes" (Formerly "Pə-ˈrād"). Who, coincidentally, are all connected to Whitworth as well.
For now, we are about to eat some dinner, and the bear count remains at eight, which is probably good for everyone.