The formerly defunct Spokane Art School has reincorporated using funds that were set aside when the school closed in 2008. Art classes now will be held in various locations around Spokane, including the former Tinman Too children's bookstore space at 809 W. Garland St., which recently closed due to the struggling market for independent bookstores.
According to Spokane Art School President and the owner of Tinman Too, Sue Bradley, a core group of board members and teachers from the original establishment are working together to bring life back into the organization and reinstate many of the original programs while incorporating new ideas binding art and modern technology. The goal is to "continue to have a fine arts education in a meaningful way," says Bradley.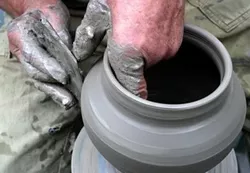 At this time, the Spokane Art School has recruited a number of instructors, has reinstated programs such as Crosswalk, and many other painting, drawing, and ceramic programs.
Tinman Too sold children's books and offered various art classes geared toward kids on a regular basis. Bradley opened the store more than two years ago and also owns the Tinman Gallery next door. She has been an active member of the Spokane arts scene for more than a decade.
For more information, contact the Spokane Art School at 325-1500.