TONIGHT!

click to enlarge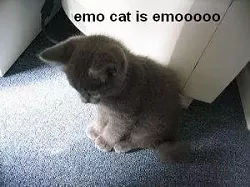 The Globes, a local band, moved away in 2007 (then they were called For Years Blue) to make it big and become rockstars. And they actually did it. In the last year, the newly signed Barsuk Records band has brought its powerful, guitar-driven post-rock songs to mid-sized stage at Sasquatch Festival. And they've toured endlessly in support of Minus the Bear and Archers of Loaf. The mostly-bespectacled band's sound is something you might have heard on mid-'90s college radio and has won over all kinds of codgery music critics. We like them, too. The Globes play tonight with the Perennials at 6 pm. Museum of Arts & Culture (2316 W. First Ave.). Free, all-ages.
It's understandable that the whole screaming, grunting and yelling thing could be the reason some tender-eared folks might not be so into listening to metal. Some don't like to hurt. And that's why, I presume, the entire genre of melodic metal — fronted by bands like Katatonia — was birthed and thrives today. It's like the emo kid brother of the metal world: pretty, sensitive, full of songbird vocals and flittering guitars. And Katatonia, a Swedish band touring in support of 20 years in the biz, leads the pack. No screaming, no hollering — they play make-out music for metalheads with non-metal girlfriends. If that's what it takes to get them in the sack, well… then that's what it takes. Check them out tonight with Opeth at 8:15 pm. Knitting Factory. $23-$26. All-ages.
And be sure to check out what's going on over at the Hop. Drew March (aka Das 00ntz, best DJ NAME EVER) and a few friends have single-handedly started the "graves" scene here in town — that's short and clever for "gothic raves." Read all about the scene in Tiffany Harms' story here, and check it out 20XX tonight at the Hop! 7 pm. All-ages. $7.

SATURDAY!
For a good solid punk rock show, hit up the Hop! again Saturday night for a show with Get Shot!, Colourflies, Collateral Damage and local punkers, Lobsterjaw. Coulda sworn they broke up awhile back, but according to their Facebook page, this show is their THIRD reunion show. So, there's that. All-ages. Can't be more than $7.
SUNDAY!
Singers Rocky Votolato and Matt Pond have a special kind of relationship — as musicians and as friends. Read our story about the two men squabbling on the road here, and check them out at A Club on Sunday. Votolato and Matt Pond PA play with Kevin Long (and band) at 8:30 pm. Gotta be 21. (If you're down in Moscow/Pullman, catch the full line-up again on Monday at the Belltower in Pullman)