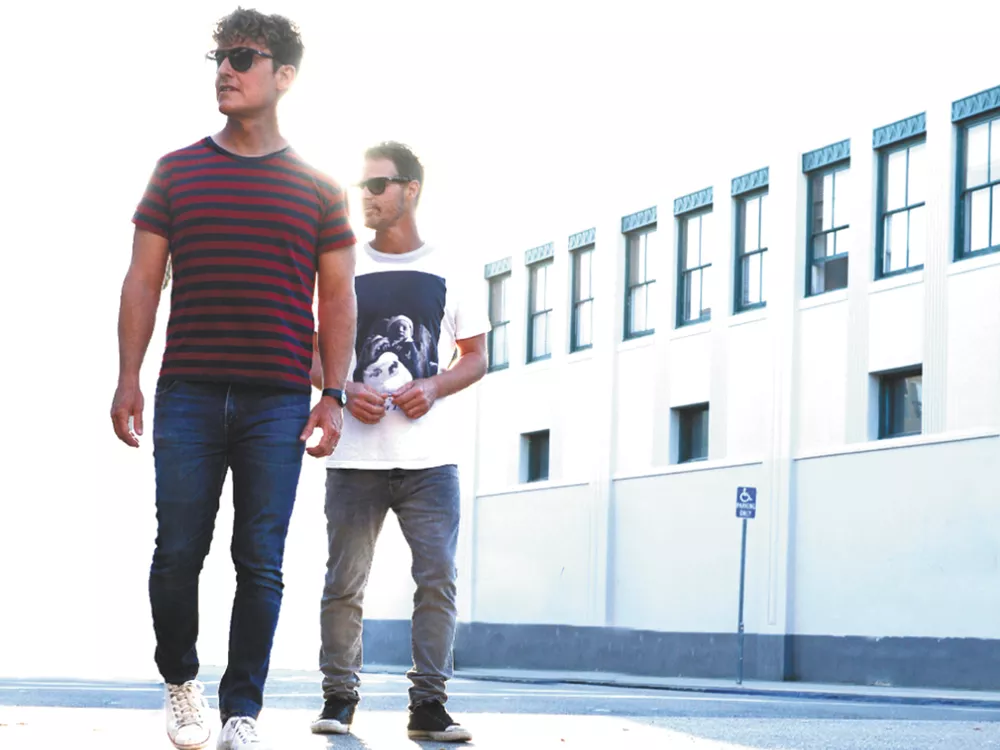 For a while there, things were going swimmingly for El Ten Eleven.
In fact, when The Inlander checked in with the post-rock band in 2010, guitarist and bassist Kristian Dunn said, "Things are going well for us and they keep getting better."
At that time, they were. The instrumental duo's fourth album, It's Still Like a Secret, was about to be released, as was Urbanized, the final movie in Gary Hustwit's "Design Trilogy," rounded out by Helvetica and Objectified, all of which feature the music of El Ten Eleven.
So when we asked for a status update just last week, Dunn said with a laugh, "Oh, you know, the usual. We've been ruling the world, having people bow to our powers and bow down at our feet, so the same."
He's all jokes now, but both Dunn and drummer Tim Fogarty experienced quite a few life-changing ups and downs since we last spoke — divorce, relocation and, in Dunn's case, remarriage and having a child. But like any good band, El Ten Eleven put the changes, both good and bad, to good, creative use. They're the inspiration behind the group's fifth album, Transitions.
Recorded at Stage and Sound in Hollywood and Dunn's Atwater Deluxe Rehearsal in Los Angeles, Transitions was originally intended to be one 40-minute song. After a lot of reworking, that idea became the 10-and-a-half minute title track.
The band also recorded, "Thanks Bill," a song the band was playing on tour before they began recording Transitions. The song's title is in reference to Alcoholics Anonymous founder Bill Wilson and was inspired by Dunn's wife's sobriety.
"She got sober and is staying sober with the help of A.A. and it works really, really well for her," he says. "If she wasn't sober, we probably wouldn't be together, my daughter probably wouldn't exist so I thought that was worthy of some thanks."
Though it only took Dunn and Fogarty three days to record Transitions, the tweaking process — as Dunn calls it — took a month, followed by many more months of trying to figure out the best time to release the record on the duo's own Fake Record Label.
To make up for the time between the album's February completion and its October release date, El Ten Eleven is finishing up three songs that will go on an EP to be released in early 2013.
While recording Transitions, Dunn got to fulfill his longtime dream of playing through a vintage Vox AC30 guitar amplifier. Aside from that, though, the recording process wasn't too exciting, as Dunn compares recording studios to factories.
"You just kind of get in there and get to work and get it done, at least that's been my experience," he says. "The studio seems like it's more, I don't know, punching the clock. I mean, it's a great clock to punch — don't get me wrong."
Dunn says that it's not in the studio, but at their live shows, where he and Fogarty feel emotionally connected to the music.
After receiving a lot of love-it-or-hate-it responses from fans about the band's third album, These Promises Are Being Videotaped, Dunn has been waiting to hear negative feedback about Transitions, but says that so far, many fans have told him and Fogarty that it's their favorite El Ten Eleven album to date.
Even if Transitions received mixed reactions from fans, the duo would still be happy with the album.
"We make these records for ourselves, really," Dunn says. "We want records that move us first and then if they also move other people, then that's a bonus. So the fact that it's doing well and people are into it, needless to say, it's super big."
El Ten Eleven with Nude Pop and Miss Massive Snowflake • Thu, Jan. 17 at 8 pm • Red Room Lounge • 521 W. Sprague Ave. • $7 • 21+ • 624-3629