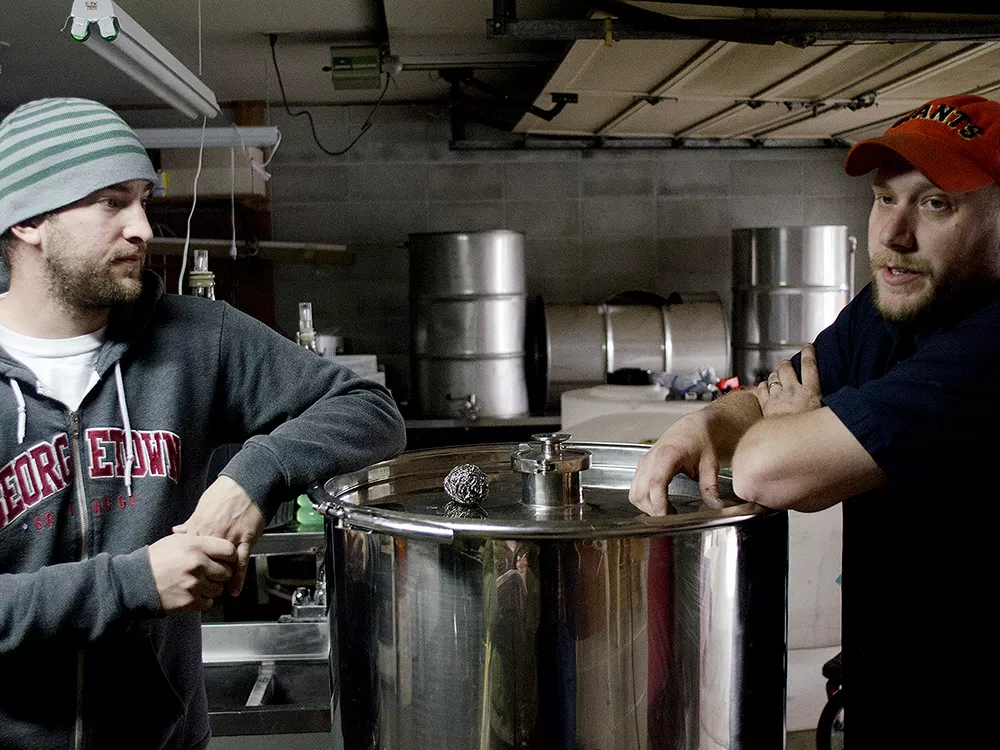 Field to Pint Glass
Living near some of the best hops country in the world means local breweries can make their beer with ingredients grown close to home. The brewers behind the fledgling Black Label Brewing Company are bringing the supply chain one step closer by growing their own hops, honey and herbs.
"We wanted to try to be as self-sufficient as possible, and create as many of our own ingredients as possible," says Dan Dvorak, who started brewing with Steve Wells about five years ago.
Last year they grew a row of hops just west of Spokane in Garden Springs, where Dvorak's father-in-law has land. This year they planted four times as many plants, in nine varieties.
"If our plants grow as well as they did last year, we'll have hops to brew for at least a year," Wells says. "And by that time we'll have started the third year of hops going."
Already this spring, a successful Kickstarter campaign for start-up costs got them one step closer to opening a small brewery and taproom in Spokane Valley. They picture a brewery someday run entirely on solar and wind energy, with all-LED lighting. But, Wells says, "a lot of beers will need to be sold" before they can make that investment.
In the meantime, they're finding creative ways to go green and save money — one project in the works is a bike-powered grain mill to get friends and customers involved. With their trade skills — Wells is a pipe fitter, Dvorak an appliance technician — they can salvage equipment off Craigslist and build almost everything themselves. One style they brew, a kolsch, requires lots of honey — so Dvorak became a licensed beekeeper to tend hives out by their field.
"We know exactly what's going into our beer," he says. "We know exactly what we're giving people."
— LISA WAANANEN
---
Green Beans
Post Falls-based DOMA Coffee Roasting Company has taken the definition of sustainability and green business practices to a notably high level, considering everything from how and where its coffee is sourced to leaving the lights off at its roasting facilities as often as possible.
Rather than taking an existing business venture and revamping its operations and standards, DOMA owners Rebecca Hurlen Patano and Terry Patano made sure all aspects of their 13-year-old coffee roasting company were sustainable from the get-go, mirroring the couple's own lifestyle.
"It was an easy philosophy to incorporate into our business, but that's not always the case," Hurlen Patano says. "We wanted to be more vocal about it because we could be used as an example of how to run a green/sustainable business and be successful."
To share with the community what it's doing to "go green," DOMA's website lists some of its environmentally sound practices, as well as its carbon footprint compared with a similar-sized business that's not doing as much to lessen its impact on the Earth. The results — calculated by a carbon footprint estimator on Avista Utilities' website — show that DOMA is emitting more than 90 percent less carbon dioxide than a comparably sized facility.
Hurlen Patano says DOMA's coffee roaster uses 80 percent less natural gas than its more conventional counterparts, and that she and her husband consistently urge their vendors — which provide things like the recycled paper coffee bags — to offer materials that have little to no impact on the environment.
Before purchasing the $100,000 energy-saving coffee roaster, the Patanos enlisted the help of Avista's energy efficiency engineers, headed by chief engineer Tom Lienhard. After an energy audit of the new, highly efficient roaster, the Patanos knew it would not only meet their goal of reducing their business' impact on the environment, but would also eventually pay for itself with energy savings.
— CHEY SCOTT
---
New Technology for Old Engines
If a Prius has a natural opposite, it's probably a gas-guzzling vintage hot rod. But Josh McLean, advised by his automotive technology instructors at Spokane Community College, wondered whether there could be an affordable way to turn an old American icon into a hybrid.
"Our idea was to keep the nostalgia of the original 350, the carbureted engine, and add our hybrid system onto it," he says.
His startup company is doing exactly that — with a classic 1950 Chevy pickup, they just decided — for auction in Las Vegas later this year. But that's just the beginning. McLean has already started thinking of how the technology could be more practical for work trucks and vans. He describes the concept as "recycling old technology with new." The initial gain would be at least 10 miles per gallon — a big improvement for work trucks getting only 10 or 12 mpg. But he's not stopping there.
"The true expansion is semis," he says, "and being able to really reduce the carbon footprint of these companies that have to do what they do."
Auto companies are making hybrid work trucks, and Peterbilt is developing a hybrid semi, but those new vehicles are far more expensive. It takes years and years before savings on gas make up for the initial investment.
McLean's philosophy is that any gain is better than no gain. Imagine a Los Angeles traffic jam, he says: Every semi idling on the highway for four hours is spewing emissions the entire time. With a hybrid system, the electric motor could take over during that time and cut emissions to practically zero.
With an investor signed on, McLean is ordering parts and hoping to have the prototype ready by the end of the month. Since one of the biggest hurdles is convincing investors his system will actually work on a big scale, he's eager to prove it. "I'm confident that it works," he says.
— LISA WAANANEN
---
A Greener Snowmobile
If you feel environmental guilt every time you tear around on your snowmobile, rest a bit easier.
Engineering students at the University of Idaho are working hard to design and build more environmentally friendly and fuel-efficient snowmobiles. In fact, they've been doing it for years.
"The old snowmobiles certainty weren't odes to the environment," says Karen Den Braven, the director of UI's National Institute for Advanced Transportation Technology. However, that's changing, in large part because of the efforts of Den Braven and her students.
Since 2000, the University of Idaho has competed in the Society of Automotive Engineers' Clean Snowmobile Challenge. They've won first place three times, Den Braven says, and since 2007 have consistently placed in the top three. This year the university's team took third place overall.
This year, students had to design a snowmobile that could run on flex fuel, which contains ethanol, Den Braven says. Their machine was one of only six to finish the 85-mile course.
Although many of the students are independently interested in snowmobiles and other forms of vehicle recreation, there is also a recognition of the importance of using sustainable fuel sources.
"Honestly, there is not enough oil to sustain us for very long, so we do need to find alternate fuels for all transportation," says sophomore team captain Dillon Savage. "It's the way the entire world seems to be going."
Savage, who is interested in power sports and automotives, says the project helped him apply book learning to real life, while also developing potential career connections. He earned some college credit, but he says he would often spend 40 hours a week or more working on the project.
"It puts a realistic spin on all the theory you learn in class," he says.
– ELI FRANCOVICH