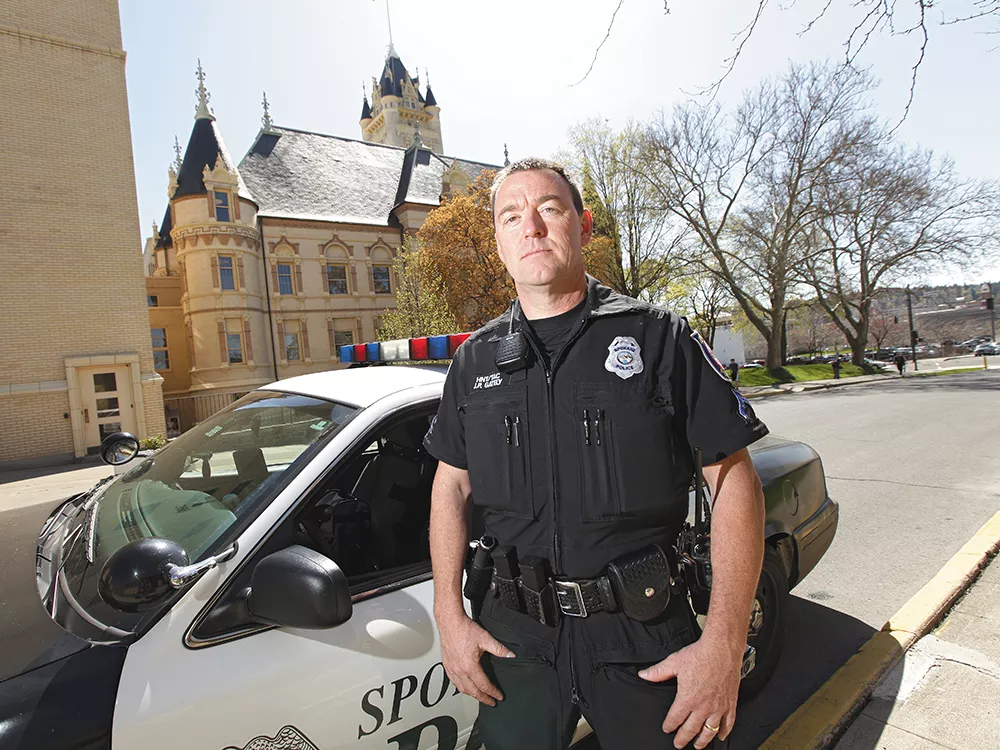 The Spokane Police Guild has long stood loyal behind the city's finest, backing beat cops and crack detectives, but in recent years the union has also found itself defending the troublemakers, lawbreakers and liars among its ranks.
Amid scandal and repeated officer misconduct — amplified by the beating and in-custody death of Otto Zehm in 2006 — the Spokane Police Department has spent the past several years under nearly constant fire.
Spokane Officer John Gately, a decorated 22-year veteran of the department, says bitter internal politics and budget battles also split the agency, sometimes putting street officers at odds with administrators, city officials and citizens.
"This past five years has been something that I've never seen before," Gately says. "It just kind of all came together and it crashed."
In many eyes, the police guild has come to symbolize the department's problems, stirring accusations of cronyism, dysfunction and entrenchment. Some critics have even likened the union to the mafia.
Sworn in as the new guild president on March 27, Gately hopes to redefine the guild's image, clarify its mission and reconnect with the community it serves. He wants to remind the city of the good work police officers do every day.
For the first time in a while, he feels like Spokane could be ready for it. City officials have started a new conversation about public safety, new funding has gone to department equipment and a new police chief has provided much-needed leadership and cooperation.
"It's nice to have a direction to move forward," Gately says.
Union leaders say the Spokane Police Guild first formed in the early 1970s. It now represents about 260 rank-and-file officers throughout the department. Gately says he is proud to work alongside the men and women who help protect Spokane. He describes a dedicated and hardworking local police force.
"We have great people that work within the department," he says. "We have officers that come out here and sometimes work to their own detriment. Calls just keep stacking up, and guys just keep taking them."
Gately, 47, previously served as guild vice president after being appointed to the position in 2010. He now takes over for Detective Ernie Wuthrich, who served as president for six years amid the height of the department's recent issues.
Wuthrich praised Gately's longtime work with the labor union, his involvement in the department's peer support program and his proven team management skills.
"He's got a well-rounded experience," Wuthrich says. "I think he'll do a good job. … Hopefully, he'll have an easier go of it than I did."
Gately recently received the department's Distinguished Service Award for his leadership on the Tactical Team, managing staffing and strategy for large public events. He has also served as a hostage negotiator and public information officer for several years.
"People trust him," Wuthrich says. "He's got a good rapport with people."
As president, Gately says he intends to push new community involvement efforts. He wants officers helping out in their neighborhoods. He says the union recently sent officers to volunteer with the Spokane Guilds School's penny drive and donated to the Cheney Pee Wee Rodeo. They continue to look for other programs to support.
But like any union, Gately says the guild's primary mission is to improve working conditions and benefits for its officers. It must also protect members from questionable disciplinary actions.
"I don't know if there's a true understanding of what the guild's role is," he explains. "It's a misconception of what a union is there for."
A slew of misconduct allegations against Spokane officers has forced the police guild into fighting many unpopular battles in recent years. Gately acknowledges some of the public frustrations, but says the union's bylaws mandate it must represent its members during disciplinary conflicts.
"There's certain things that we have to do," he argues. "We have officers that make mistakes. Let's deal with the mistakes they've made and whatever punishment they deserve. If it's fair and just, then let's move on. But … some of the stuff we were battling, we didn't have a choice in the matter because of the way it was done."
Gately hopes people understand the guild does not take any position in criminal matters. The union only gets involved with internal disciplinary conflicts, working to ensure any employee reprimands or terminations abide by labor laws. It only disputes actions from management that it views as inappropriate or premature.
Criminal allegations arose again last week after Spokane Officer Timothy Moses was charged with lying to federal investigators during the Zehm case. Moses has reportedly agreed to resign and plead guilty to a misdemeanor. Gately says the guild has not been involved with the case.
In previous disputes, the guild repeatedly clashed with former Police Chief Anne Kirkpatrick, who oversaw the department from 2006 until 2012, over disciplinary actions and proposed policies changes. Both parties blame the other for a lack of cooperation and communication.
Now serving as King County undersheriff, Kirkpatrick argues guild leaders too often pursued the wrong priorities and worked against long-overdue reforms at the department.
"They need to align their values with the community," she says now.
Gately acknowledges union officials struggled to work with Kirkpatrick's administration. They had different philosophies, he says. Conversations deadlocked, with both sides feeling bullied or rebuffed.
"There was no communication between us and the department," he says. "All of that stopped. … That hurt our department. That hurt the guild's reputation and I believe it hurt the citizens of Spokane. I don't ever want to see that again."
Kirkpatrick says Gately is "very nice" personally, but she worries his history with the guild leadership could mark a continuation of old attitudes. She hopes he proves willing to lead the union in a new direction.
"Maybe they've had a change in position," she says now. "A lot of things can change in a year and a half."
Public questions have also surrounded Gately's friendship with former Spokane Officer Karl Thompson, who was sentenced to four years in federal prison in November for using excessive force in the 2006 arrest of Zehm.
Outrage erupted last fall when Gately and his wife organized a potluck in support of Thompson, which was soon canceled once it became public. Gately has also promoted commemorative coins online that honor Thompson's police service with his name and badge number.
"Maybe I'm different, but I'm able to separate what my professional job is and who my friends are," Gately responds. "People might not always like it. That's OK. They can dislike it. They can disapprove, but ultimately that is my personal choice. It doesn't have any effect on my professional work."
While guild negotiations with the city head into their 18th month, Gately says officials continue to meet and he remains confident a contract will get sorted out. He says the guild looks forward to serving as a partner in many of the policy changes now sweeping the Spokane department.
Police Chief Frank Straub has established an open and respectful relationship with the guild, Gately says. City officials have voiced renewed support and passed additional funding. Everything has started moving forward again.
"Some of the morale issues within the department were the fact that you knew there was no relief coming," Gately says, adding, "A lot of [Straub's] changes we're excited about. We like 'em."
Straub says the guild represents the voice of the department. He respects its views and has worked to build a healthy dialogue with the leadership, approaching the guild about policy proposals before making big changes.
Gately knows the guild and management likely will disagree sometimes, but he hopes to continue the new spirit of cooperation and mutual support because he has seen what happens when it breaks down.
"We want our new chief to succeed," Gately says. "We need him to succeed. His stance is the same thing. He wants us to succeed. Because if one of us is failing, then the whole department is going to struggle."