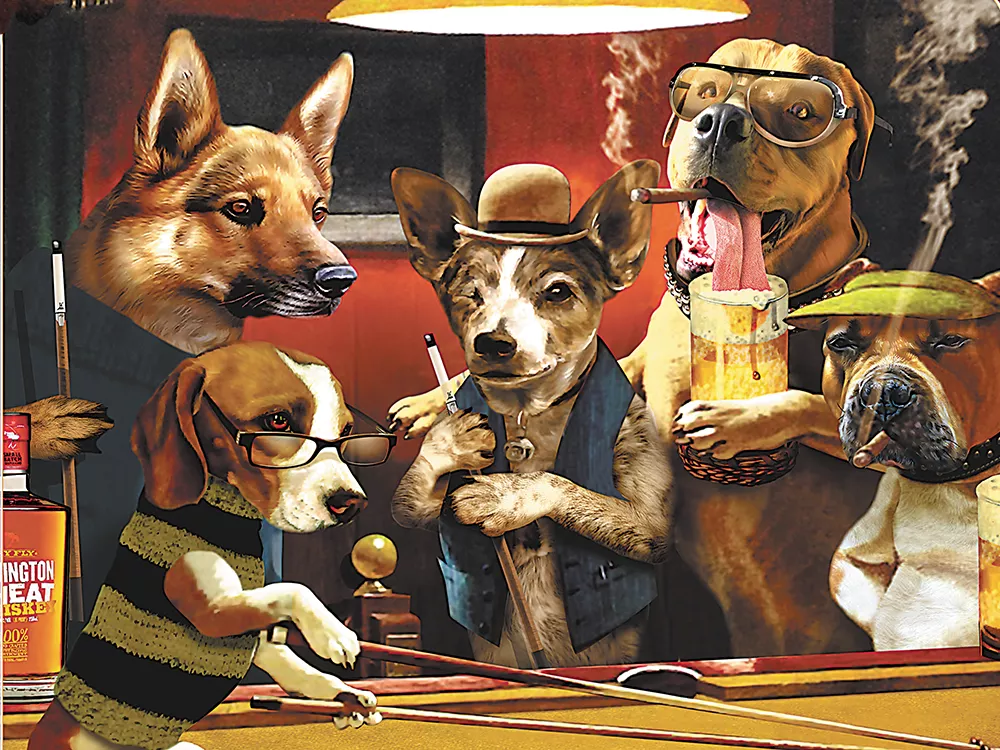 Best Cocktails | Best Bar Menu
 TWIGS 
With drink names like the Hula Dancer and Jalapeño Ciantro Margatini, Twigs Bistro and Martini Bar offers plenty of cleverly delicious drinking. Alexandra Hedin of Browne's Addition says Twigs is the perfect place for a girls' night out. "The drinks always remind me of my best friend," she says. "It's our favorite place to catch up." Pick one of 36 different martinis to set just the right tone for your evening. More than just fancy drinking, Twigs also cooks up a spread of tasty appetizers, salads, flatbreads and desserts. Cindi McCann of Colbert says "the Moroccan Beef is my favorite appetizer — I think you could dip dog food in that gorgonzola sauce and it would be yummy." Five locations in the Spokane area. (JJ)
Best Cocktails | 2nd PLACE: Bon Bon; 3rd PLACE: Bistango; NORTH IDAHO'S BEST: Iron Horse, CdA (See p. 42.)
Best Bar Menu | 2nd PLACE: Zola; 3rd PLACE: Manito Tap House; NORTH IDAHO'S BEST: Capone's, Post Falls
---
Best Wine Bar
 LEFTBANK 
Housed in the historic American Legion building on Washington Street, LeftBank Wine Bar serves more than 60 varieties of wine. Spokane resident Travis Griffith also admires the classic European atmosphere. "LeftBank feels majestic," he says. "It has a certain international feel, almost like old England or Ireland." Elaine LaRue of the South Hill enjoys pairing LeftBank's regional wines with delicious cheese, salad and pizza. (JJ)
2nd PLACE: Nectar; 3rd PLACE: Twigs; NORTH IDAHO'S BEST: Coeur d'Alene Cellars
---
BEST beer bar
 MANITO TAP HOUSE 
For beer nerds, hop-heads and brew connoisseurs, the Manito Tap House rotates dozens of regional or hard-to-find beers on tap. For the uninitiated, the staff will walk you through a wonderland of ales, porters, pilsners and ciders. "The servers there know their beer and know exactly how to find you one that fits your tastes," says Shane Collins of Spokane. "Having knowledge of over 50 rotating beers is no easy task! Plus, the happy hour specials are incredible." (JJ)
2nd PLACE: Viking Tavern (HOF); 3rd PLACE: The Hop Shop; NORTH IDAHO'S BEST: Capone's, Post Falls
---
Best Sports Bar (tie)
 SWINGING DOORS THE Q 
Of course Best Sports Bar would end in a tie. In one corner, we have reigning champ Swinging Doors with a record of four previous wins. In the other corner, up-and-coming The Q at Northern Quest Resort & Casino. "The Q is an absolutely great place to come for a great time," says Courtney Crevier of West Spokane. "The food tastes wonderful, it is big and spacious and I love the big flat-screen TVs, pictures and the different supporting team representations on the walls." Meanwhile, Swinging Doors can hit back with an army of TVs, a welcoming atmosphere and a formidable beer list. This match will have to go into overtime. You be the judge. (JJ)
2nd PLACE: The Ref; 3rd PLACE: Jack and Dan's; NORTH IDAHO'S BEST: Capone's, Post Falls
---
BEST BARTENDER
 PATTY TULLY, BABY BAR 
Locally renowned bartender Patty Tully — one part tough, two parts generous — shows that keeping a bar takes more than a steady pour. Occasional barfly Taylor Weech of Spokane says Tully can shut down even the most obnoxious drunk with a smile. "She is friendly in a real, down-to-earth way," Weech says. "She also pours a delicious and stiff drink, and she's never shredded my credit card, even when I've accidentally left it there for two days." Bonus: Tully has been known to hand out dollar bills for the bar's well-curated jukebox. (JJ)
2nd PLACE: Curtis Day, Casper Fry; 3rd PLACE: Luke Byrnes, Manito Tap House; NORTH IDAHO'S BEST: Chris Ursich, The Iron Horse, CdA
---
BEST CASINO
 NORTHERN QUEST RESORT & CASINO 
With multiple restaurants, big-name entertainment and a luxurious spa, Northern Quest Resort & Casino recreates the entire Vegas experience. "It's so unexpected out in Airway Heights," says Terra Widman of Spokane. "It's like something you'd see in Vegas — very fancy, clean, great food. I have yet to try the spa, though." Another happy customer, Maynard Ross Jr., says the casino serves as a place to both celebrate and unwind: "I am always treated well by the casino staff. They know how to provide great customer service." (JJ)
2nd PLACE: Coeur d'Alene Casino; 3rd PLACE: Hugo's on the Hill
---
BEST MOVIE THEATER
 AMC RIVER PARK SQUARE 
As Hollywood has started to skew toward both independent films and epic 3-D blockbusters, AMC River Park Square has embraced both. General manager Rob Holen says AMC has expanded its showings of independent films and bolstered its frequent moviegoer programs. "I think we are able to offer a little more variety," he says. After several years of Best Of wins, he says AMC remains grateful for the community support. "It's flattering, quite frankly, and an honor." (JJ)
2nd PLACE: The Garland; 3rd PLACE: Magic Lantern; NORTH IDAHO'S BEST: Regal Riverstone Cinemas, CdA
---
BEST BOWLING CENTER
 HUGO'S ON THE HILL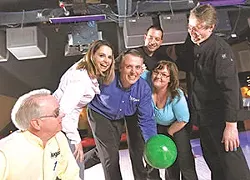 As Tami Borja, a manager at Hugo's, explains, "when you walk in, you'll quickly find that the word 'alley' doesn't apply."
She's right. If you manage to pull your eyes away from the giant TVs which line the back wall, playing music videos by request from any decade, you'll notice that the place is decked out in classy leather furniture and glitzy lighting, creating a top-shelf ambiance more in tune with a Las Vegas boutique bowling lounge than the dingy lanes of old. Once you've absorbed the décor, you'll need to make some decisions. Should you hit the casino floor, the bar, grab some gourmet grub or play the lanes first?
There may be no right answer.
When asked what separates Hugo's from the competition, Borja failed to mention the glamour or the great food — which includes their signature root-beer pulled pork, ahi sushi, halibut fish tacos — and the 20 different beers on tap. Her take on their success: "The people who work here. We want to make it so when people leave they say, 'Wow, we had a good time and got a great bang for the buck.' "
They're not lying, either: The staff is great. When I went in to bowl a few frames, I hardly had my bowling shoes laced before a server was taking orders for beer and appetizers.
Borja explains that the service starts at the top. The management treats its staff well, which translates to the treatment of the customer. "It's very much a family here. We have staff who've been with us for 10-15 years. Kitchen, servers and bartenders. That's abnormal in this industry."
Not only does Hugo's provide a unique bowling experience, it also gives back to the community. Every year it supports the Shawn Higgins Memorial Fund, founded after a member of the owner's family died due to complications from diabetes. The group puts on fundraisers at Hugo's to raise money for diabetes and sponsors a family retreat for more than 100 families living with diabetes.
— ERIC GAVELIN
2nd PLACE: Lilac Lanes; 3rd PLACE: North Bowl; NORTH IDAHO'S BEST: Sunset Bowl, CdA
---
NORTH IDAHO'S BEST COCKTAILS & BARTENDER
 IRON HORSE & CHRIS URSICH 
If having a good time is on your bucket list, then Iron Horse Bar and Grill's Chris Ursich is your ambassador to fun. In 30 seconds or less, he'll whip up the bar's famous (or is it infamous?) 48-ounce Derailer: three kinds of rum, two kinds of soda, orange and pineapple juice, sour mix and as many straws as you need to share with friends.
"They're not just for breakfast anymore," he quips, figuring he's made around 20,000 Derailers since joining the Iron Horse family 17 years ago.
Besides Derailers, this longtime Sherman Avenue bar serves up a few smaller "bucket" drinks like the 24-ounce Catalina and top-shelf Margarita, and they do double martinis, from the classics — Manhattan, Cosmopolitan, vodka neat — to the combinations that sound more like dessert than a drink.
Vodka Ripples (an alcohol-fueled energy drink) are pretty popular these days, says Ursich, but if red beer is more your style, he's got you covered.
"What keeps me in this business?" he asks. "Thick skin," he jokes. He admits the bar is his stage and he likes to make people laugh.
He pauses, takes a sip of his beer. Although not yet warm enough to open the bar's roll-up garage doors or haul out the patio seating, it's a springlike day in downtown Coeur d'Alene and the streets are full of people, many of whom Ursich waves to through the glass.
"I serve all my friends and work with my best friends," he says finally. That includes fellow barkeep Ben Reeve, whom Ursich has known since junior high and jokingly "blames" for introducing him to Coeur d'Alene.
Consistency and paying attention to detail is also key, says Ursich, who credits the father-and-son team Tom and Aaron Robb for Iron Horse's success since 1972.
"They trust us to take care of people," he says, including serving good food — the prime rib is amazing, he says — and making sure patrons feel safe.
"I bring my mother here," says the 40-year-old, who runs Whitening Fast teeth-whitening with wife Lisa when he's not bartending or hitting the slopes.
Although he's still stunned at being named "Best Bartender," Ursich isn't surprised a bit at Iron Horse's popularity with Inlander readers.
"One thing I appreciate about the Iron Horse is it's THE local spot" in Coeur d'Alene. "It's where the bartenders and restaurant people come when they get off work."
— CARRIE SCOZZARO
2nd PLACE: Trader Joe's; 3rd PLACE: Main Market; NORTH IDAHO'S BEST: Pilgrim's Natural Market, CdA
---
BEST HAPPY HOUR
 ZOLA 
Quirky and casual, Zola mixes good food, cold drinks and cheap prices into one mean happy hour. Zola partner Jeff Short says the downtown bar holds its happy hour to high standards. "It's not just our prices," he says. "Everything we do is made from scratch. We make sure everything is a 9 or 10." Stop by after work to wind down with their $5.50 food menu. Nothing calms workplace rage like listening to live music from a tilt-o-whirl booth. Order a $3.50 cocktail and relax. (JJ)
2nd PLACE: Twigs; 3rd PLACE: Safari Room, Davenport Tower; NORTH IDAHO'S BEST: Whitehouse Grill, Post Falls
---
Best NEW NIGHTSPOT
 THE ROADHOUSE 
For the cowboy in all of us, The Roadhouse celebrates all things honky-tonk. Nicole Downhour of Spokane Valley says the recently renovated bar offers both granite countertops and a mechanical bull named Yo Mama. "This bar takes pride and embraces their Western style with servers and staff dressed in matching cowboy hats, flannel tops and daisy dukes. The staff is experienced, quick and very friendly, from the bouncers [to] cooks to waitress crew. This bar offers more than just dancing and having a good time. On many nights they offer swing dance lessons, live bands or DJ, and great drinks specials to boot." (JJ)
2nd PLACE: Big City Saloon; 3rd PLACE: Revolver
---
BEST LIVE MUSIC VENUE | BEST ALL AGES VENUE
 KNITTING FACTORY 
By bringing big names to an intimate space, the Knitting Factory downtown concert hall has won a loyal regional following. "The Knitting Factory's size and setup gives the concertgoers a very up-close and personal experience with the band," says Miranda Houchens of Spokane. Amid the constant flux of the Spokane all-ages scene, the Knitting Factory has consistently worked to welcome young music lovers. Amanda Zodrow of Spokane says she enjoys how the Knitting Factory brings together great sound, service and style. "The staff has always been awesome, good food and drinks, and an overall great feel." (JJ)
Best Live Music Venue | 2nd PLACE: Zola; 3rd PLACE: Northern Quest Resort & Casino (HOF)
Best All-Ages Venue | 2nd PLACE: The Hop!; 3rd PLACE: Bing Crosby Theater
---
BEST DANCE CLUB
 MARQUEE 
Looking for VIP treatment? Jason Martinez, general manager of the MarQuee Lounge, says this downtown hot spot specializes in class, quality and consistency. "We're very proud," he says. With high ceilings and five VIP sections, MarQuee mixes exclusivity with good, old-fashioned fun. Keep an eye out for their monthly themed parties. (JJ)
2nd PLACE: Impulse Lounge; 3rd PLACE: Irv's; NORTH IDAHO'S BEST: Big Al's, Post Falls
---
Best NAME FOR A MICROBREW TO CAPTURE
THE SPIRIT OF THE INLAND NORTHWEST
 BORN & RAISED IPA, NO-LI BREWHOUSE 
Literal-minded voters gave top recognition to excellent existing beers: No-Li's Born & Raised IPA, Iron Goat's Head Butt IPA and Budge Brothers' Spokamber. (Iron Goat also got some votes for its Garbage Pale Ale, which should take top honors for requiring Spokane knowledge to sound appealing.)
But many other voters took this category into the more fanciful theoretical realm: Pothole Porter got quite a few nods — "a spirited bumpy brew" as one voter elaborated — but apparently the Inland Northwest doesn't have a monopoly on potholes, because a couple of breweries elsewhere have already claimed it. Same goes for Red Wagon Ale, though no one's yet created a Big Red Wagon Ale. Seattle's Elysian Brewing Company has made a Silver Marmot pale ale, but there's no reason the Inland Northwest shouldn't have its own Marmot Dew.
The suggested Angry Driver and Bad Driver IPA have a nice ring, but it's probably not a good idea to mix driving and booze in any way. And though the vote for an Inferiority Complex ESB is quite clever, the most resounding support was for an earnestly appropriate name that acknowledges the region's excellent hops and piney landscape, like "Evergreen Fresh Hop IPA."
There also were a number of punny suggestions regarding the fact that Spokane's second syllable sounds like the thing beer comes in, but let's not get into that, unless we're going for a microbrew name that makes you really need another round.
— LISA WAANANEN
2nd PLACE: Head Butt IPA (Iron Goat Brewing); 3rd PLACE: Spokamber (Budge Brothers)