VOLUME COUNTDOWN: 11 DAYS
It's that exciting time of year when we announce The Inlander's annual Bands to Watch: the bands that we choose each year (with the help of a committee of amazing local music people) that are the most interesting, groundbreaking, on-the-cusp-of-something-awesome bands in the region.
We'll reveal who those bands are on Wednesday this week, but for now, we thought we'd recap some of the past Bands to Watch — who you can catch this year at Volume 2013.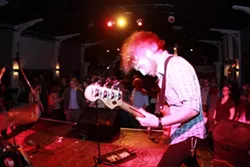 All the way back in 2005, we named our first set of "Buzzworthy" bands — a moniker we changed later to "Bands to Watch" because it sounded like a dated title. That year, we chose youngsters
Belt of Vapor
— a band that's still very much a part of the local scene today. The angular three-piece rock outfit is much older now, but
just hosted a record release show
for its third full-length album a couple weeks back at the Bing Crosby Theater. Check them out opening for Kinski this year at Volume, on Saturday, June 1, at 11 pm at Red Room Lounge.
In 2009, we named the project of brothers Chris and Mike Masalm — then called Please Draw In Me — one of the Inlander's most Buzzworthy bands. The two-piece band took the scene by storm with its fusion of crazy video game music, frenetic drums and keyboards. The band changed its name not long after — to Bandit Train — and have continued to hold it down in the Spokane rock scene. Also, we love when their Mom and Dad come out to their shows. They'll rock the Blue Spark stage at Volume on Friday, May 31 at 11 pm.
In 2010, our judges were charmed by the rap stylings of "the first lady of Spokane hip-hop," one Jaeda Glasgow. Since winning the title, Jaeda has continually toured — supporting a variety of acts, but most notably, '90s hip-hop tycoon Abstract Rude. She'll play Volume with a full band this year — an outfit called the Half Zodiac — on Friday, May 31 at 8 pm at the Red Room Lounge.
We also highlighted the unconventional, smoky-voiced and grufff subject matter of local singer/songwriter Matthew Winters in 2010. Winters has continued to pair his guitar with a variety of other musicians under the moniker Team Growl — who plays Volume this year on Saturday, June 1, at 8 pm at Boots Bakery & Lounge.
2010 was the first year our judges were wooed by a heavy band — and it took the totally insane, chaotic, caffeinated hardcore band FAUS to do it. The band has replaced its singer since then, but still deliver the same brand of angular guitar work and face meltery. FAUS plays Carr's Corner at Volume on Saturday, June 1, at 9 pm.
In 2011, the Bands to Watch committee was hypnotized by one local artist name Dan Ocean — a guy who hadn't played any shows, but who was known as the beatmaster behind many local emcees. After winning the BTW title, Ocean adopted a more cryptic name — BLVCK CEILING — and found his career blowing up. He says he still ships CDs and his signature cultish t-shirts to fans around the world today. He'll perform at Red Room Lounge at 11:30 pm on Friday, May 31 as a part of Volume, and earlier that evening with his DJ outfit, Brothers ov Midnite, at 7 pm.
After a storied music career in other states, Marshall McLean and his band Horse Thieves snatched up the attention of locals with their folksy outlaw ballads. The band fizzled, but McLean found renewed vigor in partnering with local slide guitarist Jamie Frost and drummer Caleb Ingersoll. The band plays Volume on Saturday, June 1, at Blue Spark at 10 pm.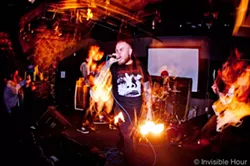 Last year's Bands to Watch — a part of our first Volume festival — not only grabbed the attention of Spokane, but also of fans in the Seattle area.
Terrible Buttons
, a local seven-piece horror folk outfit, has found much success in other cities, but continues to call Spokane its home base. The band plays Club 412 at Volume on Saturday, June 1, at 11 pm.
BBBBandits took a BTW title last year, but also is the first surf-guitar influenced band to make the roster. Superfans (or should I say SSSSuperfans?) citywide are still pining for the band to release a record or a fancy tshirt. Maybe this year at Volume? They play Merlyn's on Saturday, June 1 at 8:30 pm.
Mirror Mirror, the longtime band name of Jason Campbell, seems to have the amazing ability to seduce Spokane every time it plays. In the past year the band has undergone a series of lineup changes, but plans to play Volume again this year. Catch them at Mootsy's on Saturday, May 31 at 11:30 pm.
Last, but hardly the least, hardcore/metal outfit Losing Skin continues to reinvent its sound and has become a favorite at west-side hardcore festivus Rain Fest. They'll play there again this year over Memorial Day weekend, and will scoot on back this way in time to kick the audience in the face with their sound at Volume on Saturday, June 1 at 8 pm at Carr's Corner.