Arriving soon on bookshelves (and in the cloud): novels about Hungarians in love, preachers in prison, Greenwich Village in the '40s, an intelligent chimpanzee and a reluctant revenger — along with nonfiction about gay teens, a world chess champion, Bogie, a British boyhood, and the Good Book.
Hidden, by Tomas Mournian (Kensington, 300 pages, paperback original, Jan. 25)   The conservative parents of a gay teenager sent him to a heterosexual rehab program in the middle of the Nevada desert. After some horrible experiences there, Ahmed escapes to to a safe house for runaway gay teens in San Francisco — where, unfortunately, Ahmed undergoes more trauma and meets lots of other kids with similar stories. Mournian's book is a page-turner based on a news article written for the San Francisco Bay Guardian.
The Invisible Bridge
, by Julie Orringer
(Vintage paperback reprint, 780 pages, Jan. 25)   Romance between Hungarian Jews in the 1930s -- meaning that the art student and the ballerina will have to resist the Nazis even as they fall in love. Last May's hardcover was compared to Boris Pasternak's
Doctor Zhivago
for its doomed-lovers-caught-up-in-political-rebellion angle.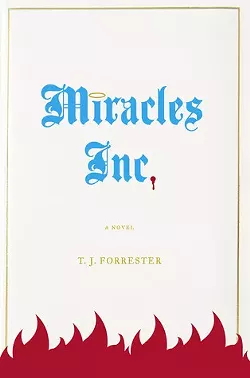 Miracles, Inc., by T.J. Forrester (Simon & Schuster, 270 pages, paperback original, Feb. 1)   A trouble-making scalawag goes to a kind of boot camp for televangelists and turns himself into a holy roller. Problem is, the reason we're hearing about this is because he wrote his autobiography, because he needs to make money to cover his legal fees, because he's on death row.
Endgame: Bobby Fischer's Remarkable Rise and Fall — from America's Brightest Prodigy to the Edge of Madness, by Frank Brady (Crown, 400 pages, Feb. 1)  The chief insight in this biography by Brady (Citizen Welles), apparently, is that the grandmaster's brilliance at seeing patterns on the chessboard led him to imagine sinister connections and dark conspiracies in everyday life. Dick Cavett and other reviewers really go to bat for Brady's book, adding that the real fascination is how such a brilliant man could become such a raving anti-Semitic lunatic and yet still command affection from some who knew him.
Life on Sandpaper, by Yoram Kaniuk, trans. Anthony Berris (Dalkey Archive Press, paperback original, 400 pages, Feb. 1)  The Israeli novelist, now 81, presents an autobiographical tale of Greenwich Village in the late 1940s, with the low-key, not particularly introspective protagonist (wounded, just as Kaniuk himself was, in Israel's 1948 war) hanging out with the likes of Charlie Parker, Billie Holiday, James Dean, Tennessee Williams, Marlon Brando, Ginger Rogers, Wally Cox, Miles Davis and James Jones.
Tough Without a Gun: The Life and Extraordinary Afterlife of Humphrey Bogart, by Stefan Kanger (Knopf, 300 pages, Feb. 1)
He spent decades as a stage actor and then as a bad guy in movies until he broke through (at age 42) with The Maltese Falcon. He died of lung cancer at age 58 — and yet he's iconic today, almost more famous than he was then. Why? Kanfer's answer is that Bogie's "outstanding characteristics — integrity, stoicism, a sexual charisma accompanied by a cool indifference to women — are never out of style."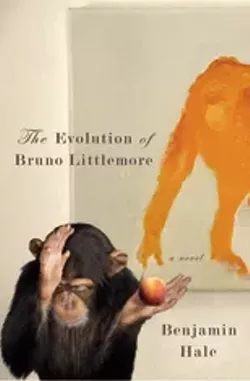 The Evolution of Bruno Littlemore, by Benjamin Hale (Hachette/Twelve, 580 pages, Feb. 2)  Lydia Littlemore goes on road trip with chimp that was raised at local zoo and in a university research lab. Bruno can talk! They go off to a Colorado ranch run by animal-rights activists but get split up, with Bruno growing ever more philosophical as he travels around America. 
The Revenge of the Radioactive Lady, by Elizabeth Stuckey-French (Doubleday, 350 pages, Feb. 8)   Back in 1953, as part of a secret government study, Wilson gave Marylou a radioactive cocktail; 10 years later, Marylou's daughter died of cancer. Now she has located the old coot and plans to murder him. Problem is, he's a likeable old coot. So then she plans to make his family's lives miserable — except she likes them, too. (This is Stuckey-French's second novel, after the delightfully titled Mermaids on the Moon.)
My Father's Fortune: A Memoir, by Michael Frayn (Metropolitan, 290 pages, Feb. 15)  The playwright (Noises Off, Copenhagen) and translator of Chekhov recounts, with humor and sentiment, a youth clouded by his mother's premature death and the pressure that he received, from his confident and self-made father, to accomplish more than just the study of books. 
The Rise and Fall of the Bible: The Unexpected History of an Accidental Book, by Timothy Beal (Houghton Mifflin Harcourt, 250 pages, Feb. 16)   A theologian at Case Western in Cleveland (Roadside Religion, Biblical Literacy) argues against fundamentalist interpretations of Scripture.