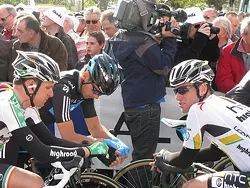 The 98th Tour de France begins tomorrow morning on the west coast of France. The race will wend its way over 2,100 miles across the country and into Italy over the next three weeks, so prepare to see it on TV screens at local bars morning, noon and night, as Versus (or whatever it's called since NBC Sports bought it out) plays and replays and replays its coverage.
If you haven't been paying attention to cycling this year (or you never do), here are the big things to know in order to sound smart in front of your bike-snob friends.

Alberto Contador will be the focus
The 28-year-old Spaniard has won three of the last four Tours de France, and he's poised to do it again. He just won the similarly brutal Giro d'Italia in May, and he's in good shape. But any success he achieves in France is likely to be shadowed by the fact that he's currently under investigation for testing positive for an obscure performance enhancer during last year's Tour. If he pulls out a win this year, will a conviction for doping affix an asterisk to the victory? (Talk of Contador's alleged doping will likely dovetail with gossip about stronger-than-ever accusations against American champion Lance Armstrong.)
Contador vs. Schleck. Drama!
Last year's race was an incredibly close tête-a-tête between Alberto Contador and the young Luxembourger Andy Schleck — a rivalry made even more intense when Schleck's chain came loose on a tough mountain stage and Contador took advantage, surging ahead to become the overall race leader. Schleck wasn't happy then, and he's been trying to laugh the incident off lately, but revenge will surely be at the forefront of his mind as he attempts to eclipse Contador for the first time.

The Wenatchee Wonder
Wenatchee-born Tyler Farrar is back as the sprint specialist for the American Garmin-Cervelo team. Which means you've got somebody to root for on the fast, flat stages (most of this next week, plus a likely windy ride along the Riviera on July 17). Farrar pulled out of this year's Giro d'Italia after a close friend was killed during the race, and his form hasn't been as impressive as it was last year (when he won two stages apiece in the Giro and the Vuelta a España), but he will dive right back in to his rivalry with sprint competitor ....
... Mark Cavendish
This guy has been the one to beat on every sprint stage of every race he's ridden in the last few years. (Farrar has only beaten him a few times, and never in the Tour de France.) Still, he's never won the overall sprint-category championship at the Tour, and he's announced he'd like to this year. See if he can last long enough through the wicked mountain stages to stay ahead of the other sprinters.
Check out the scenery
This year's course starts out relatively flat, then gets a little lumpy, as it curly-cues around the northwest of France and then plunges into the heart of the country. After a rest day onJuly 11, the race stabs toward the Pyrenees, where riders facean uphill finish to Plateau de Beille. It chills out for a day or two afterthat, but then it's up into the Alps, looping into Italy and back,finishing downhill to Gap on July 19, up the Galibier on July 21 and upagain to the legendary Alpe d'Huez on July 22. That's the climax of therace. After that, it's just a short individual time trial in Grenoblebefore the usually lackluster celebratory ride into Paris.