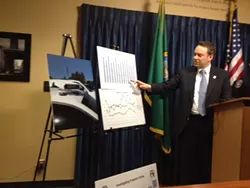 In lieu of assigning detectives to investigate property crimes, Spokane Police will use cameras, patrol officers and crime analysis to foil thieves, they announced this morning.
"We are taking a data-driven, analytical approach to our work on property crimes to deliver results that will improve the safety of our citizens," Chief Scott Stephens told a press conference.
The city's property crimes unit was disbanded last year, though the police continued to respond to calls about the crimes. David Condon, in his run for mayor, vowed to craft a response to burglaries and car prowlings within his first 100 days in office.
Police will keep tabs on repeat offenders, analyze crime data to spot emerging trends, and focus resources on parts of the city that are most affected by crime, says Major Frank Scalise.
Stephens says 50 percent of crime in the city takes place in about 6 percent of neighborhood blocks.
Officers will also use cameras that can read license plates and employ special teams of patrol officers to analyze data and better target offenders, Scalise says.
According to police data, burglaries and vehicle thefts peaked last November and have been on the decline as of February. Vehicle prowling also peaked in November and was on the decline, but has since been increasing, according to the data.