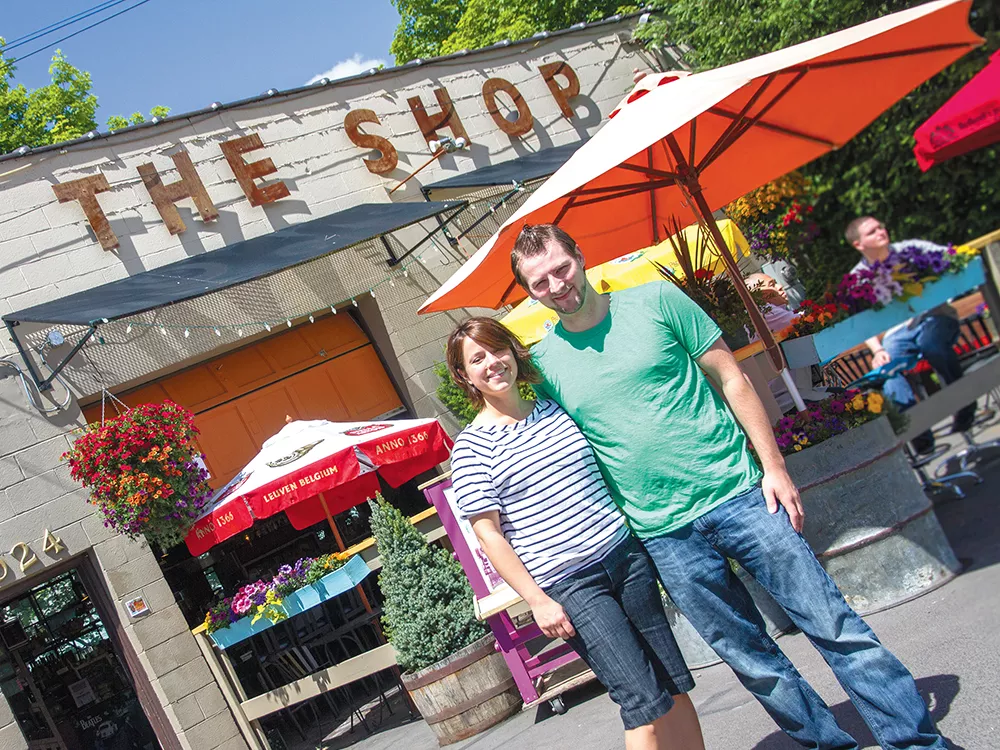 The Shop, an earthy coffeehouse in the Perry District, was essentially a man cave a year ago, with walls decked out in movie posters and license plates. That was until Yvonne Archer and her fellow co-owners got their hands on it.
Archer says she wanted to transform the atmosphere into a cozy, inviting gathering place. It appears she was successful, judging by the friendly-looking clan sipping beers around a worn wooden table and the man strolling in with his dog and treating it to one of the free "pup cakes," all amidst the metallic-vintage-meets-DIY-garage-hangout-meets-cabin-in-the-woods milieu.
It was March of last year when Archer and her two friends bought The Shop on a whim from its previous owner, who ran it as simply a coffeehouse for more than a decade. But for Archer, just a coffeehouse wouldn't do. So she carted in the food.
"I'm a foodie, so all the food recipes are mine," Archer says. There are homemade breakfast cookies, quiches, quinoa salads, sandwiches, veggie burgers and locally made ice cream, among other offerings.
Archer zeros in on serving healthy and largely allergen-free food. Most of the desserts are gluten-free and vegan, as are many of the items in the cold case, such as the truly dreamy "dream bar" ($3.25) made with rice flour and topped with goodies like coconut, peanut butter, maple syrup and vegan chocolate chips.
It's hard to think of anything The Shop lacks in the beverage department. Of course there's coffee, but there's also beer (including a gluten-free brew), wine (with organic and sulfite-free options), mimosas and honey-sweetened lemonade. The fridge is even stocked with probiotic coconut water and kombucha. Archer says people thought she was a "nut bar" for bringing the latter two items in, but the drinks actually turned out to be top-sellers.
With year-round trivia nights and live music, The Shop becomes even more of a neighborhood nucleus when summer hits. Its parking lot hosts the South Perry Farmers Market every Thursday from 3 to 7 pm.
And once the sun sinks on Saturday nights starting June 29, a few hundred people from the neighborhood will snuggle in the lot for the annual outdoor South Perry Summer Theater and watch a flick projected on the brick side of Casper Fry. Included on the ticket for this summer: Wreck-It Ralph, Rocky III and the ever-popular Princess Bride.
The Shop • 924 S. Perry St. • Open Mon-Wed, 6 am-8 pm; Thu-Fri, 6 am-10 pm; Sat, 11 am-11 pm; Sun, 7 am-8 pm • 534-1647