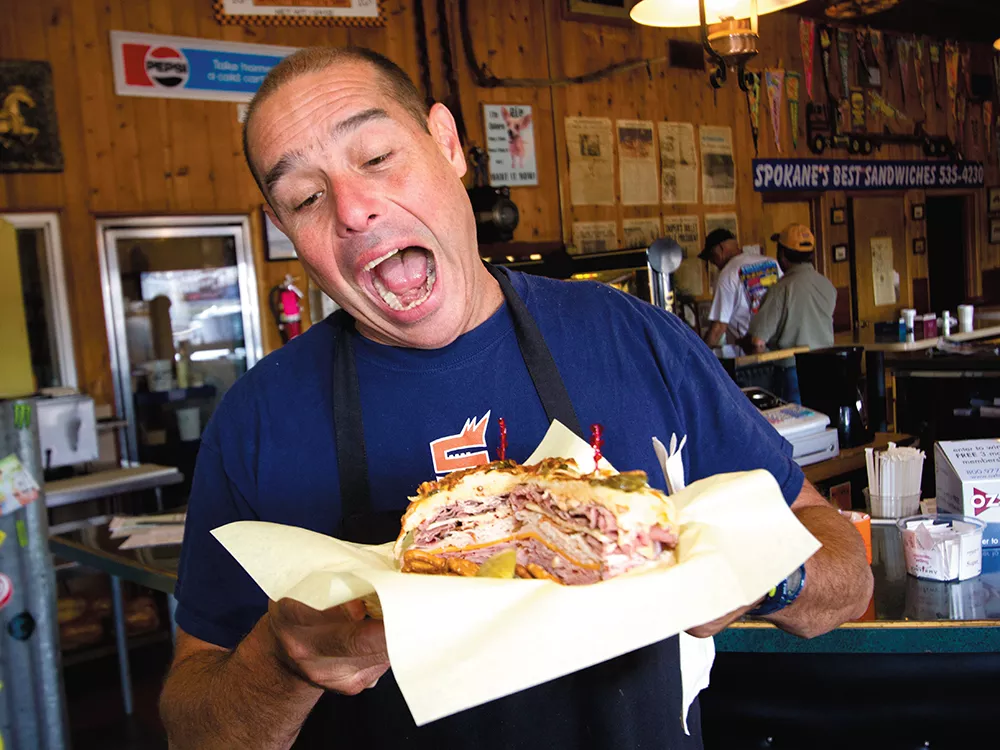 If you're the first one to do something at Smacky's On Broadway, you get to put a dollar bill on the wall. Say you ask for a fork to eat your French dip sandwich and no one has ever done that — dollar on the wall. Or if you're the first customer to be referred to the Spokane Valley sandwich shop by a health department employee because of the eatery's spotless record — bam, staple a George Washington next to the door.
It's just part of the offbeat — but not off-putting — vibe that owner Mike Ackermann has cultivated during his seven years running Smacky's, located among the auto repair shops, truck stops and industrial plants just a couple blocks from where Broadway Avenue meets Interstate 90. Ackermann banters with regulars while welcoming newbies into the Smacky's universe, a world in which every truth you hold dear about the sandwich is challenged.
"You could eat here twice a week for a year and never have the same thing twice," says Ackermann, who named Smacky's after the pet monkey he owned when he was growing up in the Philippines.
A veteran of the Spokane restaurant scene and son of parents who were in the business, Ackermann is into variety. He offers an array of deli sandwiches, but also six different French dips, a full slate of panini, wraps, and a few Smack Attack sandwiches, including the massive Napoleon. For $11.95, you're served three-quarters of a pound of turkey, ham and roast beef with pepper jack cheese. If that's not enough options, there are daily specials ranging from pulled pork to specialty Monte Cristo tortes on Thursdays — ham, turkey, Swiss and cheddar between two puff pastries, drizzled with raspberry sauce and dusted with powdered sugar.
Although sandwiches take top billing, Smacky's offers 20 different bottled beers, soups and salads. The rest of the trappings are simple. It's only open for lunch, only during the week, and your sandwich comes with pretzels and a pickle. And if you say pretzels and pickles are an odd combination, you won't get to put a dollar on the wall.
Smacky's On Broadway • 6415 E. Broadway Ave., Spokane Valley • Open Mon-Fri, 10:30 am-3 pm • smackysonbroadway.com • 535-4230