VOLUME COUNTDOWN: 3 days! Buy your tickets in cash at our headquarters, located at 9 S. Washington St., this week. If you purchased your passes online, will-call can be picked up Friday and Saturday.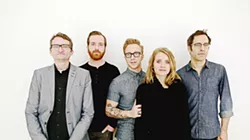 Banjos have made a sexy, albeit backwoodsy comeback. But don't be fooled by the Seattle band's acoustic string section, hand clapping and folksy harmonies —
Campfire OK
doesn't sound dated. The quintet incorporates subtle synthesizers and a thunderous piano to create a textured, atmospheric rock sound that's more indie than Americana, and more experimental than roots. Listen for skillful instrumentation, thoughtful arrangements and a modern interpretation of banjo playing. Catch them on Friday at 8:10 pm at Club 412.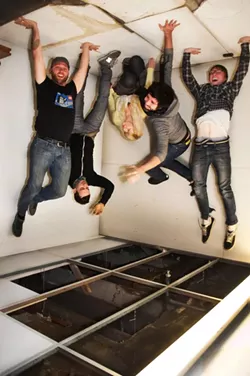 Electronic pop has never sounded so sweet.
Sick Kids XOXO
combines lackadaisical synthesizers with catchy guitar hooks and two solid lead vocalists — one male, one female — to create a sound that feels like a caffeine high. The band has become darlings of Missoula's music scene and show stoppers at events like the Treefort Music Fest in Boise. They are sure to draw a dance-happy crowd at Club 412 on Saturday at 9:50 pm.
Type in #Volume509 into Instagram, or if you're too cool for that, use the super rad alternative Webstagram, and see why Friday and Saturday are going to be so incredibly awesome.
Here are some highlights so far:
Summer in Siberia practice for their 11:59 pm set on Friday at Mootsy's.
Interplayers joined our list of venues last week.